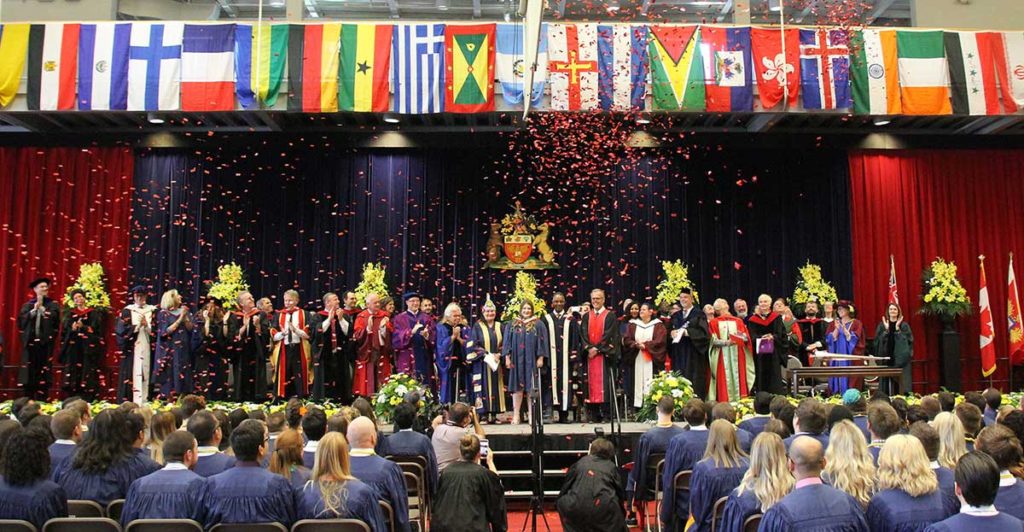 Brock University celebrates its 100,000th graduate at Friday's convocation – Supplied Photo Brock University
Convocation is an important time for students and their families. Proud parents watch their child walk across the stage to receive their diploma and for most students, leave post-secondary life for good. Brock University concluded its spring convocation ceremonies this past week celebrating a big milestone in the school's relatively young history.
On June, 8 21-year-old Rebecca Alcock crossed the stage as Brock University's 100,000th graduate. Alcock received her Bachelor of Arts from Brock's Faculty of Humanities, and told Brock that she was honoured and proud.
Convocation is a big deal for students like Alcock. It's a celebration of all the hard work they put in while earning their degree. But it's also important to the University as well.
"Convocation is a time when the University celebrates the success of our students, as well as the role that our faculty members played in helping our graduates get to walk across that stage," said Kevin Cavanagh, Brock's Interim Executive Director of Marketing and Communications.
"We try to make it a special day for every one of our students."
With 100,000 graduates since the University opened in 1964, the Brock University Alumni Association has grown substantially. Niagara's university has come a long way since the initial group of 127 students first attended class in a refurbished refrigeration factory at the foot of the Niagara Escarpment in St. Catharines. In 1966, the landmark Brock Tower was completed, and faculties began moving "up the hill" to the University's permanent home atop the Niagara Escarpment.
Today, Brock is home to nearly 19,000 students, including 1,900 international students from 101 countries, more than 72 undergraduate programs, 49 graduate programs and 40 co-op programs.
"The Brock University Alumni Association is enjoying great support and engagement. A strategic plan is being developed along with the new University-wide plan," said Pamela Shanks, the Executive Director of Development and Alumni Relations.
"Homecoming is growing every year and we are looking forward to a great future for Brock alumni," said Shanks.
Each year the convocation ceremonies at Brock continue to grow, and the University celebrates the successes of more and more students each year. The University says this speaks to the success of the school, and the bright future that Brock has ahead of itself.
"We are seeing an increasing number of students opting for Brock instead of other Ontario institutions, especially the bigger universities," said University Vice-Provost for Enrolment Management and International, Jamie Mandingo.
"People are genuinely attracted by the Brock experience."
Brock has more than 3,900 confirmed applicants for first-year undergraduate studies this fall.
If the population of Brock students continues to grow over the years it won't be long before Brock is celebrating their 200,000th graduate.