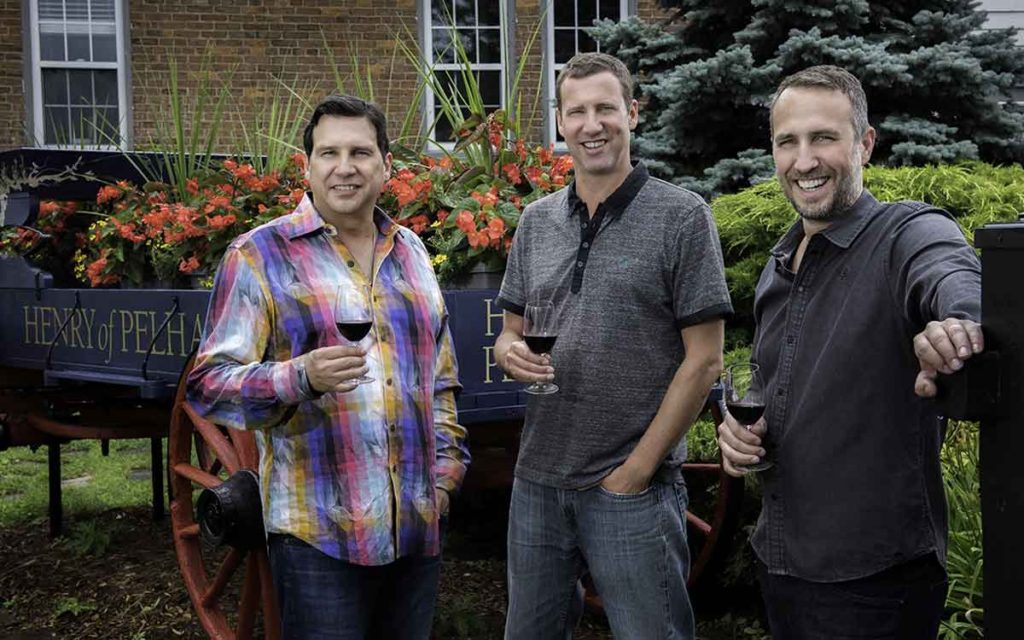 From left: Paul, Matt and Daniel Speck
Paul, Matthew, and Daniel Speck have been the faces of Henry of Pelham wine for three decades now. This year marks the 30th anniversary of what is one of the region's greatest success stories in the wine industry – and it all started because their father, in 1982, purchased a piece of land for sentimental reasons.
Paul Speck recalls the time when his dad, Paul Speck Sr., called him two years after he purchased that land, across the street from where the current winery sits, and told him to come home and help his brothers plant grapes. Paul was in Toronto delivering pizzas for Pizza Pizza at the time. "We had no idea what we were doing," Paul said with a laugh.
Four years later, in 1988, they had their first vintage and Paul Jr. became president of Henry of Pelham. "It was dad's idea to start a winery. He bought the Inn, which is now our wine store, and some land around it," Speck explained.
Paul Jr. graduated from university and had plans to attend law school. Instead, he decided to try and make a go of the wine business. His younger brothers Matt and Daniel helped out during the summers between university years. In 1993, Paul Sr. passed away and the three brothers became the winery's owners.
"We have to make a living at this. It's not a vanity or lifestyle project for us. We have to pay the bills," said Speck. While Paul is the president and self-described big-picture-guy, he said it's a pretty flat hierarchy at the top of the corporate organizational chart, with all three playing a critical role. Matthew runs the vineyard and production, while Daniel heads up sales and marketing.
From its original 55 acres of land, Henry of Pelham now farms more than 300 acres and employs more than 70 people. Speck says their strength has come from having to run the winery like a business; which meant being very aggressive at working with the LCBO in the early years and getting their product into the best restaurants in Toronto. "Now we are shipping our wines all over the world."
Speck laughed when he recalled that first batch the brothers produced three decades ago. "It was 2 400 cases and I remember sitting in a room surrounded by all this wine, thinking: what are we going to do with all this?" This year alone, Henry of Pelham is set to produce 150 000 cases of wine.
The company originally produced a chardonnay, Riesling, and Baco noir. To this day, the latter remains what Henry of Pelham is probably best known for.
"It was our first big hit. People hear Henry of Pelham and they think Baco noir. It's still our number one selling wine," explained Speck.
Despite their success, Speck said that there were definitely stressful times.
"We were young and naive and probably should have been more fearful in the beginning" recalled
Speck. "We had to convince banks to lend us money at a time when I wouldn't have lent us money." He remembers the time he realized they would be around for a while was when the company finally received conventional financing in 1996.
To this day, the winery is kept completely private in terms of ownership. It is owned solely by the three brothers. As Speck put it: "we are the best dressed farmers in town."
When asked what worries them the most, Speck says it's the competition from foreign wineries, not domestic. "Some of the foreign wineries have been making wines for more than 600 years. Niagara will always be a small wine region and the competition is fierce." But despite always remaining on the smaller side when compared to other wine regions around the world, Speck said he's never been more excited for the wine industry in Niagara. "There is more work to do to spread the word on the quality of wines being produced here in Niagara."
Speck also mentioned that a successful wine industry in the region means plenty of spin-off success for tourism, restaurants, theatres and hotels. He said 14 million people come to see Niagara Falls every year, while two and a half million visit wine country. There's plenty of opportunity. Speck said there are currently about 120 wineries in the Niagara Region – a massive increase from when the three brothers produced those initial 2 400 cases.
So what's next for Henry of Pelham?
Well, a 32 000 square foot expansion (the largest in the wineries history), to start.
The new building will be home to shipping and receiving initially. Next year it will also house a new bottling line which will be "super efficient" and mean more innovative packaging.
When asked about the biggest challenge the industry faces, Speck didn't hesitate: "the current government needs to understand that we, as an industry, are overly taxed. The tax structure is based on prohibitionary thinking – governments have always taxed wine like they tax cigarettes," he explained. "Cannabis was just made legal a couple of weeks ago and it's taxed lower than wines. It's crazy."
So, as the industry lobbies for fair tax treatment, Henry of Pelham will continue to do what they have always done: make great wines with a laser focus on customer satisfaction and a deep understanding of their market.