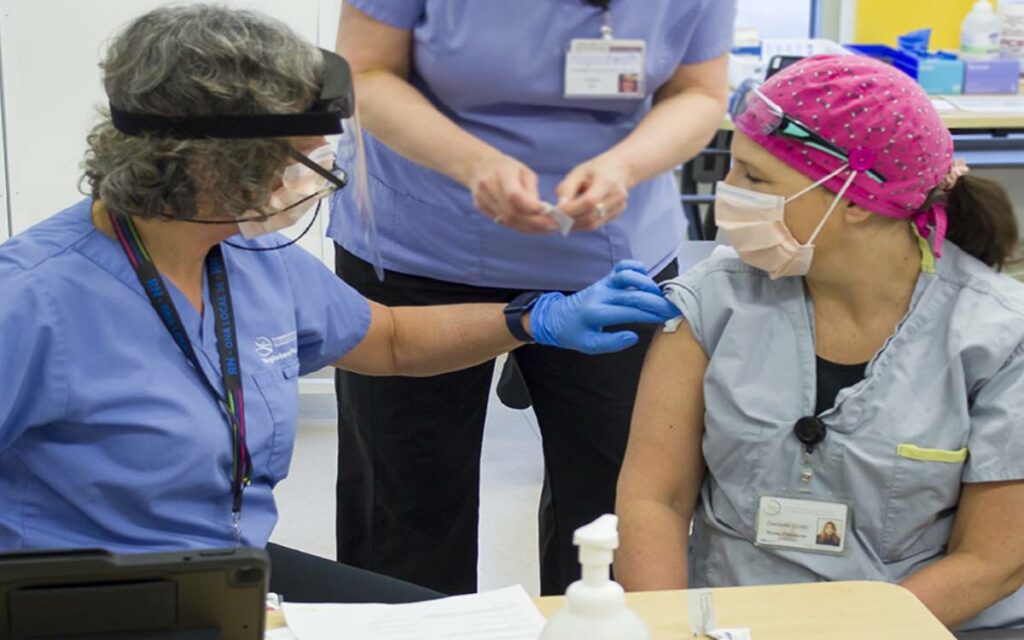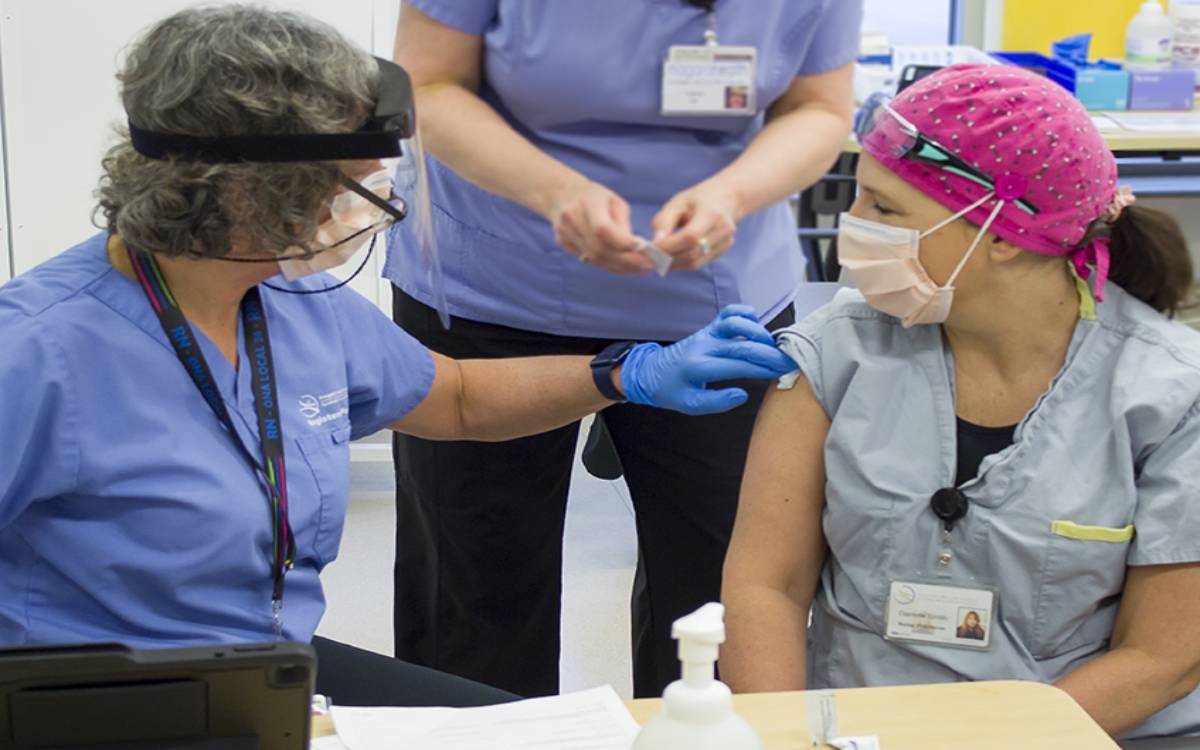 Danielle Smith, a hospital Nurse Practitioner who has worked in the St. Catharines Site dedicated COVID unit from the beginning of the pandemic, was the first member of the Niagara Health team to receive the vaccine.
The Niagara region had a rollercoaster ride this week when it came to the COVID-19 pandemic and all that surrounds it. Emotions went from frustration to jubilation to disappointment and even anger.
The feeling of frustration could be felt throughout Niagara from public health officials to frontline healthcare workers to politicians and regular taxpaying citizens as residents watched the daily COVID-19 case numbers climb well into the hundreds with constant reporting from public health of more citizens dying due to the virus. Yesterday's numbers were 136 new cases with 1,538 active cases across the region.
Niagara now has the dubious distinction of being ranked in the top five of public health units with the highest weekly cases per 100,000 ahead of Toronto and behind only Windsor, Lambton and Peel.
Frustration only increased when the province's Premier announced earlier in the week that as of yesterday Ontarians will be ordered to stay home unless getting groceries, seeing their doctor or picking up a prescription.  Debate on social media raged about whether lockdowns of any magnitude are actually worthwhile. The Premier and his team in the COVID war room are certainly betting on a 'circuit breaker' move like this most recent announcement will at least see daily case counts finally start to decrease.
Then there was a ray of hope.
It was the moment almost all of Niagara had been waiting for. Under an OPP escort the familiar brown UPS truck rolled into Niagara Health's St. Catharines hospital as staff waited to transport the Pfizer vaccine to the freezers for proper storage. Both Niagara's public health officials and Niagara Health's top brass said they were ready to start vaccinating the region's most vulnerable residents almost immediately and they made good on their promise, inoculating Faber Baquero a personal support worker at Linhaven in St. Catharines the next morning.
In total 322 doses were administered of the two-dose vaccine to front-line long-term care and hospital workers. Niagara Health vaccinated 108 long-term care home workers and 70 hospital staff and physicians. Meanwhile, Niagara Region Public Health and Emergency Services teams were deployed to two long-term care homes, one in St. Catharines and one in Fort Erie, vaccinating 142 residents and staff.
Public Health and Niagara Health say they plan to vaccinate 11,000 high-risk healthcare workers and vulnerable residents of long-term care and retirement homes over the next three weeks and will expand the rate of vaccination based on vaccine supply, and following the provincial risk-based framework.
After the initial excitement and celebration of the vaccine's arrival, things quickly turned sour when a group of physician leaders from Niagara Health released a letter expressing concern and disappointment with the province after it was discovered that a shipment of the Moderna vaccine originally scheduled to be delivered to Niagara was, at the last minute, rerouted to another city. Not surprisingly local NDP MPPs and many residents took to social media slamming the government for their redistribution of the vaccine.
Minister of Health and Deputy Premier Christine Elliott's office responsed to The Niagara Independent yesterday saying if they had more vaccine from the federal government, having to redistribute current supplies to areas of the province more hard hit than Niagara, wouldn't be an issue.
The Minister's office said, "As the Premier reiterated to the Prime Minister yesterday [Wednesday], Ontario has the ability to administer more vaccines than it has supply with plans to ramp up capacity in the coming weeks and months. We continue to urge the federal government to deliver more COVID-19 vaccines as soon as possible to keep up with Ontario's capacity to administer. As the province continues to receive more doses, we will continue to expand locations across the province to vaccinate our most vulnerable and over time every Ontarian who wishes to be immunized."
The Minister's office also pointed out that Ontario's baseline capacity is at least double what vaccine doses are currently available.
Things then went from disappointing to anger and some would say bizarre as a group of about 35 residents gathered in front of St. Catharines City Hall on Wednesday to protest the COVID-19 restrictions and in particular the mandatory mask bylaws. The group claimed that Mayor Walter Sendzik should be arrested, alleging he abused children by supporting the mask bylaw. Despite a city bylaw officer and police officer being present, no tickets or fines were handed out to any of the protestors.
St. Catharines MP Chris Bittle, no stranger to ramping up social media debate, took to Twitter and referred to the protest as an attempted kidnapping of an elected official. Bittle then went on to call out the Niagara Regional Police saying, "I know the Niagara Regional Police will deal with these threats in an appropriate manner."
Police now say they are investigating the situation and charges are pending.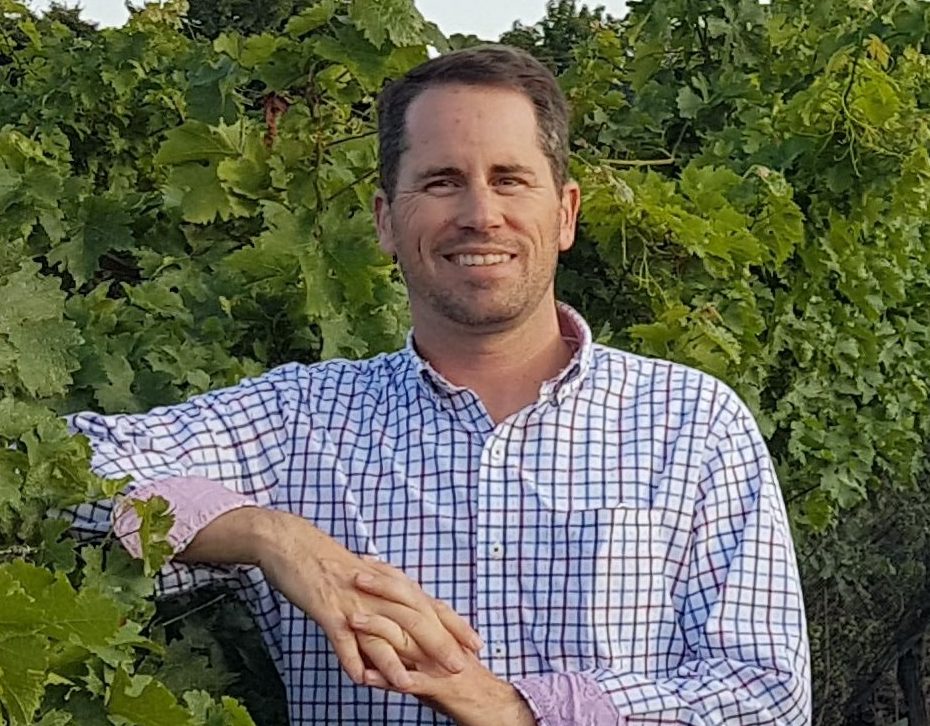 Kevin has spent over two decades as a public relations professional in a variety of sectors including professional sports, the arts, industry and healthcare.  After tiring of the daily commute to Toronto he returned to Niagara and launched The Niagara Independent, an online news source published twice weekly.
He is a graduate of Brock University, Niagara College and the Richard Ivey School of Business. He was named one of Niagara's 40 Under Forty in 2005.
Kevin is most proud of his twin daughters. He is also a triathlete and four-time Ironman finisher.