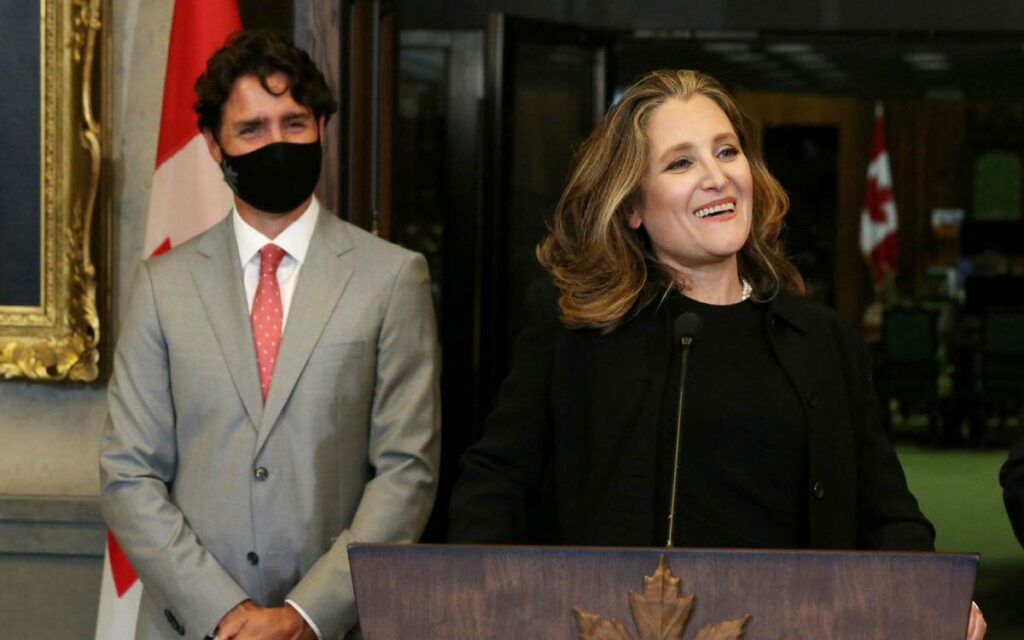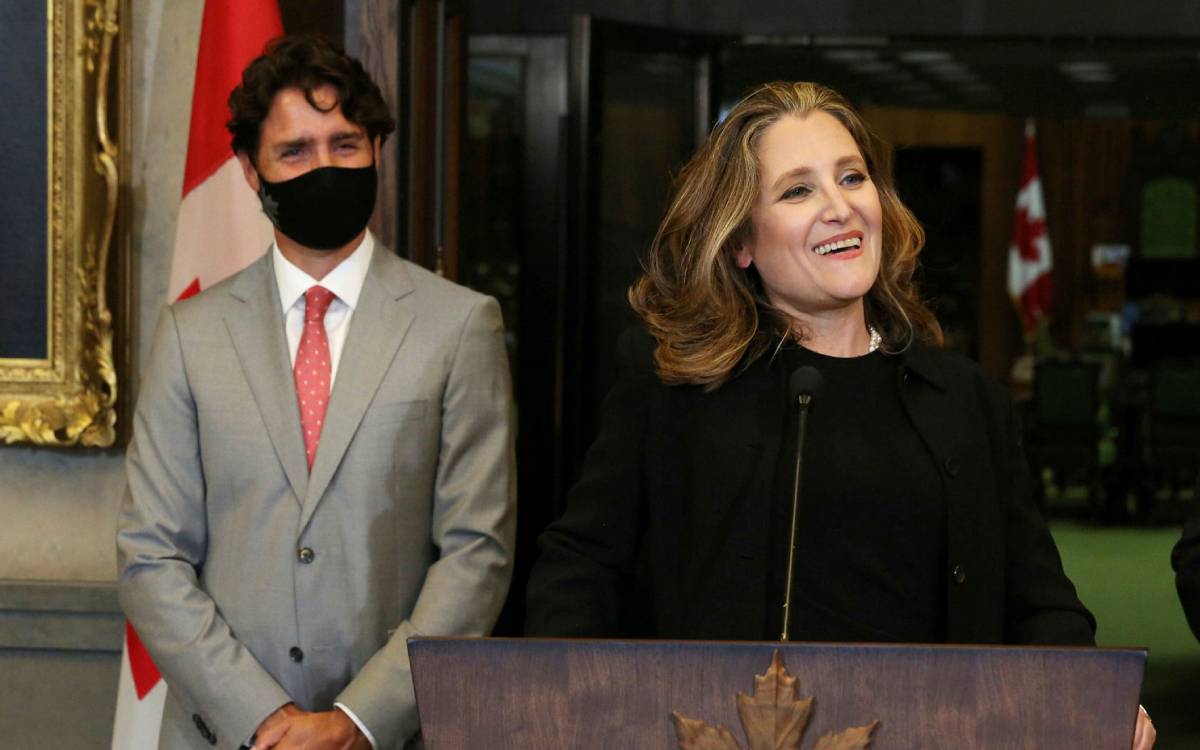 Prime Minister Justin Trudeau and Finance Minister Chrystia Freeland
What caused Prime Minister Justin Trudeau to do such an abrupt about-face? One week he was stating repeatedly that the government would not deliver a budget in March or April and then, the very next Monday, his finance minister announces the budget date for mid-April.
This week Finance Minister Chrystia Freeland rose in the House of Commons to inform Canadians that April 19 would be the date of her much-awaited federal budget address.
Between the PM's insistence that there was to be no budget and Freeland's announcement, there was a phone call on March 18 between PM Trudeau and Kristalina Georgieva, Managing Director of the International Monetary Fund (IMF). Recall, in early 2021, the IMF urged the Trudeau Government to adopt a "fiscal anchor" so that it might retain credibility with its management of the public accounts. This was in response to the government's announcement that Canada's federal debt as a percentage of GDP will peak at more than 52 percent this fiscal year.
So, here is a reasonable question: what was discussed between the PM and the IMF head last week and did this exchange prompt the government to announce its budget sooner than it planned?
The April budget will be Minister Freeland's first since assuming responsibility for the country's finances. In this budget, the government will need to address its record high spending during the pandemic – the greatest per capita spending in the world; its record national debt as a percentage of GDP (now worse than Greece's debt); and, the highest unemployment rates of the G-8 countries. There is a great deal for Minister Freeland to answer to.
In its economic statement in November, the government reported Canada's total debt rising to $1.1 trillion in 2021, up from $721 billion in 2019. It projected the country's debt to top $1.3 trillion in five years. At that time, Freeland also announced the government's intention to spend another $100-billion over three years to help with the pandemic crisis, although there were no details on the measures that were to drive the economic recovery.
The debt levels are worrisome but it is the lack of an economic plan that most troubles Conservative Leader Erin O'Toole. This week O'Toole sent a letter to the PM to caution him on the debt and demand a detailed plan for the economy. O'Toole wrote, "We need a road map to reopen, and we need it now. As Conservatives have stated, you have asked Canadians for a blank cheque without presenting a budget to show how or when you plan to use that additional borrowing capacity. I note that this historic and massive increase in our country's debt also includes $100-billion for additional stimulus measures. Despite repeated requests for you to explain how, when and where this money will be spent, you have refused to be transparent about your plans."
The Conservative Leader was referencing a Finance Committee vote by MPs on Tuesday that approved a 56 percent increase in the federal debt ceiling, from $1.168 trillion to $1,831,000,000,000. The new debt ceiling permits the government to spend more money on its reset agenda to build back better by subsidizing green energy programs and reforming capitalism with greater government interventionism.
Though the exact details of the Trudeau Government's fiscal and economic recovery plans are yet to be made public, the state of the Canadian economy is something that has been producing troubling headlines for weeks:
Statistics Canada recently reported that Canada's gross domestic product (GDP) shrank 5.4 percent in 2020. This drop represents the biggest contraction for Canada's economy since the Great Depression.
Finance Canada reported that the Canada Recovery Benefit payments to Canadians of $2,000 per month was initially estimated to cost $6.3 billion to the end of March. It is now estimated to have cost the federal treasury nearly double — $11.1 billion.
The Conference Board of Canada has warned about the "inescapable" ramifications of the "gigantic fiscal hole" dug during the pandemic. Plunging revenues, record deficit spending, and the country's rising health care costs have the potential to be "catastrophic" for the Canadian economy.
BNN Bloomberg reports this week that the Bank of Canada is looking to scale back its purchasing of government bonds — forecasting an end to free-spending government initiatives. The central bank purchased a record amount of over $250 billion worth of government bonds in 2020. The news agency reports: "Deputy Governor Toni Gravelle used a Tuesday speech to lay out ground rules the central bank will use to slow the pace of its purchases of Canadian government bonds… It currently owns a little more than 35% of the total market of outstanding government of Canada debt. Governor Tiff Macklem has said that when holdings rise above 50%, market functioning could get distorted."
The Canadian business community and international banks are anxious for the Trudeau Government to make public its fiscal and economic recovery plans. It has been too long between budgets. Parliamentary Budget Officer Yves Giroux has been constant in his criticism over the government's lack of transparency. "What we're missing when there's no budget is an overall snapshot and also a sense of where the government is heading in coming years."
William Robson, Chief Executive of the C.D. Howe Institute has echoed this concern, saying he is concerned the government has simply "penciled in" the spending plans and has failed to properly account for its expenditures.
Goldy Hyder, Business Council of Canada President and CEO wants to see a detailed economic growth plan. "To build confidence, the federal government must present a comprehensive and credible plan that spurs investment, private sector job creation, and long-term economic growth."
As the budget date draws nearer, there are two important outstanding questions that would provide greater transparency and greater public confidence in this Government's plans. 1) What did PM Trudeau and the head of the IMF Kristalina Georgieva discuss in relation to her concerns about Canada's fiscal affairs? 2) What potential conflicts of interests does Finance Minister Freeland have preparing this budget when she sits on the Board of Trustees of the World Economic Forum and is seat mate with the same Kristalina Georgieva?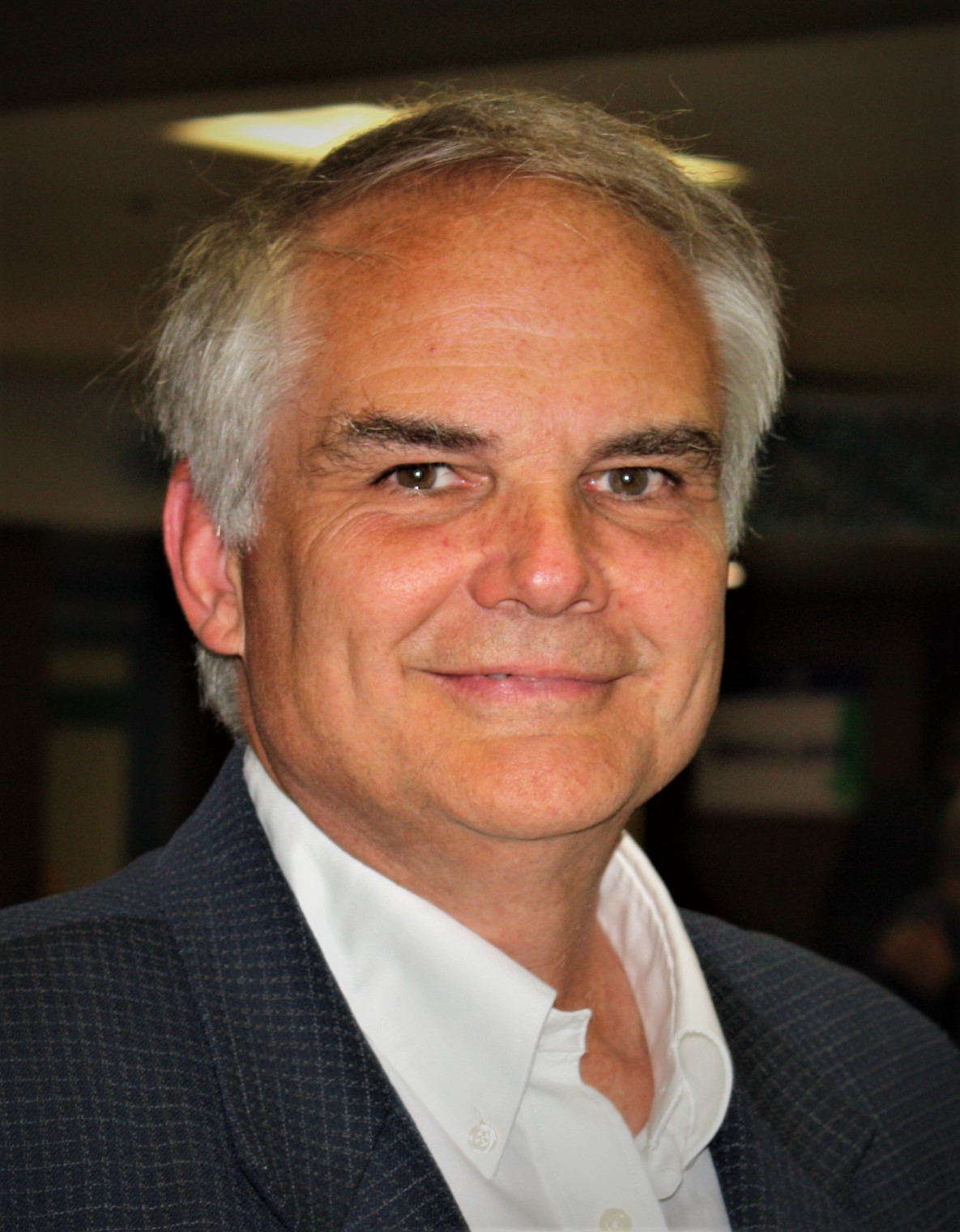 Chris George is an advocate, government relations advisor, and writer/copy editor. As president of a public relations firm established in 1994, Chris provides discreet counsel, tactical advice and management skills to CEOs/Presidents, Boards of Directors and senior executive teams in executing public and government relations campaigns and managing issues. Prior to this PR/GR career, Chris spent seven years on Parliament Hill on staffs of Cabinet Ministers and MPs. He has served in senior campaign positions for electoral and advocacy campaigns at every level of government. Today, Chris resides in Almonte, Ontario where he and his wife manage www.cgacommunications.com. Contact Chris at chrisg.george@gmail.com.