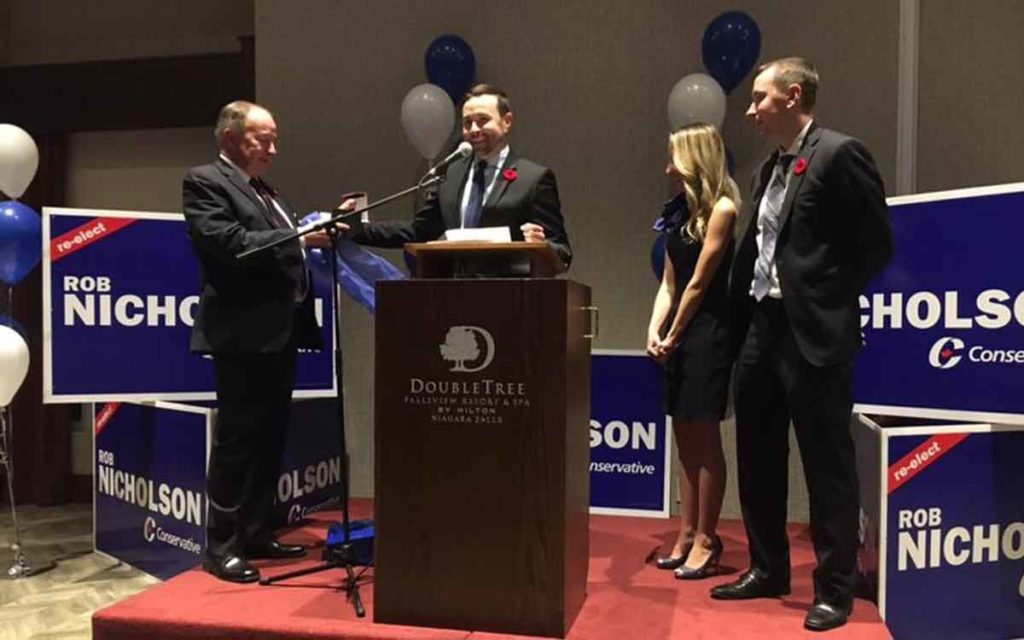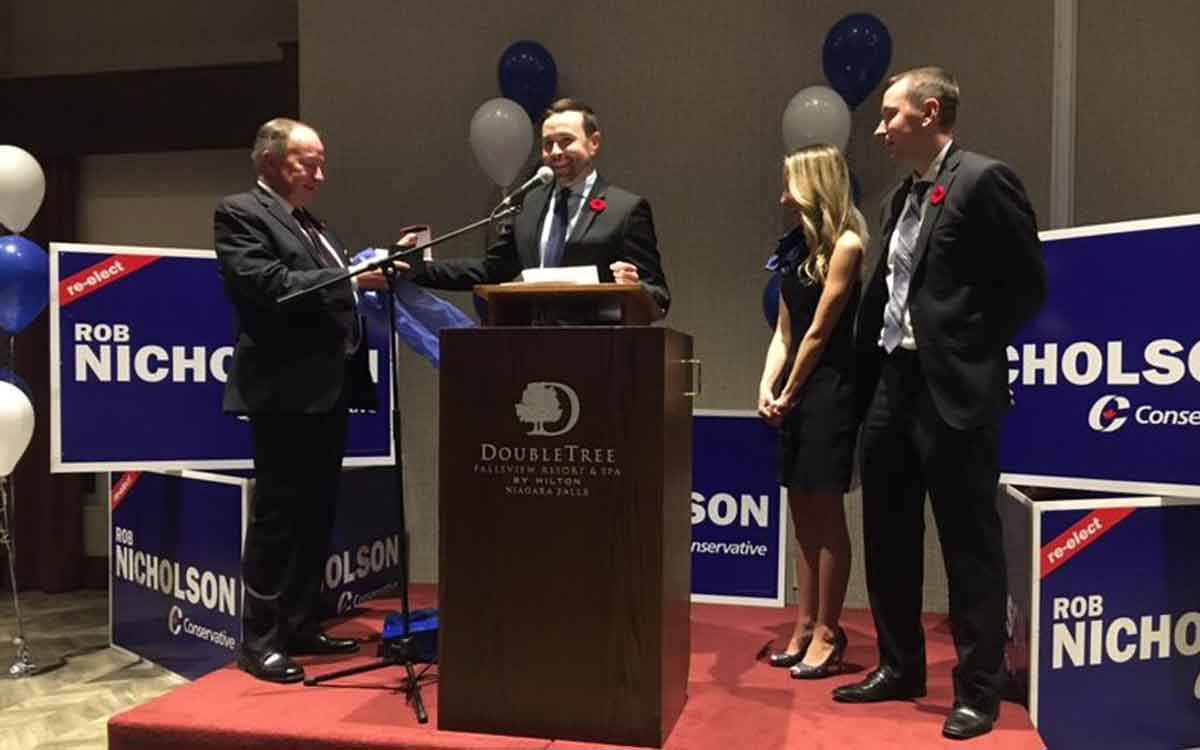 From left: Rob Nicholson joins his kids Rob Jr., Christine and Peter at a dinner held in his honour.  Supplied photo.
Rob Nicholson has served as the Member of Parliament for the riding of Niagara Falls for nearly a quarter of a century.  Nicholson decided to retire this year and did not seek re-election paving the way for his former aide Tony Baldnelli to run in the riding which now encompasses Niagara Falls, Niagara-on-the-Lake and Fort Erie.  Baldinelli held onto the seat for the Conservatives and  was one of many speakers at a retirement dinner held last Saturday to honour Nicholson's long and distinguished career in federal politics.
Nicholson was first elected in 1984 in an election which saw Brian Mulroney sweep to power with a massive majority government.  Mulroney sent a congratulatory letter to the event, read by current Niagara West MP Dean Alison.  In part Mulroney said, "As the longest serving Conservative member of parliament, Rob has been a model of integrity, diligence and humility.  Well appreciated as a team player first, he always showed tremendous leadership and that helped me as a Prime Minister and our government during some very difficult times.  Rob never wavered in his loyalty, dedication or his hard work."
Nicholson won re-election in 1989 and served briefly in the cabinet as Minister for Small Business for short-term Prime Minister Kim Campbell.  The 1993 election led by Campbell was the worst defeat of any sitting government in the history of the country, returning just two Conservative MPs, Nicholson was not immune to the sweep.
Back in his law practice from 1993 to 2005, Nicholson kept his toe in the political waters of Niagara by running for and winning seats on the Niagara Catholic School Board and then the Region of Niagara.  He returned to the federal seat in 2005 in Prime Minister Stephen Harper's minority government.  Harper remembered Nicholson as a key member of that government and all of his Cabinets for the decade following when he said, ""I'm proud to congratulate and thank my good friend Rob on an outstanding record of public service.  First elected in 1984, he was successfully elected in six federal elections after that.  He was one of the few direct links between my Conservative government and its predecessor in the 1980's and 1990's and he was an incredible asset at the Cabinet table serving as our Minister of Justice for six years and later as Minister of Defence and Minister of Foreign Affairs.  Very few in public life achieve a record of such outstanding performance across such difficult portfolios over such a long career."
Other speakers at the event included Niagara Falls MPP Wayne Gates who said, "Rob had the privilege for many years and I can say without a doubt, you did a wonderful job my friend."  He added, "I have a certificate for Rob from the province.  It won't be as nice as the one from the city because the province is broke."
Regional Chair Jim Bradley commented, "Rob has made such a tremendous and significant contribution, not only to those of us in Niagara, certainly in Niagara Falls and the Niagara region, but right across our country and internationally.  When you think of Rob Nicholson, there are certain words that come to mind, one is honesty, one is integrity, one is perseverance, one is service, all of those and many more can be used to describe Rob Nicholson."
Mayor Jim Diodati added, "I have said to Rob many times, you have probably forgotten more about politics than most of know.  Rob's favorite saying was, 'we've won the lottery of life being born in Canada."
"He's risen to the highest ranks of the federal government ever of anybody, not just from Niagara Falls but the entire area, he's risen to the very, very top and yet he's still the same guy he always was, he's never changed, you still see him at church, he's still a friendly guy, he's still the boy next door and for that I wanna say Rob thanks for not changing and being the same guy you always were," said the mayor.
Protégé MP elect Tony Baldinelli said, "I want to speak from the heart about a man I have known for over thirty years and I would not be here today if not for Rob Nicholson."
As an MP in the 80's Rob gave Baldinelli his start in politics.  As a Carleton University student at the time Rob put him on a contract licking envelopes.  "I was going to Carleton and eating baloney because I was stuffing envelopes and Rob wasn't paying me much.  But I was in the building!"
"Rob is the embodiment of what is good in politics today.  He is in it for the right reasons and he is there because he genuinely wanted to help people.  And it's about helping people.  And I could not have learned at the foot of anyone better than Rob Nicholson."
Another former Tory leader Peter McKay said via video, "Not to suggest that you have been there a long time Rob, but my father wanted me to pass on his best because I know you two served together."  "It's been a remarkable run to say the least and the people of Niagara have been well served and they have a well-loved Member of Parliament."
"I have many fond memories of sitting in Parliament with you Rob, watching Diane (Finley) best you in suduko.  Those were good times and we accomplished a lot together as the government, and I consider you a real mentor and friend."
"You can certainly leave politics knowing that you improved it, you made it better, you brought a great deal of class, dignity and some humour to a very serious occupation and profession.  I was proud to serve with you then and proud still to call you a friend.  Thank you Rob, for all that you've done to make Canada a better place."
Every speaker also spoke glowingly about Rob's wife Arlene Nicholson – the woman who clearly helped make the man as successful as he was.  Long-time friend and consummate volunteer Karen Stockton, perhaps expressed these sentiments best:
"At every event, she would be there standing beside Rob and greeting everyone with Rob.  If Rob's at a dinner, Arlene's with him.  At any event Rob's invited to, Arlene's with him, it's been like that for an awfully long time.  If there's an event in the riding, Arlene's in the background, always working.  She's a hard worker, but we have also had a lot of laughs.  We've had fun doing it."
"That work ethic has also gone to Ottawa.  She has been President and Past President of the Spouses Association up in Ottawa.  She served for five years and under her leadership there were an awful lot of fundraisers that were done and they were always successful."
Stockton concluded, "Rob always says, 'if your spouse is not in this with you, then don't do it'.  Well Rob, how lucky have you been to have someone like Arlene beside you?"
Other speakers include Rob's children Rob Jr., Christine and current regional Councillor Peter Nicholson.