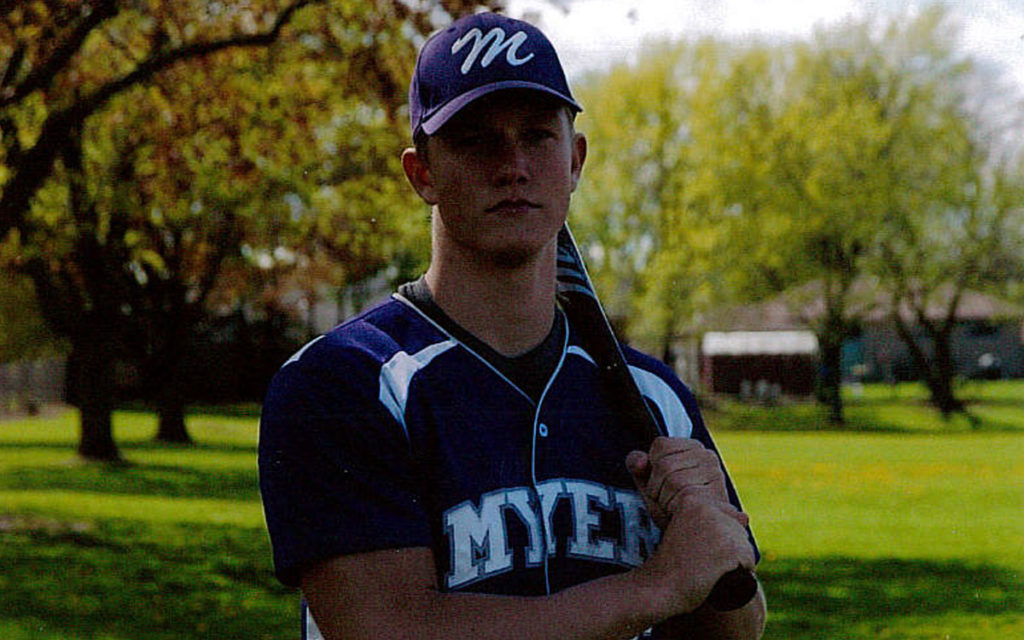 A.N. Myer High School's baseball program has been having great success over the last few years.  Success that rivals that of the school's legendary football program – whose senior team had 3 successive SOSSA Championships as well as victories at OFSAA which included the #2 ranking in Canada in 2016.
Myer baseball is on a similar streak with 3 successive SOSSA championships and 3 straight trips to OFSAA, which included the #3 ranking in Ontario going into OFSAA last year.
Myer baseball has also been graduating several of its players onto post-secondary teams.  Recently, graduates Chris and Nathan Caughell accepted offers to play College ball in Corning, New York; Eric Marriott has been playing for Erie Community College in Buffalo; Tyler Wood has played the last two years for 2016 National College Champions Fanshawe College, in fact, Fanshawe were runners up in 2017 and Wood was the teams MVP; Brendan Shannon plays at Queen's University; Jordan Bray played at Mercyhurst in Pennsylvania; Taylor Anderson played at Gannon in Pennsylvania; and current right handed pitcher and first baseman Calum Theal has accepted an athletic scholarship to play for Niagara University.
The programs' most recent bit of good news comes from Grade 11 catcher Owen Diodati.  The 6'3" 200 pound sixteen year old was just added to Canada's National Junior Team roster.  Diodati also signed a letter of intent to accept a scholarship to play for Division 1 Xavier University in Cincinnati, Ohio starting in the 2019 season.
Diodati is of course thrilled with the National Team opportunity, "I was excited to get the invite to join Team Canada for 2018." "I am looking forward to learning as much as I can and playing with some really great players," he said.
Myer Coach Dave Buchanan is ecstatic for Diodati, "He works very hard at his game."  "If he's not playing or practicing somewhere, then he's in the gym working out.  He has been very focused on achieving his goals – two of those are now accomplished – a Division 1 Baseball scholarship and making the National Team."
The Junior National departed for their annual Extended Spring Training Camp in West Palm Beach, Florida on April 18th and will play an exhibition schedule against several major league farm teams until April 29th.   From May 17th to May 26th they will travel to the Dominican Republic for more training and exhibition games.
"We will of course miss him this season on our team here at Myer, not just his play, but he is a budding Leader on the team now too.  But our kids will all be happy for him for sure," continued Buchanan.
While the April and May southern excursions are a lot of time to be away from school at Myer, Diodati carries a 95 average and Buchanan knows that he'll be able to handle the time away.
"I expect to come home in May a better player and to use that improvement to work toward another goal of an OFSAA championship with my Myer teammates," finished Diodati.
Diodati played for the GNBA Niagara Falls Falcons for many years, winning several OBA Championships.  He received great instruction from that team's coaching staff which often included his Dad Ryan and was led by Head Coach Mike Mcrae.  Mcrae is a Niagara Falls native whose day job has been as Head Baseball Coach at Canisius College in Buffalo where he and the program enjoyed great success.  Mcrae twice was MAAC Conference coach of the year – he has recently moved on to the coaching staff at Virginia Commonwealth University.
Diodati currently plays with the Great Lakes Canadians, a highly touted private club program out of Dorchester Ontario.