Since 2015, 24 Sussex Drive (pictured) has been effectively abandoned, needing some $36 million in renovations to make the property livable. It's high time for Canada to either invest in the official residence or start the bulldozer and build a new one. Photo credit: National Capital Commission
With the Canadian house marking seeming to cool off, the dream of affording a home is slowly coming back into focus for millions of Canadians. Each level of government will likely try to take some credit for this. 
For the Trudeau Liberals, they will look to their recent budget as a reason for the market's slow return to normal. Although not enacted yet, Budget 2022 promised a number of measures to help first-time buyers enter the market, increase supply and implement a foreign investor tax on unused and vacant homes owned by non-residents and non-Canadian individuals. The Liberals will likely point to the latter as a reason for the market shift as investors look to dump under-used properties before they become a liability. 
But before the Liberals celebrate this new tax, they should look into their own backyard and review their portfolio of under-used and vacant properties: in particular, 24 Sussex Drive, the prime minister's official residence. 
Since 2015, 24 Sussex has been abandoned, with Prime Minister Justin Trudeau and his family living at Rideau Cottage on the grounds of Rideau Hall. Though the kitchen at 24 Sussex is still in use for when the Prime Minister is hungry or entertaining. Food is prepared at the Sussex residency and delivered to the doorstep of the cottage on demand. 
The prime minister's proper home is managed by the National Capital Commission (NCC) which is responsible for maintaining, developing and conserving government properties in Canada's Capital Region. As a Crown corporation, the NCC reports to Parliament and the Minister of Public Services and Procurement. 
Well known for its bureaucracy, hesitancy and downright disdain for new development, the NCC is a challenge to work with. Just ask the Ottawa Senators how the NCC continues to undermine their dream of a downtown rink and actually having sold-out games. But that is an article for another day. 
It has recently come to light that between 2016-2021; the NCC spent $767,000 to come up with a plan on how best to restore the prime minister's residence. Despite the money spent, the NCC still has not provided a clear vision for the property. 
Last summer, the NCC released a report outlining the status of each asset in their care. They identified the residence of the Prime Minister as a high priority for rehabilitation work, needing an estimated $36.6 million in deferred maintenance. This amount does not reflect work to meet new building codes and legislative requirements. The report found that the property needs a full replacement of its mechanical and electrical system, it fails to provide an accessible entrance and washrooms, and there are hazardous materials throughout the house.  
For a building whose purpose is to house a leader of a G7 country and welcome other world leaders, it falls short. The blame for the poor state of this official residence cannot be fully put on the shoulders of the NCC. There have been decades of neglect and delays in repairs. No government wants to be seen spending millions on their leader's house. That would be a political poison pill. 
When originally built in the mid-1860s, the property was not built to be an official residence but to house a local lumber baron and his family. When the federal government purchased the property in the 1940s, renovations were made to better fit the needs of being an official residence, but even then corners were cut. 
Understandably, the residence holds historical significance and is an important asset for the government. At the same time, it is also a national embarrassment that is only going to get worse. What other world leader lives in the cottage instead of their official home year-round? 
Yes, the financial cost to repair or replace 24 Sussex is high but the cost of doing nothing will be much greater. For a government that enjoys spending money, it is time for them to step up and spend money on something that matters.
It is time for real political action and maybe even some agreeance from the major political parties that enough is enough. Either Canada invests in the official residence, or they should start the bulldozer and build a new one. 
If Canada wants to be a world leader, it starts at home and that includes providing the most powerful public official in the country with a proper place to live. 
Daniel Perry is a consultant with Summa Strategies Canada, one of the country's leading public affairs firms. During the most recent federal election, he was a regular panelist on CBC's Power and Politics and CTV Morning Ottawa.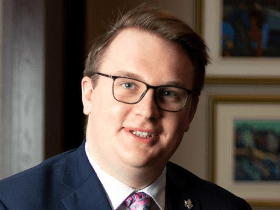 Daniel Perry is a consultant with Summa Strategies Canada, one of the country's leading public affairs firms. During the most recent federal election, he was a regular panelist on CBC's Power and Politics and CTV Morning Ottawa.