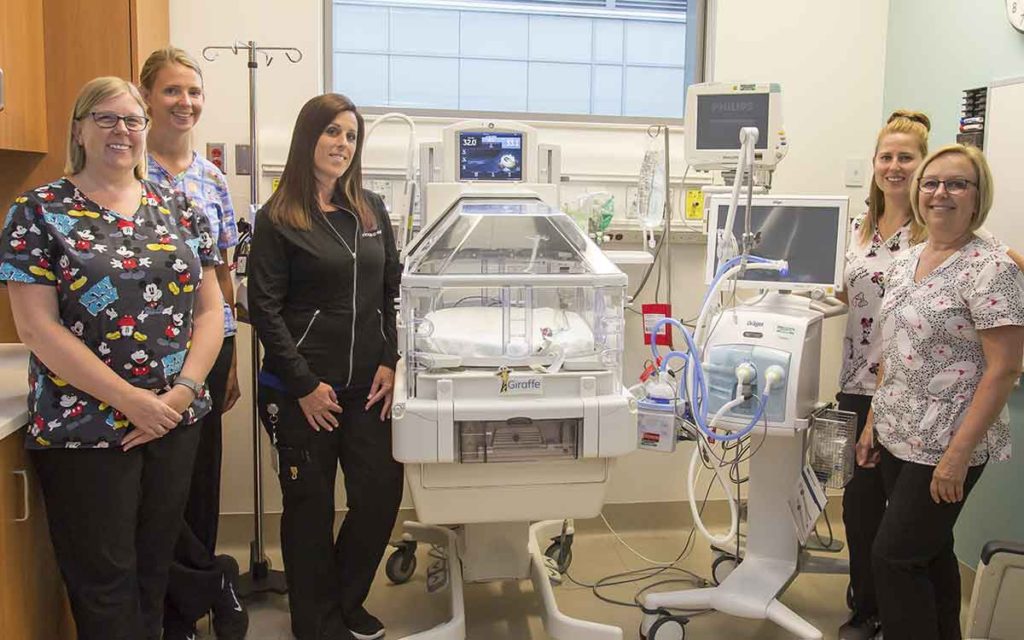 The NICU team at Niagara Health. Registered Nurses from left: April Minda, Kirsten Prinsen, Karey Adamek, Kendra Briggs and Sheila McDonell.
Niagara's tiniest patients will have care closer to home thanks to the addition of five new beds in Niagara Health's Neonatal Intensive Care Unit (NICU).
According to Niagara Health officials the NICU can now care for sicker babies after the organization received provincial government support for the beds, supporting resources and equipment. The unit, at Niagara Health's St. Catharines Site, will be able to provide care to infants with more complex health problems, including: premature babies born at 30 weeks gestation or more (previously it was 32 weeks or more); babies requiring ventilation; and babies needing advanced intravenous therapy.
Previously they had to travel outside of Niagara for care.
The new beds, a first for Niagara, also increased nursing staff on the unit and enabled the creation of a specialized interdisciplinary team, including the addition of a dietitian, respiratory therapist, social worker and occupational therapist. As well, specialized equipment — ventilators, specialized incubators and a new camera for testing the eyes of premature babies were added to the unit— which will further decrease the need to transport patients to and from McMaster Children's Hospital in Hamilton.
"We're extremely grateful to the provincial government for providing us this opportunity to keep our patients and families within the region for their care," says Carol Munro, Clinical Manager of the NICU and Children's Health Unit. "Having a sick baby is stressful enough, let alone having the other stressors of not being at home or not being with your support system. This is really important for our families."
"This is a significant advancement for infant care in Niagara," says Dr. Madan Roy, Niagara Health's Chief of Paediatrics. "Being able to provide a more intensive level of care is another example of how we are elevating healthcare in the region. Our NICU team is very passionate about the care we provide babies, and it's wonderful more of these patients and their families can stay in the region for care."
The NICU level has been upgraded from a 2B to a 2C care centre. The five beds bring the total number of beds in the unit to 17.
The healthcare team is receiving extensive training on the enhanced level of care and new equipment in partnership with McMaster Children's Hospital.