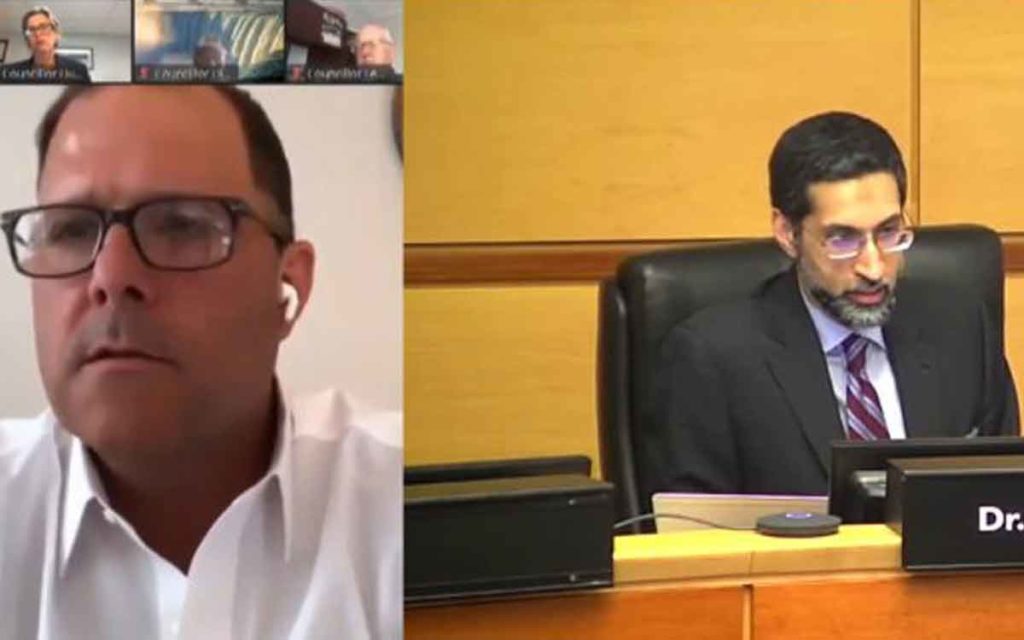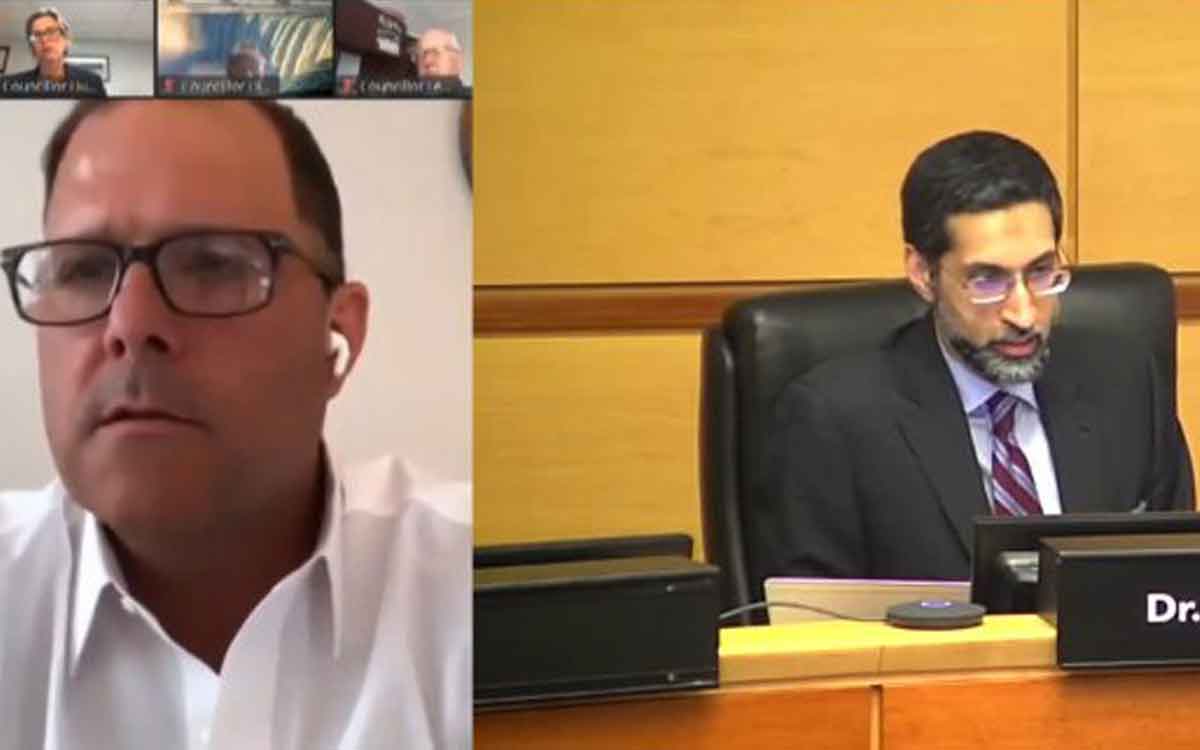 St. Catharines Mayor Walter Sendzik (left) and Niagara Region's Acting Medical Officer of Health Dr. Mustafa Hirji have been at odds over implementing a mandatory mask bylaw.
Niagara's two largest cities have taken wildly different approaches to the controversial issue of implementing a mandatory mask bylaw due to the ongoing COVID-19 pandemic.
Niagara Falls City Council on Tuesday delayed discussion of the item to allow the Niagara Region, which is responsible for public health initiatives in Niagara, to determine whether a Region-wide order is necessary.
On the other side of the coin, St. Catharines City Council recently approved a mandatory mask bylaw that comes into effect today.
A tale of two cities.
Niagara Falls Mayor Jim Diodati spoke at length at the Niagara Region on this issue and commented about the private sector, particularly the tourism industry, and the work they have already done to combat COVID-19 through various high-tech sanitization methods, mandatory mask requirements, and communications campaigns.  He said that "they've been way ahead of us [Niagara Region]" and that "they've already engaged and already adopted these policies".
Diodati acknowledged that everyone supports "the wearing of face coverings when you cannot distance" but added that "fear is the lowest form of leadership where you scare people into doing things, and a lot of people are fearful."
St. Catharines Mayor Walter Sendzik also spoke passionately on the issue, particularly during a meeting of St. Catharines City Council.
"This whole thing that we live in a bubble – we don't.  I think it's important for the public to understand that.  We are trying to protect our community because we don't know what other people in communities outside of Niagara are doing."
Sendzik had noted that he had driven around in Lincoln and saw license plates from Quebec and New York State.  Sendzik also said that "if you speak to Lord Mayor of Niagara-on-the-Lake [Betty Disero] they are seeing upwards of 50,000 to 60,000 vehicles a weekend."
As for the science behind face masks, Niagara's Chief Medical Officer of Health Mustafa Hirji told St. Catharines City Council that while the science is progressing where face coverings may provide a level of protection from COVID 19, "we can't state with a level of confidence that we should be perhaps infringing on people's freedom."
Hirji did note that the "science isn't definitive on this and what the policy should be and so it should be a judgement call that I think needs to be made as a society as a whole."
The Niagara's regional government is similarly divided on the issue – having voted to take more time to study this issue after Regional Chair Jim Bradley broke a 15-15 tie in favour of more time after almost five hours of discussion.
And what of the general public's view on mandatory masks?
According to a nation-wide poll published by Angus Reid yesterday, 55% of individuals either always wear a mask or wear a mask "most of the time".  On the flip side, 45% of individuals responded saying either they rarely wear a mask or never do.
The divide is also evident in both urban and rural areas.  Angus Reid reported that 42% of respondents in urban areas say they rarely wear a mask, if ever, while in rural areas the figure stood at 62%.
The fact that Niagara's regional government is made up of 12 constituent communities that consist of varying degrees of both urban and rural makeups may help explain why the issue sparks strong emotions on both sides of the debate.
Perhaps nowhere else exemplifies this divide than the actions of the City of Niagara Falls and Mayor Diodati and the City of St. Catharines and Mayor Walter Sendzik.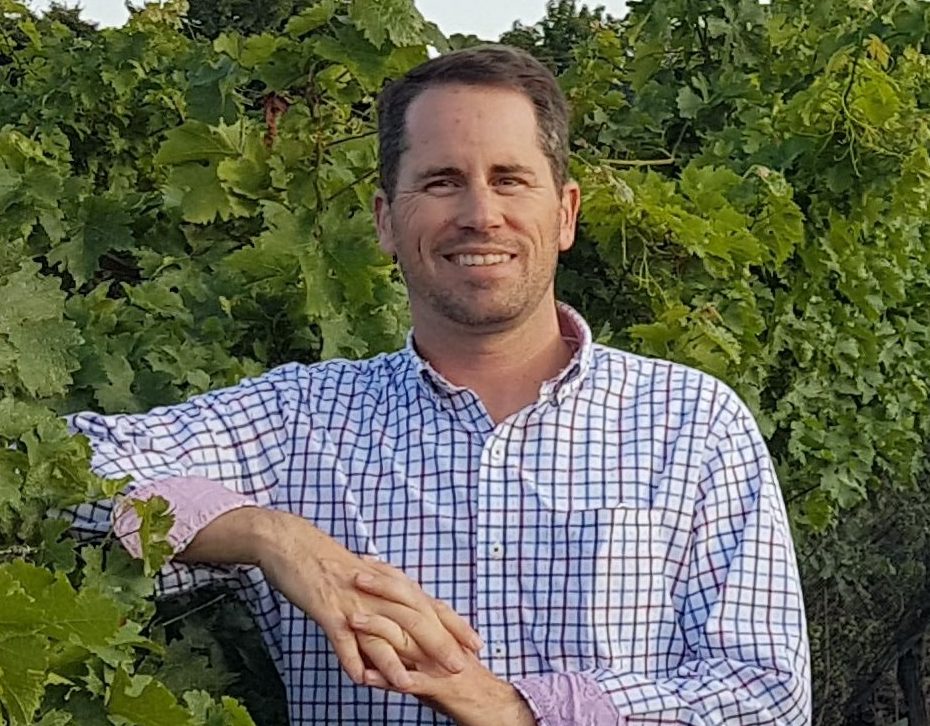 Kevin has spent over two decades as a public relations professional in a variety of sectors including professional sports, the arts, industry and healthcare.  After tiring of the daily commute to Toronto he returned to Niagara and launched The Niagara Independent, an online news source published twice weekly.
He is a graduate of Brock University, Niagara College and the Richard Ivey School of Business. He was named one of Niagara's 40 Under Forty in 2005.
Kevin is most proud of his twin daughters. He is also a triathlete and four-time Ironman finisher.