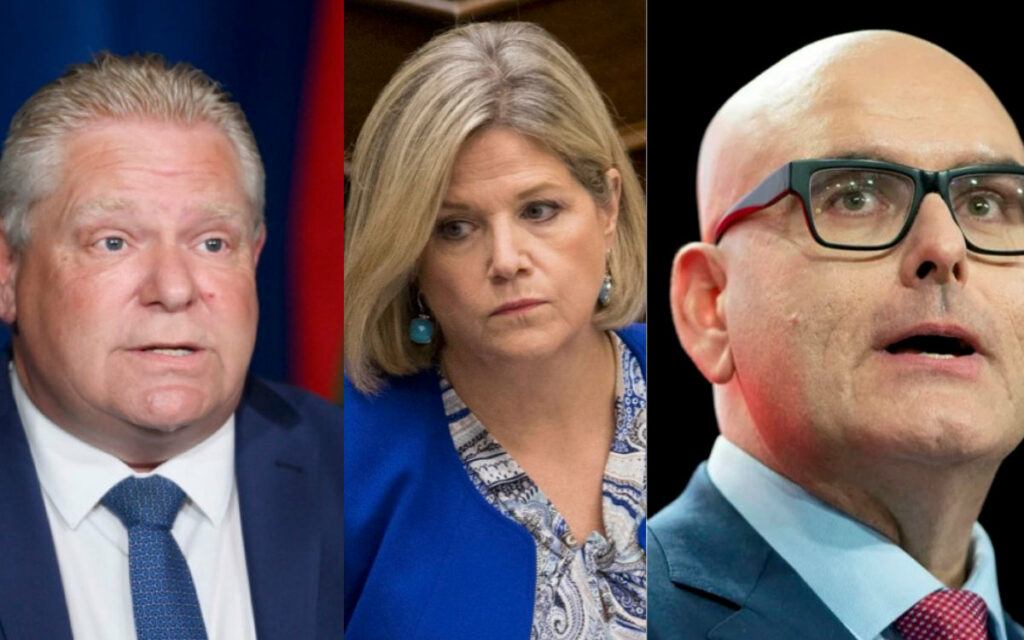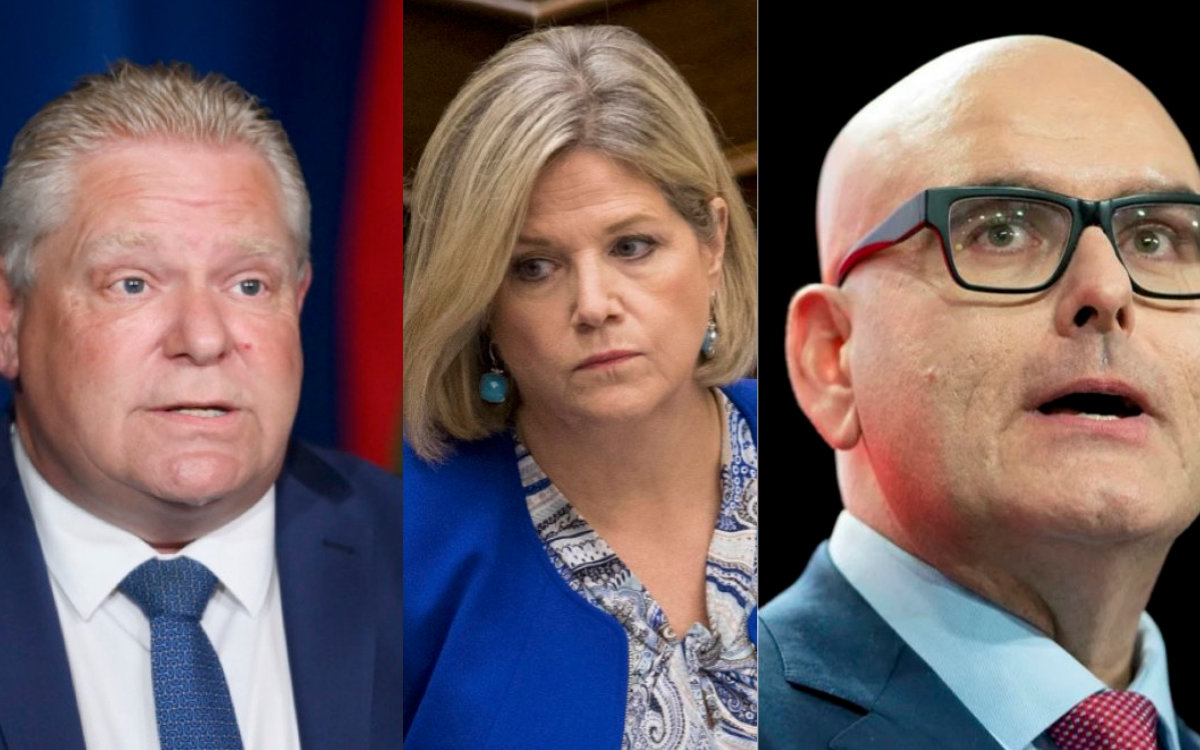 Premier Doug Ford, leader of the Official Opposition Andrea Horwath, and the seatless heir to the crumbled McGuinty-Wynne empire Steven Del Duca. Photo credit: The Canadian Press/Nathan Denette/Chris Young/Frank Gunn
Now that we are just under a year away from the next Ontario election scheduled for June 2, 2022, the gloves are off. Opposition leader Andrea Horwath and Steven Del Duca have really ramped up the criticism of Premier Doug Ford and his PC government of late. Much of the criticism concerns how the government handled the pandemic, and there is surely lots to criticize on that basis. But considering that every single government across Canada, and for that matter the world, made many faux pas in their dealing with a once-in-a-lifetime health crisis, it is pretty difficult to argue that an NDP or Liberal government in the province would have done any better.
In addition, although the provinces were often targeted with most of the criticism during the pandemic, as they were the level of government dealing most directly with citizens, it is also true that if the federal government had made better decisions on such issues as border restrictions, rapid testing policies and vaccine procurement early on, the provinces would not have had to deal with as many crises as they ended up having to. Although the federal Liberals continue to boast about the vaccine rollout, it is really a credit to the provinces who have been stellar in quickly ramping up vaccinations, often in the face of unreliable supplies of vaccine from the federal government.
And speaking of the pandemic, what happens in the coming year will obviously be a huge determinant of the next Ontario election's outcome. If we are truly over the worst of it and life can continue to normalize over the coming months, that will work to the benefit of Ford and his colleagues. If the spectre of a fourth wave of the virus comes to pass, however, it will likely doom Ford's chances of re-election, deserved or not.
As for the challenging parties, NDP leader and current leader of the Official Opposition Horwath will be  having her fourth kick at the election can next year. More typical in politics is for any leader to have two shots before being replaced. The fact that Horwath continues as head of the Ontario NDP is likely due to a lack of alternatives rather than her competence in the position. Horwath made a big deal of her party achieving Official Opposition status in the last election, but this was probably more a result of voters' anger with the Wynne government than a rush of support for the NDP. Current opinion poll numbers suggest that is unlikely to happen again, and if Horwath does not make progress next year her days are probably numbered as party leader.
Regarding Liberal leader Del Duca, even Liberals admit he is anything but charismatic, so they will be presenting him as a steady alternative to the PCs. Del Duca was however in Kathleen Wynne's cabinet, and Ontario voters do not seem to have forgotten the many negatives the governments of Dalton McGuinty and Kathleen Wynne inflicted on Ontarians. Del Duca does not currently have a seat in the Ontario legislature, which is always a hindrance to any leader in an election period. The Liberals also do not have official party status because of their small number of seats, which means much less in the way of taxpayer-provided resources and influence. For all of these reasons, Del Duca has many challenges to overcome in the upcoming election.
On one of the latest issues where opposition leaders have been highly critical of Ford – the government's recent decision to invoke the notwithstanding clause to enact legislation which restricts third party advertising in a pre-election period – a recent poll showed that a majority of average Ontarians actually agree with the thrust of limiting the ability of unions, corporations and other third parties to bombard the airwaves with ads supporting or opposing a given political party. And the fact that all of the political parties have now moved into election mode puts the lie to the assertion of the court that rejected the Ford government's legislation to switch the time period for which partisan advertising by third parties was forbidden from six months prior to an election to twelve months, because the court said twelve months was too long.
Current polling numbers suggest that if an election was held today, the Ford government would win, with a minority. But a year is a very long time in politics, and anything could happen in the interim in our volatile times. One of the big question marks is the economy, and what that will look like a year from now for the average voter.
There's a reason Trudeau wants to go to the polls sooner rather than later, and that is by mid-2022 it is very possible that the negative impacts of the pandemic on personal finances and the economy will start to be truly felt. Although an economic surge is expected over the next few months – barring any more unpleasant surprises from COVID-19, such as a fourth wave – any boost will be short-lived. Government supports will be gone and the businesses that survived the pandemic will be struggling with the large debt loads incurred. From all indications, inflation will continue to trend upward, further increasing the cost of living and exacerbating the financial difficulties of families and businesses. And smack dab in the middle of all this, Ontario will go to the polls. Only one thing is certain – it's going to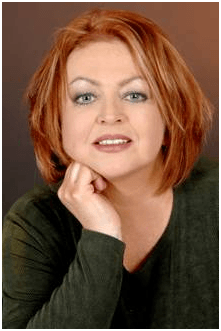 Catherine Swift is currently President and CEO of Working Canadians (www.workingcanadians.ca.  Prior to that, Catherine Swift had been with the Canadian Federation of Independent Business since September 1987, initially as Chief Economist. She became Chair in June 1999 after being named Chief Executive Officer in July 1997 and President in May of 1995.  Her various responsibilities included coordinating policy issues at federal, provincial and municipal levels of government, representing CFIB with politicians, government, business, media and other groups.
Ms. Swift has worked with the federal government in Ottawa holding several positions with the Departments of Consumer and Corporate Affairs, Industry and Communications. Her areas of specialization included corporate and industrial analysis and international trade. Catherine Swift has a MA in Economics.
She has published numerous articles in journals, magazines and other media on such small business issues as free trade, finance, entrepreneurship and women small business owners. Ms. Swift is a Past President of the Empire Club of Canada, a former Director of the C.D. Howe Institute and past President of the International Small Business Congress. She was cited in 2003 and again in 2012 as one of the top 100 most powerful women in Canada by the Women's Executive Network.