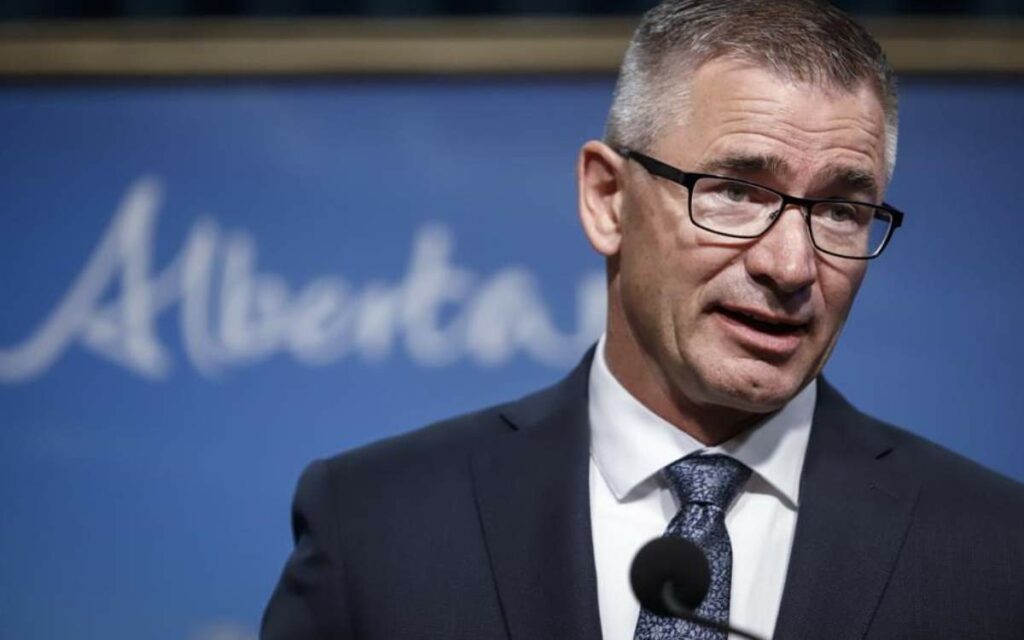 Premier Danielle Smith and Finance Minister Travis Toews (pictured) struck a reasonable balance between increased spending and posting a surplus. The happy combination was made possible by strong prices in the oil and gas sector boosting government revenues. With Alberta's next provincial election only three months away, Smith hopes her first budget at the helm will be enough to maintain voters' confidence in the UCP. Photo credit: The Canadian Press/Jeff McIntosh
Alberta Finance Minister Travis Toews presented his government's 2023-24 budget earlier this week and managed to achieve a reasonable balance between some pretty sizeable spending increases while still posting a surplus. 
Overall government spending increased by about 4 per cent, leaving the province's books with a surplus of $2.4 billion at the end of the fiscal year in March 2024, the third straight year of surpluses. The important debt-to-GDP ratio is projected to reach 10.2 per cent this fiscal year and fall below 10 per cent in the following year for the first time since 2018-2019. This compares to a federal debt-to-GDP ratio of over 40 per cent which is expected to further increase in the years ahead. 
Spending increases were largely for health care, education, public safety, and debt repayment. Health care spending increases were around $1 billion, with the number of employees in Alberta Health Services forecast to expand by 3,600 workers over the next year. 
The government also said they would bring back balanced budget legislation within the context of a new fiscal framework which is expected to be tabled in the spring. The government also intends to create a new "Alberta Fund" as a means of restricting how it can spend future surpluses. The plan is to devote half of any excess funds to debt repayment with the rest going into the Alberta Fund for future debt repayment and unexpected contingencies. Changes are also planned to the existing Heritage Fund to retain more interest income in that account. The new fiscal framework will also limit future spending increases to the sum of population growth plus inflation.  
Alberta has had balanced budget legislation in the past, but it never was much of a disincentive to governments running deficits when they felt so inclined. A particularly tough balanced budget law was introduced by former Premier Ralph Klein when he eliminated provincial debt in 2004, but that didn't stop Klein's successors from repealing the law several years afterward and once again adding to provincial debt. Toews did note that his balanced budget law could be flexible if difficult times were suddenly experienced. This was the first budget under Premier Danielle Smith and was especially important as her United Conservative Party (UCP) faces its first election with Smith at the helm in three months time. 
Interestingly, there was no provision in the budget for such things as an Alberta Police Force or a provincial pension plan, things that Smith had expressed support for when she was running for the leadership of the UCP. 
Criticism of the budget by the opposition NDP was fairly mild, stating the assumptions underlying the budget were not credible and that the projections for future economic growth and employment were overly optimistic. They also said not enough money was being invested in public services, yet Alberta is already one of the biggest program spenders among the provinces. Overall government spending in the budget was pegged at $68 billion – a sharp increase from its level of $47 billion only five years ago. Critics also noted that the 5 per cent increase in operating funds did not offset inflation of over 6 per cent – which is true – but after the spending surge during the pandemic, some reasonable restraint is hardly inappropriate. 
Generally, critics in the NDP and elsewhere denounced the budget for not spending enough but also being an election budget to buy votes, two diametrically opposed positions which did not help their credibility.  
The happy combination of increased spending and a surplus was made possible by strong prices in the oil and gas sector boosting government revenues. Although critics claimed that budget assumptions for oil prices in the next year were too optimistic, the budget based its forecasts on a price of US$79 per barrel for oil. Private sector forecasts for oil prices range from US$85 to US$90, so the budget assumption appears to be within a realistic range and oil and gas demand is also expected to remain strong for the next year and beyond. 
When Smith first won the UCP leadership, the polls were stacked against her winning the election in May. Since then, the UCP's standing with voters has improved considerably, with the UCP now somewhat ahead of the NDP in most polls. We'll only have to wait a few brief months before seeing if this budget will be positive or negative for Smith's electoral chances.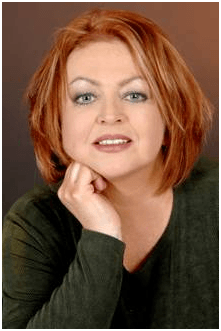 Catherine Swift is President of the Coalition of Concerned Manufacturers & Businesses of Canada (CCMBC). She was previously President of Working Canadians from 2015-2021 & President & CEO of the Canadian Federation of Independent Business (CFIB) from 1995-2014. She was Chief Economist of the CFIB from 1987-1995, Senior Economist with TD Bank from 1983-1987 & held several positions with the federal government from 1976-1983.
She has published numerous articles in journals, magazines & other media on issues such as free trade, finance, entrepreneurship & women business owners. Ms. Swift is a past President of the Empire Club of Canada, a former Director of the CD Howe Institute, the Canadian Youth Business Foundation, SOS Children's Villages, past President of the International Small Business Congress and current Director of the Fraser Institute. She was cited in 2003 & 2012 as one of the most powerful women in Canada by the Women's Executive Network & is a recipient of the Queen's Silver & Gold Jubilee medals.
She has an Honours BA and MA in Economics.