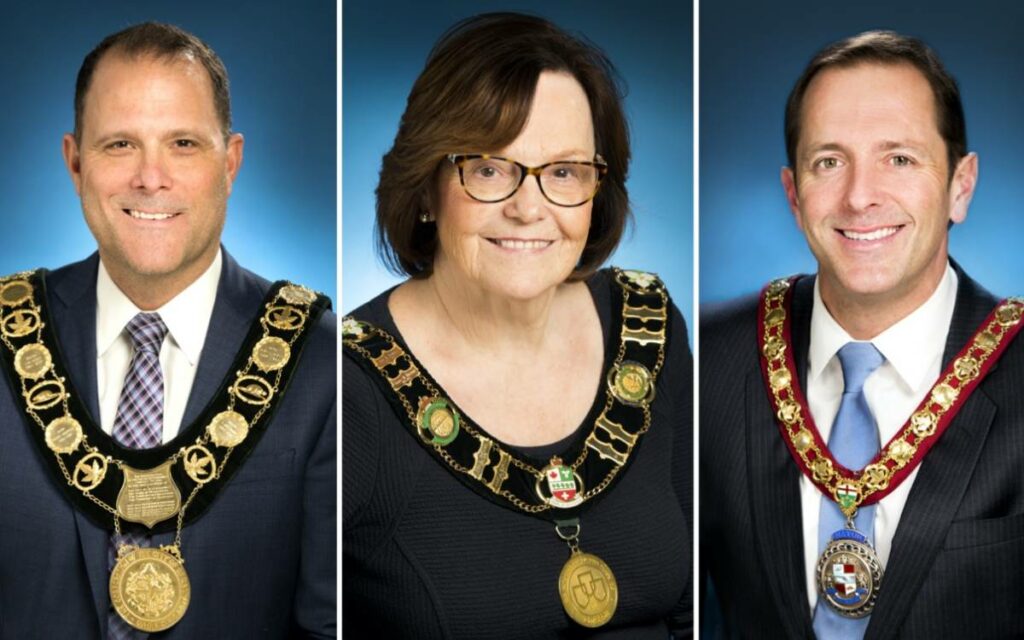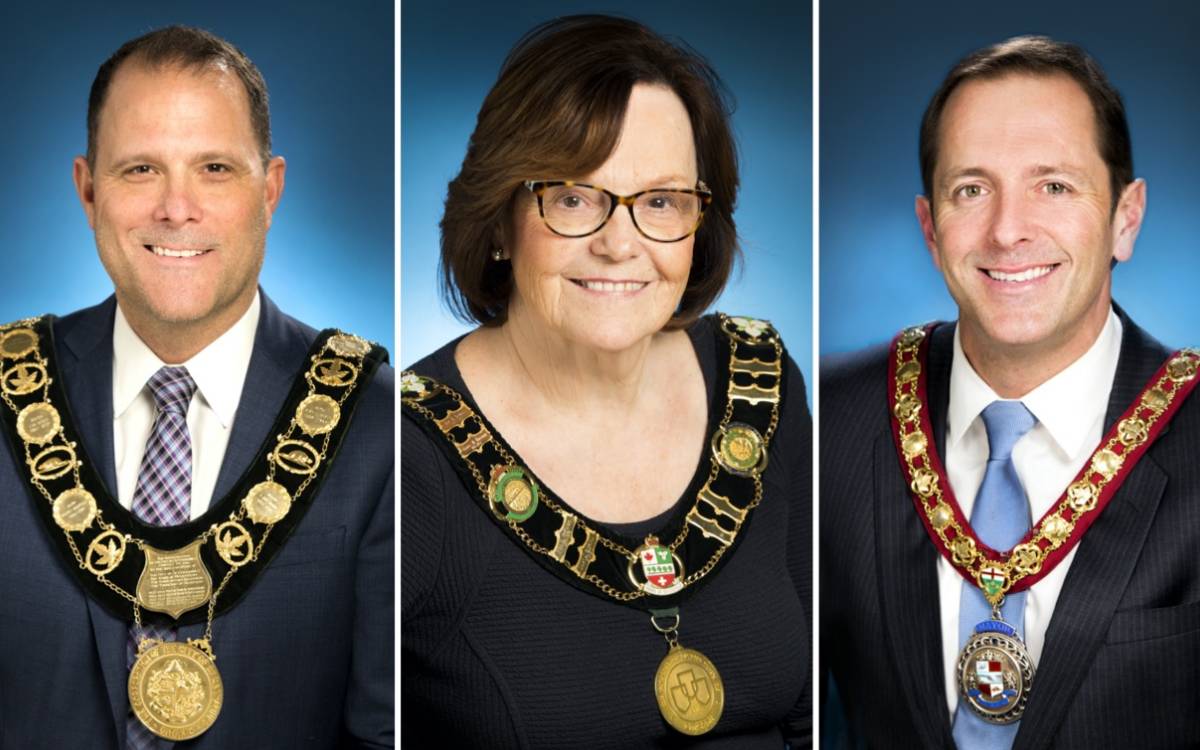 Only current St. Catharines mayor Walter Sendzik (pictured left) will not be on the ballot when Niagara voters hit the ballot box in October. With less than a month left in the nomination period, currently six of the 11 registered incumbents are unopposed, including Lincoln mayor Sandra Easton (centre). Popular Niagara Falls mayor Jim Diodati (right) hopes to earn a fourth term as head of council to help push a number of key uncompleted projects delayed by the pandemic 'across the finish line'. Photo credit: Niagara Region
With Fort Erie's Wayne Redekop formally registering as a candidate for October's municipal election on Tuesday, the intentions of all 12 of Niagara's incumbent mayors are now known. 
Only one current head of local council is not seeking re-election this fall: two-term mayor of St. Catharines Walter Sendzik. 
In comments to local media after announcing he would not try for a third term, Sendzik said that while he wouldn't rule out running for public office again, he wanted to return to the private sector for the time being. 
"I believe that civic duty is something you do for a period of time, it's not something you do forever, it's not a forever career," said Sendzik. "I want to re-engage with the private side and say how else can we all contribute to making our community a better community."
At time of publication, only Mat Siscoe has filed nomination papers in the upcoming race for St. Catharines mayor. 
Siscoe, who was controversially elevated from his city councillor position to Niagara Regional Council at the beginning of this year, is a physics teacher by trade, working out of Saint Paul Catholic High School in Niagara Falls. He was first elected to St. Catharines city council for St. Patrick's Ward in 2010, winning re-election again in 2014 and 2018. 
In 2014, the presently unopposed mayoral candidate ran provincially for the Ontario PC Party against current chair of regional council Jim Bradley and newly re-elected incumbent MPP for St. Catharines Jennie Stevens. Siscoe finished second to Bradley.
To the southeast of St. Catharines, long-time Niagara Falls mayor Jim Diodati will challenge for a fourth term of office, after initially "weighing" his options regarding October's election.   
A successful small business owner, Diodati served two terms as Niagara Falls city councillor before besting then-incumbent mayor Ted Salci for head of council in 2010. He comfortably gained re-election in 2014 and 2018 (notably, against former MPP Kim Craitor), earning 85 and 58 per cent of the vote, respectively. 
In announcing his intention to run again at the beginning of June, Diodati cited all of the unfinished work put on hold by the COVID-19 pandemic he wants to complete before exiting municipal office. 
"I didn't get everything across the finish line that I'd been working on," said Diodati.
"Things like the hospital, the expansion of the GO train, building a hospice in Niagara Falls and a number of other things. We got near the finish line, but we didn't get across the finish line."
Diodati currently has two low-profile challengers: Roland Weeks and Joe White. 
Weeks, 63, is a retired electronic technologist with the Toronto Police Force. White, 69, is a former factory foreman and "entertainment promoter" in the city. Neither have any official experience in politics, municipal or otherwise.   
In Niagara's third largest lower-tier municipality, two-term incumbent Welland mayor Frank Campion is presently running unopposed. 
Campion, who served as local councillor for several terms prior to becoming mayor, handily secured the mayorship in 2014 and again in 2018, winning 60 and 78 per cent of the vote share.  
Like Diodati, Campion cited unfinished work as the driving force behind his re-election campaign, including work related to Welland's local hospital and affordable housing. 
"I want to continue the work I started," Campion told local news media at the beginning of July.
Less than four weeks out from nomination close, Campion is one of six incumbent Niagara mayors currently running unchallenged.
Sandra Easton in Lincoln, Marvin Junkin in Pelham, Bill Steele in Port Colborne, Terry Ugulini in Thorold, and Kevin Gibson in Wainfleet all lack opponents at the moment. 
The remaining four incumbent heads of council each have at least one challenger registered, with a number of experienced candidates hoping to unseat their community's respective mayor. 
In Niagara-on-the-Lake, Toronto transplant and first-term council head Betty Disero will have her hands full trying to hang on to the title of Lord Mayor this fall, as former local councillor and current regional representative Gary Zalepa filed his nomination papers to replace her back in May. 
In Grimsby and West Lincoln, mayors Jeff Jordan and Dave Bylsma are both facing internal opposition from current members of their Niagara West councils. 
In Grimsby, two-term local councillor John Dunstall is vying to supplant Jordan. While in West Lincoln, current municipal councillor Cheryl Ganann, who first assumed office following a 2016 by-election, will challenge Dave Bylsma for the mayorship. 
Bylsma was first elected mayor of West Lincoln in 2018, after serving one prior term as local councillor. 
Over the course of the COVID-19 pandemic, the outspoken mayor has been the subject of considerable controversy as an anti-vaccine, anti-mandate advocate; breaching the municipality's code of conduct multiple times and having his pay docked and various duties on boards and council appointments stripped. 
Lastly, in Fort Erie, long-time council head Wayne Redekop will have at least two challengers trying to preclude him from earning a sixth term as mayor, one of whom should be familiar to local voters. 
Candidate Peter Taras, who owns and operates Harvest Ridge Farm, ran for the People's Party of Canada in the 2021 federal election. Though he finished fourth of five candidates, Taras bested his Green Party rival and managed to secure 8.4 per cent of the vote, well above the party's national share of 4.9 per cent.  
"If elected, By-Law officers will not be used to violate the Charter rights of the citizens of Fort Erie," Taras wrote on Facebook after filing his paperwork at the end of June.
"I will do my best to protect the freedoms of the people."
The third registered candidate for Fort Erie mayor is Dan Favero. Favero owns a car wash and storage business on Garrison Road.
The municipal election is scheduled for October 24, 2022. 
Potential candidates have until August 19 to file nomination papers to appear on the ballot.