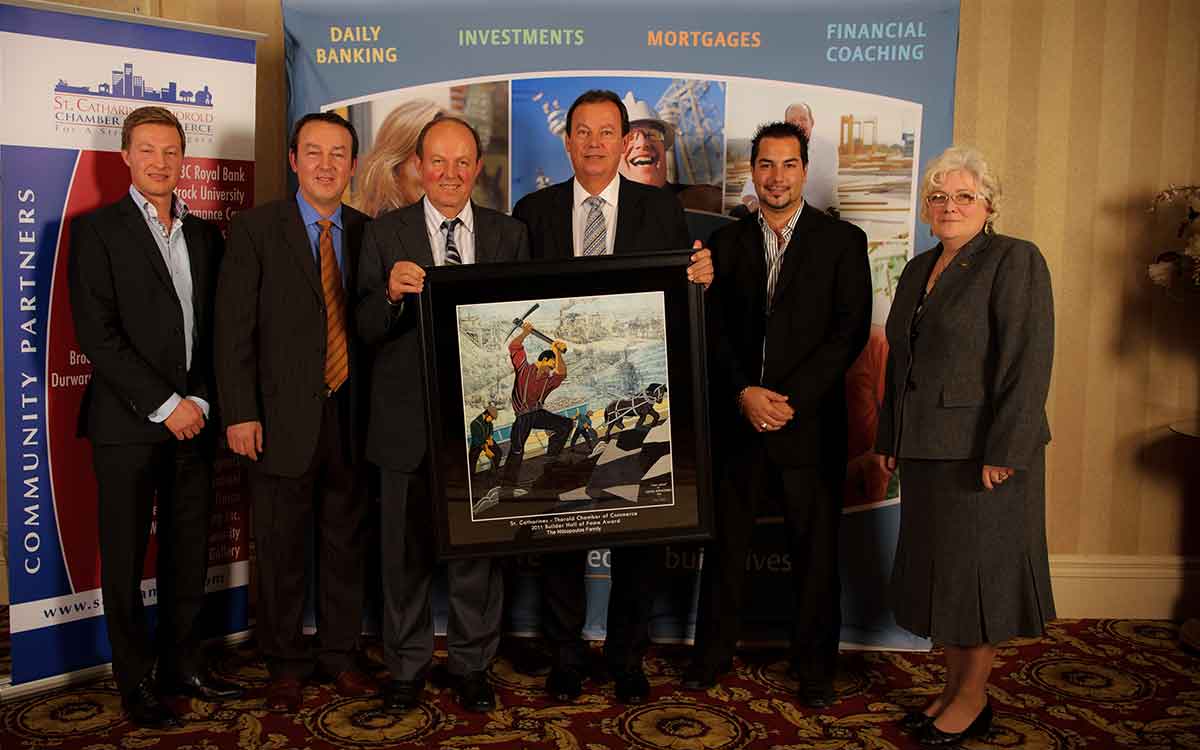 The Nitsopolous brothers receive the Builder Hall of Fame Award in 2011 from the Greater Niagara Chamber of Commerce. Supplied photo.
It was March 10, 1968. That's when the Nitsopolous family moved to Toronto where they would begin a new life in Canada and a journey that would eventually take them to St. Catharines where they would become one of the most successful business families in the city's history.
"In our third year in Toronto we bought a house and in our fourth year we bought a business," explained Angelo Nitsopolous the third oldest of the five brothers that include from oldest to youngest; Chris, John, Jimmy and Peter. The business, as Angelo describes it, was a chicken burger joint. It would be a sign of things to come as the brothers would soon launch themselves into the restaurant and hotel industry in a city located down the QEW. It was a good start considering their father arrived with just $300 in his pocket.
In 1975 an uncle pitched the brothers on a business opportunity in St. Catharines. It was to own and operate the first two restaurants in the local mall, the Pen Centre – Jolly Miller Pancakes and Sheaney's pub. "It was a year after they closed in the mall by adding a roof," said Nitsopolous. He said six months after that Robinson Department store opened as an anchor tenant where The Bay is currently located. The four brothers – Peter was too young at this point – soon opened the Double End Family Restaurant for a total of three eateries.
They've operated a number of restaurants and pubs since those early years but it was when they got into the hotel business that things really took off. That business journey started in 1993 when they had another partnership opportunity to buy what was then known as the Howard Johnson along with Perkins restaurant off of Lake Street in St. Catharines. Originally the brothers were invited in to operate the restaurant and be 50 per cent partners. Two days after the deal closed, the other partner up and left. The Nitsopolous brothers were left holding the bag.  "We had experience in food and beverage but not on the hotel side," explained Nitsopolous.
Angelo's son, Tom Nitsopolous remembers that particular summer well. "I was twelve years old bussing tables," he said with a laugh.
Once they got settled and started to figure out the hotel business things started to run fairly smooth. After a few years business was going well. Feeling a little more confident the Nitsopolous boys started keeping an eye out for other opportunities. It was 1997 when they caught wind that a hotel on Ontario Street was in receivership. A deal was struck and they now owned their second hotel – the Ramada Parkway. That property later became the Quality Inn and is now a Holiday Inn.
But it wasn't their first Holiday Inn. In 2000, just a few years after purchasing the Ramada a third hotel was up for sale. "Our original business partner was looking at buying the Holiday Inn (now a Best Western on the North Service Road) and so I called and told him we were interested and asked him to back off," said Nitsopolous. The brothers put in an offer and in 2000 the property was theirs.
Now the owners of all three major hotels in St. Catharines the trick was to keep them relevant and fresh. "We've evolved with the times," said Nitsopolous. He went on to say that the changing of hotel names over the years is sometimes a necessity.  "Not every brand works in every location. You need to find the right brand."
The interior of the hotel is always being examined as well. The Holiday Inn on Ontario Street has undergone significant renovations over the years, most recently the bowling area. The Hampton Inn (formerly Howard Johnson's) just underwent a major upgrade inside and out as well. "We're always looking for that next."
Sometimes the name changes are forced upon an owner. For a long time the hotel now branded as a Best Western was a Holiday Inn. "The Holiday Inn didn't want to be a two story hotel anymore so in 2010 we had to make a decision," explained Nitsopolous. That decision was to bring the Holiday Inn brand to Ontario Street.
Dealing with big hotel chains as a franchise owner has its advantages but can also produce some interesting times. Angelo Nitsopolous recalls a funny story from back in 1994 when one of their properties was a Howard Johnson. "I called them up and asked them what their plan was for the internet. They didn't really have one so I told them I was going to have a website with the address being howardjohnson.com. They said: 'No problem' and we did it." Eventually he sold that domain name to Howard Johnson.
When asked what the busiest weekend is for their hotels, the answer may come as a surprise. "Caribana Festival in Toronto," said Angelo without missing a beat. He said hotels are booked that weekend from downtown Toronto right through to Fort Erie. "The casino has been a game changer locally. It's made Niagara a more year round destination. Of course the wineries, they drive a lot of tourism." He said closer to home in St. Catharines places like the Meridian Centre and the performing arts centre have helped but that the city needs to do a better job promoting the events. The trend of destination weddings has also helped business and; "The Canada Summer Games in 2021 will be huge."
The next generation continues to be heavily involved in the operations. Tom Nitsopolous worked summers for his dad when he was younger and then went to Ryerson University where upon graduation he stayed in Toronto to manage a restaurant for a year. "I wanted to cut my teeth with another business," he said. Eventually he returned to Niagara and managed J.J. Kapps restaurant in the current Holiday Inn property. "I've learned a lot from my dad and my uncles. You have to work hard, treat people fairly and understand that your employees are the most valuable asset," said the younger Nitsopolous.
In total the company employs about 400 people. The biggest challenge though is finding good candidates for jobs. "The labour shortage is an issue," said Angelo. His son Tom said they had a job fair recently and invited about a dozen people for a follow up interview. "Nobody showed up," said Tom.
Known as community leaders and as a very philanthropic family and business, dozens of charities have benefited from their generosity over the years. The family has donated hundreds of thousands of dollars to various charities.  "It's part of life, you have to help," said Angelo. "All businesses in Niagara contribute to the community in many different ways."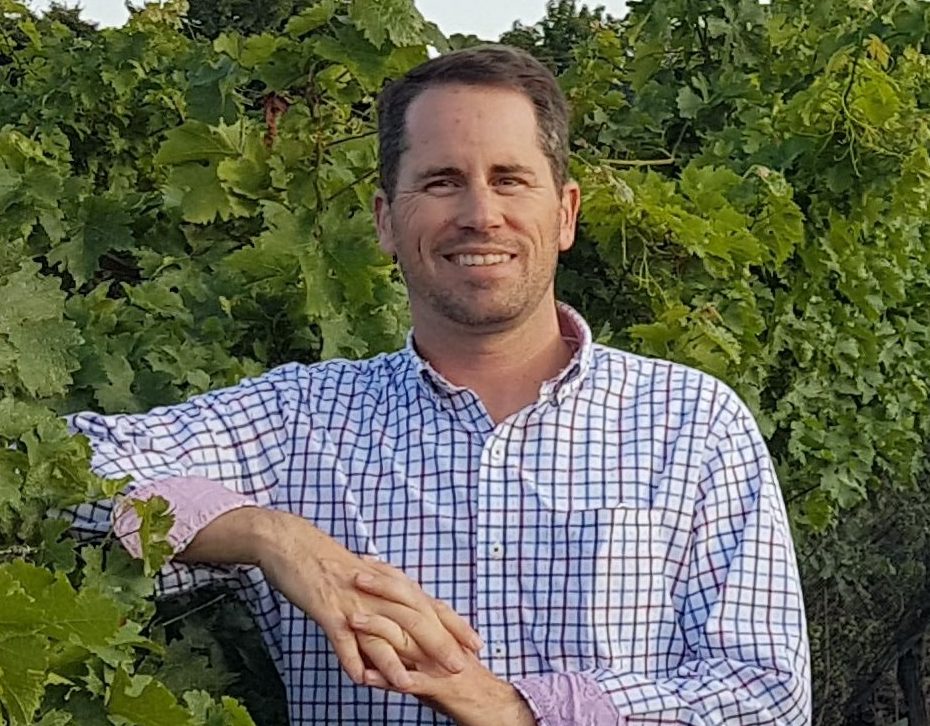 Kevin has spent over two decades as a public relations professional in a variety of sectors including professional sports, the arts, industry and healthcare.  After tiring of the daily commute to Toronto he returned to Niagara and launched The Niagara Independent, an online news source published twice weekly.
He is a graduate of Brock University, Niagara College and the Richard Ivey School of Business. He was named one of Niagara's 40 Under Forty in 2005.
Kevin is most proud of his twin daughters. He is also a triathlete and four-time Ironman finisher.