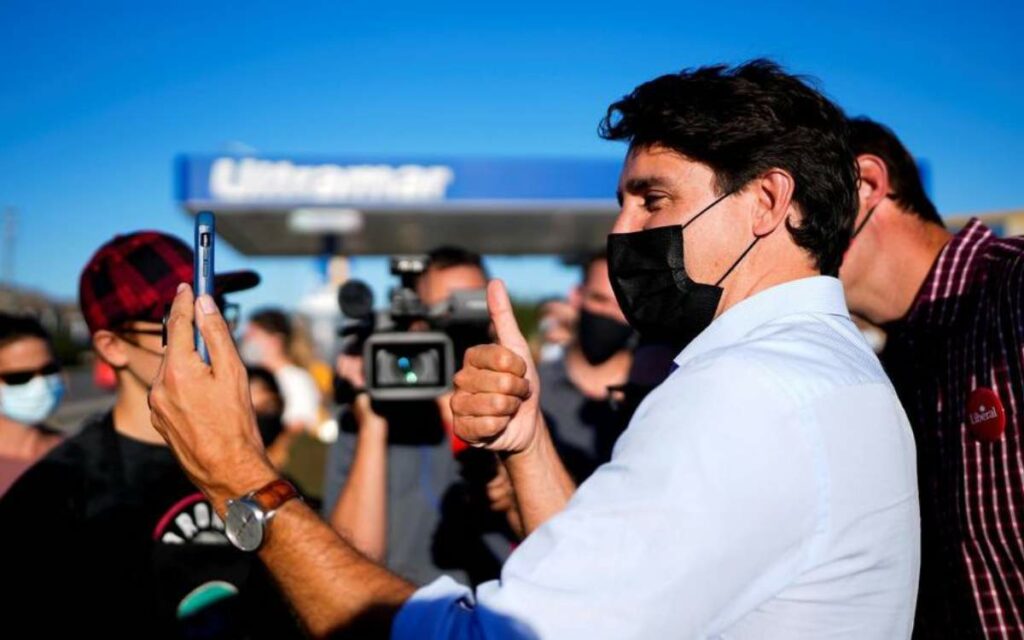 Justin Trudeau campaigns in Whitby, Ontario in the lead-up to Canada's 2021 election. Photo credit: Reuters/Carlos 
A federal election in 2021, a provincial election in the spring of 2022, and a municipal election in the fall of 2022. Why not round it out in 2023 with another federal election? 
Voter fatigue is very real, but all of the signs are telling us another election will come sooner rather than later. Watching and reading the news, the signs are everywhere. 
We have seen a chorus of former liberal politicians all publicly condemning Trudeau and his leadership style. Change is coming from within, and they know it would be foolish to enter another election with Trudeau at the helm. Liberals want an election before Poilievre becomes a household name, but they also know they need to do it without the baggage of Trudeau. We will see over the next few weeks and months if things happen internally within the Liberal Party. 
Enough has been exposed of Trudeau's true character that even die-hard Liberals are having difficulty publicly supporting him. The exclamation point, of course, being the publication of Bill Morneau's book which reads like a scathing review of everything to do with his former boss.
We also see the NDP ramping up the rhetoric on social media. If they are dissatisfied with future policies and the upcoming budget, they might bring a vote of non-confidence. The irony being that nothing has changed with the Liberals, and if Jagmeet Singh wanted to go to the polls he could have done so anytime over the last year. 
All of the party leaders are travelling around the country in a manner that bears all the hallmarks of a campaign. Press stops, photo-ops, and podiums from various locations of swing ridings and corporate partners.
Speaking of partnerships, there have been frequent announcements of federal money being graciously bestowed upon us for corporate incentives or infrastructure projects. Making money rain has always been the go-to response to counter sinking poll numbers. This is especially true in Niagara. The federal government needs to realize tax dollars belong to the people and capital projects to repair existing infrastructure are not to be awarded for political points. 
"Revitalization" is a glorious word that simply means maintenance. It is the very least we can expect from the excessive tax dollars we pay. However, what we have seen from the Liberals' "investing in Canada plan" is that it continuously lags behind schedule and objectives are not met. 
Liberals have shown since 2015 that they are great at photo-ops, but very poor at fulfilment. We get saddled with debt but all that we get for it is incompetence. 
A federal election cannot come soon enough.
Graham Speck is a current Welland city councillor and the Conservative Party candidate-of-record for Niagara Centre.