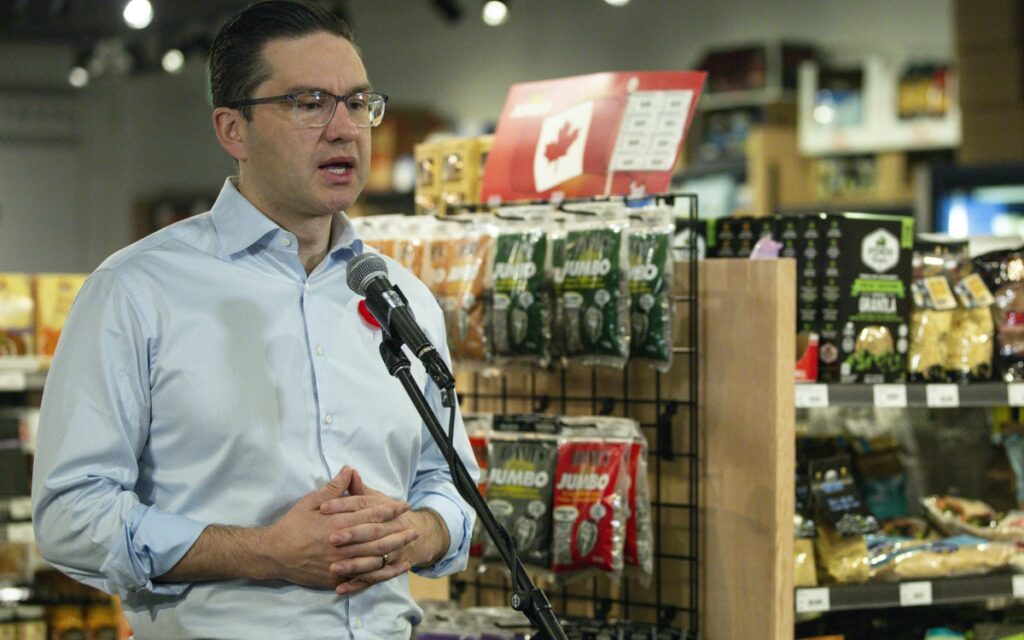 The results illustrate that who a party runs in local races really does matter. They also serve as potential good news for Conservative leader Pierre Poilievre (pictured at a recent news conference), should the Republican Party finally cast aside Trump and his ill-fated endorsements as fringe and out of step. Photo credit: The Canadian Press/Marissa Tiel 
It was a good week for Pierre Poilievre. And like most strokes of luck in politics, it had entirely nothing to do with what the newly minted Conservative leader did or said. 
Despite flippant comments from the federal Finance Minister about cutting her Disney+ subscription in an attempt to be relatable, or a Tylenol shortage that is leaving parents with few options to treat their sick children at home, the lucky break for the Conservatives didn't come as a result of any Liberal missteps.
So why was it a good week if the Conservatives failed to land a knockout punch on their opponent, and the Liberals (mostly) kept their heads down?
Well, it has nothing to do with domestic politics and everything to do with the politics of our closest neighbour.
In the lead up to the U.S. midterms that took place on Tuesday, pundits and pollsters had been predicting a 'red wave' that would see former President Donald Trump's handpicked candidates propelled to victory. But by Tuesday evening when the vote count started rolling in, it was clear that the next morning's headlines would be telling a far different story.
The big news is that the Democrats avoided getting decimated. While a number of close races have yet to be called, the party is set to land one of their best midterm results in the last two decades. 
What's more is that decisive victories were few and far between for Trump-backed candidates, which should surprise no one given that celebrity candidates like Dr. Oz and Herschel Walker spent the campaign marred in controversy. Off the cuff comments from the candidates dictated local and national news of the day, the likes of which would have gotten them immediately disqualified from running for any of the mainstream political parties in Canada.
The defeat of Oz, and the close race for Herschel in Georgia that will be decided next month is not the news Trump wanted, and it doesn't position him well heading into an anticipated announcement next week declaring his candidacy for president. Despite the weakened state of the American economy and a cost-of-living crisis under President Biden's watch, what happened this week was for all intents and purposes a sound rejection of Trump. 
One takeaway from Tuesday's midterms is that swing voters are looking for a change in the Republican ranks before they are willing to park their vote with the party. Having a central message about the economy is not enough to cover up for candidates who push conspiracy theories, and false narratives. 
Here at home, the Liberals will have a harder time casting Poilievre and the Conservative Party as right-wing foot soldiers if Trump is cast off by the Republican party as a fringe candidate out of step with the mainstream views of the party. This won't happen overnight, but Tuesday's election results will give Republicans pause as they chart their path forward. 
What happened during the midterms also serves as a cautionary tale. Who political parties choose to run in local races matters. While some gaffes are expected, unruly candidates have the potential to derail the narrative of a central campaign to the point where it doesn't matter if it is a change election, or not. 
Living in the shadow of Trump has been a challenge for the last two Conservative leaders. Poilievre can and should hope that Tuesday's election results are a sign that the winds of change are blowing south of the border.
Josie Sabatino is a Senior Consultant at Summa Strategies, focused on providing strategic insight and helping clients meet their objectives in an ever changing and complex political and regulatory environment. Prior to joining Summa, Josie spent nearly a decade in political communications and most recently served as the Director of Communications to the Hon. Erin O'Toole, former Leader of the Official Opposition.