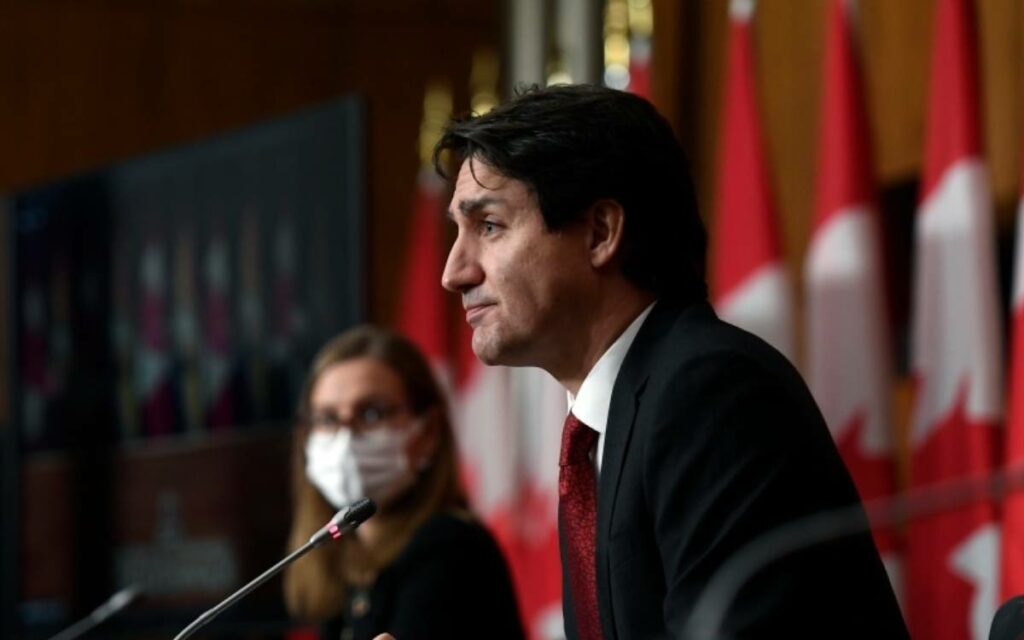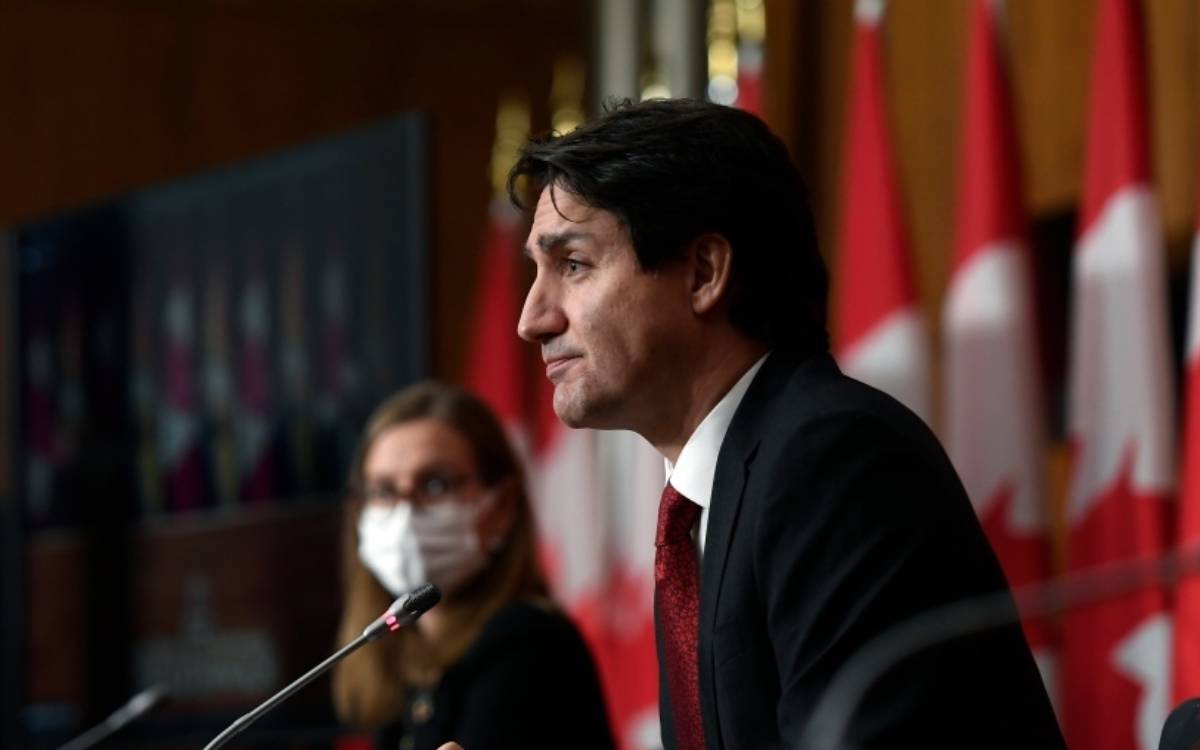 Canada's prime minister answers questions about Quebec's Bill 21 at a press conference in Ottawa, Dec. 13, 2021. Photo credit: The Canadian Press/Justin Tang
In a Hill Times front page story this week EKOS Research pollster Frank Graves mused that Canadians' view of their prospects entering a new year was "unsurprisingly quite dark." He observed that Canadians are feeling high levels of stress, anxiety, and depression. This appraisal of Canadians' negativism is reflected in another survey conducted by Nanos Research, which found that less than one in five Canadians (18 per cent) expect the country's economy to rebound in the next six months. 
Canadians appear to have rather bleak expectations for 2022 and no doubt this anxious feeling is compounded by the current headline news: inflation and rising costs of living, impending climate calamities, mounting health care crises – and a constant feed of the health and political news of the never-ending pandemic.  
This despair is also being fueled by headlines concerning the country's political leadership – the actions of PM Justin Trudeau and his government.
Following the September 2021 federal election there were a majority of Canadians that believed Justin Trudeau should resign. In the immediate aftermath of the election, in which less than one in three voters cast their ballot for the Liberals, a Maru poll reported that 77 per cent of Canadians believed their country to be "more fractured than ever." The poll revealed deep feelings of regional division and an apathy or distrust of the country's national leadership that appeared to be increasingly populist and small-minded.  
Since this public opinion snapshot, PM Trudeau and his government continue to exacerbate Canadians in the way they manage the nation's contentious issues of the day. The PM's leadership (or lack thereof) was on display again this week when Quebec Premier Francois Legault announced he would introduce a personal tax on Quebecers who have chosen not to vaccinate. The premier's Tuesday theatrics came after federal Health Minister Jean-Yves Duclos mused aloud last Friday that provinces need to consider mandating vaccination – something he personally supports. 
Though Quebec's "anti-vax tax" violates Canadians' human rights and attacks the very foundational principles of the country's public health system, PM Trudeau would not condemn the premier's overreach. But alas, one might expect no less from a PM who has not missed an opportunity to vilify Canadians that have chosen not to get vaccinated. He characterized Canadians who are unvaccinated as "extremists… who don't believe in science" and many being "misogynists and racists." He has repeatedly singled out the unvaccinated and has recently gone as far as to suggest all delayed surgeries, lockdowns, and public health restrictions are a result of the ten per cent of Canadians who have chosen not to vaccinate. Through the week the PM has deliberately sidestepped the responsibility for readdressing Premier Legault's assault on Canadians' rights. It appears for Justin Trudeau, the ends justify the means when dealing with "these people." 
The PM's inaction in defending Canadians' rights has also been disturbingly obvious with two egregious rights' violations currently unfolding within La Belle Province. Inexcusably, the Trudeau government has chosen to not defend Gatineau teacher Fatemeh Anvari when she was removed from her classroom for wearing a hijab. It has also permitted the Legault government to unilaterally change the Canadian constitution and impose new French language laws that undermine the language rights of Quebec minorities. 
The Trudeau government's preferential treatment of Quebec has become an increasing source of division in the country. From the many clandestine activities defending SNC Lavalin to carrying out backroom favours for Quebec through the pandemic (masks shipments, vaccine supply), the Trudeau government has not blinked in shortchanging TROC. Underscoring its obvious favouritism was the Trudeau government's quick and quiet five-year extension of the federal-provincial equalization agreement that has the majority of Canada's redistributed funds shoveled to La Capitale Nationale (a.k.a. to TROC as Quebec City). 
The Trudeau government's management practices are consistently undermining Canadians' confidence in government and its institutions. 
The independence of national news agencies is brought into question when the federal government subsidizes newsrooms and reporters in excess of $600 million. Recently, the government doled out an additional $60 million in "pandemic relief" to selected newsrooms and refused to reveal which newsrooms were on the receiving end of their largesse. 

New internet laws are to be introduced soon and these "online anti-hate measures" will establish a new federal bureaucracy to police Canadians' online activities in accordance with a yet-to-be-written set of regulations. 

The federal cabinet secretly approved Public Health Agency of Canada to collect location and movement data from 33 million Canadians' cell phone use. The agency's actions and its reports to government would have been kept from Canadians had it not been for investigative work by the independent journalist news source

Blacklock's Reporter

. Canadians have since found out the PHAC is hoping to collect cell phone data through the next five years for pandemic planning and for purposes "other than public health measures." 

The RCMP commissioner this week urged Canadians to report any sign of "anti-government, anti-law enforcement" opinions expressed on the internet. Our national police force wants Canadians to snitch on those they feel may take action in protest against the government and/or the police. 
Then there is the disconcerting radio-silence from the government on pressing matters relating to Canada-China relations: the new foreign policy on China, the fate of Huawei's involvement with Canada's G5 network, the Canada-China virus research in Winnipeg, possible foreign interference in the federal election, and a host of unaddressed human rights issues in China.
Perhaps the Trudeau government's greatest attack on the national psyche since its re-election is the PM's selection of a "climate activist" for the country's environment minister. Defying the country's history, economic realities, and bitterly cold winter climate, Steven Guilbeault is intent on shutting down Canada's oil and gas industry. He has already telegraphed he will champion the government's green agenda with little regard for the impact it will have on western Canada, the national economy, or on working Canadians. Guilbeault is on a mission and he has Trudeau's explicit blessing. (More on this issue in the coming weeks.) 
On Tuesday of this past week, Canadians observed the birthdate of Canada's first prime minister and had a chance to reflect on the hopes and aspirations Sir John A. Macdonald offered our young, fledgling nation. On that same day, as Premier Legault's announcements were met with Trudeau's calculated silence, we were reminded of the country's existential threats that come from within, agitated by our current PM and his purposeful divisiveness.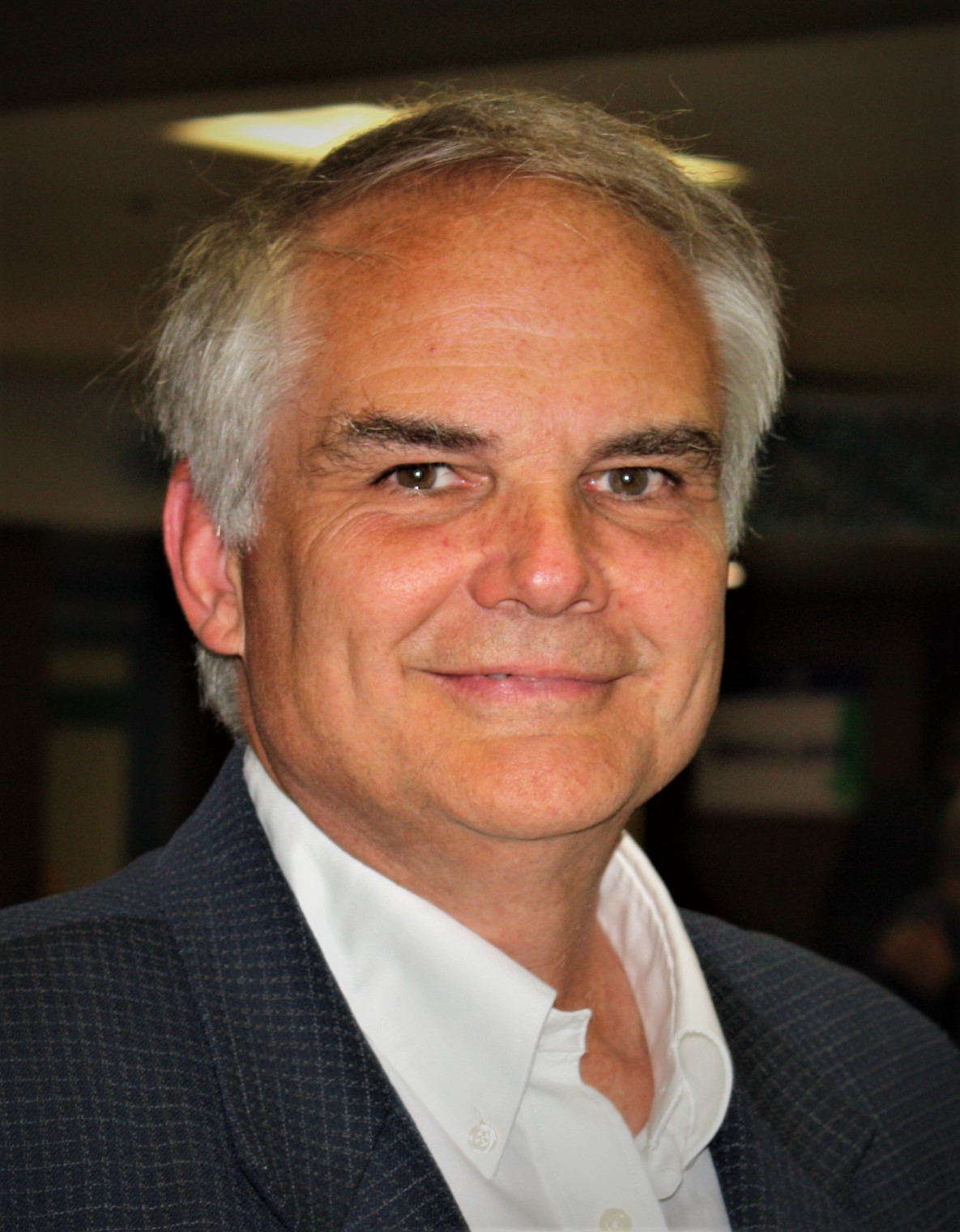 Chris George is an advocate, government relations advisor, and writer/copy editor. As president of a public relations firm established in 1994, Chris provides discreet counsel, tactical advice and management skills to CEOs/Presidents, Boards of Directors and senior executive teams in executing public and government relations campaigns and managing issues. Prior to this PR/GR career, Chris spent seven years on Parliament Hill on staffs of Cabinet Ministers and MPs. He has served in senior campaign positions for electoral and advocacy campaigns at every level of government. Today, Chris resides in Almonte, Ontario where he and his wife manage www.cgacommunications.com. Contact Chris at chrisg.george@gmail.com.