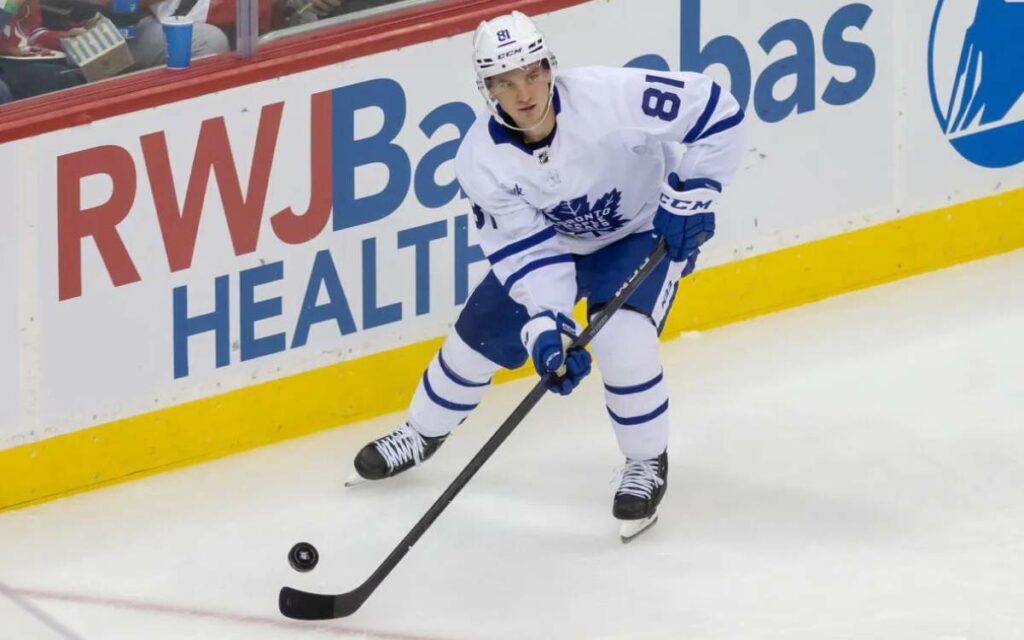 Thorold's Conor Timmins joins Niagara Falls' Mac Hollowell (pictured) in Toronto. Photo credit: The Hockey Writers/Jess Starr
It's been quite the few weeks for Toronto Maple Leafs fans from Niagara, and a couple of select families. 
After Niagara Falls native, and blueliner, Mac Hollowell made his debut for the blue and white on November 23, Thorold's Conor Timmins will make his Maple Leafs debut tonight (Tuesday) in Dallas. 
Beside both hailing from Niagara, there is another connection between Hollowell and Timmins – both played together for the Ontario Hockey League (OHL) Sault Ste. Marie Greyhounds. 
And who is the former general manager of the Greyhounds? 
Nonother than current Leafs GM Kyle Dubas. And where did Dubas graduate from in Sports Management?
Brock University in St. Catharines.
Niagara connections abound now with the Toronto Maple Leafs. 
Hollowell also played a season of Junior B hockey with the Niagara Falls Canucks, while Timmins played 30 games between the Thorold Blackhawks and St. Catharines Falcons. 
Hollowell was a 2018 fourth round draft pick of the Leafs out of Sault Ste. Marie after putting up 12 goals and 56 points in 63 regular season games during the 2017-18 season followed by a two-goal 16-point playoff appearance with the Greyhounds that same season. 
Hollowell played in 136 American Hockey League (AHL) games between the Toronto Marlies and Newfoundland Growlers before getting the call up last month.
"I've been waiting for this moment since I was a little kid," the 24-year-old Hollowell told reporters before his NHL debut. 
"To get my name called feels really good. I'll treat it like any other game. When I'm moving my feet, moving the puck, things are good for me, so I'll try to do that."
"I'm just happy to get in and make my mark with this team and help them win games."
Hollowell has two points in six games with the Maple Leafs this season. 
Timmins, on the other hand, obviously took a different route to Toronto. 
The 24-year-old was a 2018 second round pick of the Colorado Avalanche, and played on the same Greyhounds club with Hollowell during his draft year. 
Timmins would go onto represent Canada at the 2018 World Junior Hockey Championships in Buffalo, winning a gold medal, and was arguably the best defenseman on the ice for the Red and White. 
Injuries have plagued Timmins ever since. He's never played a full season, either in the AHL or NHL, and that includes a trade to the Arizona Coyotes last year. His best pro season was 2019-20 where he posted three goals and 27 points in 40 games with the Colorado Eagles, the Avalanche AHL affiliate. 
Before the Leafs acquired Timmins on November 23, ironically enough the same night Hollowell made his NHL debut, there were rumours that the Coyotes were going to place the 6-foot-2 190-pound defenceman on waivers. Something Dubas didn't want to happen, as he traded forward Curtis Douglas to Arizona for Timmins. 
"He's a bigger guy that we have and we know he's competitive," Dubas said. "The way he thinks, the way he's able to make plays, and reliable both offensively and defensively. And he's just 24. There's a lot there to work with."
Timmins told reporters he's excited to be playing in and for Toronto.
"Obviously, there's a ton of major resources here. Things you might not get in other organizations," explained Timmins.
"I'm just really excited for that aspect as well.
Whenever they put me in, I'm ready."
And that 'ready' will be tonight against Dallas.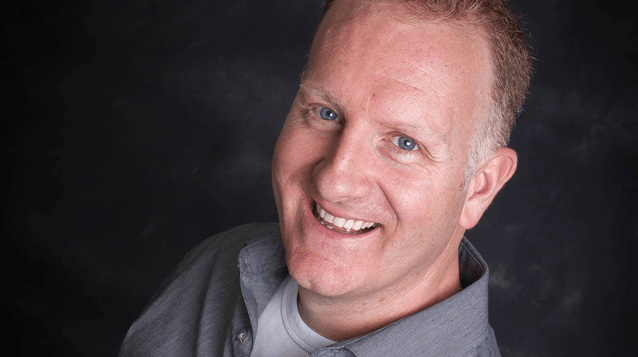 Rod Mawhood is a lifelong Niagara native who has had the pleasure of working in all three mediums – Radio, Print and TV – for over 20 years. His first announcing gig was with the then St. Catharines Stompers. Since then he's worked in radio and TV in Toronto, and currently is the announcer for the Niagara IceDogs and Niagara River Lions.
Rod also covers the Buffalo Bills for FOX Sports and the Buffalo Sabres for NBC Sports.