The underpopulation crisis, that is. Photo credit: MedPage Today
Most of us grew up being told that overpopulation posed a direct threat to the economic and environmental sustainability of the world. This argument was put forth based on naive assumptions regarding the permanency of globalism, world peace and the absence of any large global pandemic. We are now learning that this was all a mirage. The 2020s are reacquainting a complacent and passive generation with the realities of a harsh world. Truly, underpopulation, not overpopulation, is the existential challenge we will face in upcoming decades.
Until the middle of the last century, most young people got married at a relatively young age (late teens or twenties). This meant that many people would have a lengthy period of child-rearing. While infant mortality was a major concern, it was not uncommon for a family unit to comprise five to 10 children (or even more). While these rates did decline during the first half of the 1900s, it was still typical during the post-war period for a married couple to produce three or four offspring. 
The broad societal changes of the 1960s and 70s, which included people delaying marriage, the legalization of contraception and more women seeking employment outside the home led to smaller families in many western nations. Policies limiting the number of children a family could have were implemented throughout communist countries (e.g. China) because of the inability of the state to manage the needs of an expanding population. 
In general, the average size of families has plummeted over the past fifty years. Today, a greater percentage of the population is unmarried and childless than at any point. 
Changes in reproduction rates take a few decades to have a tangible impact from an economical perspective. This reality, as well as the fact people are, in general, living longer and healthier lives (and having longer careers), has further delayed our rendezvous with destiny, so to speak. Now, however, things are beginning to heat up. 
The pandemic kicked-off the dramatic and long-anticipated withdrawal of baby-boomers from the workforce. Certain industries, of course, were and are more impacted than others. Healthcare, for example, is suffering from astronomical labour shortages, and it could get much worse. Other vital industries, such as almost every trade, are scarily underrepresented. In spite of automation and artificial intelligence, human labour remains an irreplaceable commodity. So, what can be done to address the coming crisis? 
First, it is necessary that we make the best use of the labour we currently have. While this generation is smaller, there are still millions of young Canadians who, with the right training and expertise, can contribute a meaningful impact to various industries in the economy. Cutting-edge post-secondary programs, with a specific emphasis on practicum/co-op training, is the best way to prepare the up-and-coming generation for productive careers. Secondly, we can ensure our immigration system is running at maximum efficiency. This, of course, does not merely mean meeting a quota of new residents annually. It involves doing the hard work of helping new Canadians find and secure employment in the industries where they have skills, as well as where the need is greatest. It also means constructive planning to ensure their kids will also receive the training and tools that they need to fill the positions of the future. Simply put, immigration is clearly one of the solutions, but it must be done strategically.
Thirdly, there needs to be frank recognition in the west about the bearish economic outlook of China. Yes, it has historically boasted a huge labour force and consumer market, but all the signs suggest that this is coming to an imminent end. The Chinese population is plummeting at an ever-accelerating rate. The Chinese system is also completely dependent on globalism, which is free-falling. As this coming metamorphosis is starting to hit home in the United States, as well as throughout Europe, necessary preparations are being made. It is time for Canada to also wake up. We need to diversify our trading partners. 
Finally, we also need to consider the long-term solution. Clearly, we want to attempt to, eventually, resolve the "population crisis" organically. We need to have more kids. How do we accomplish this objective? Here are four practical suggestions: 
Our societal messaging needs to be more overtly pro-family. Marriage and children are blessings that most citizens should seek while they are still reasonably young. 

Issues like inflation, housing affordability and employment stability need to be addressed so that people can feel secure enough to start families. 

The various levels of government can pursue innovative market-based solutions that might ease the financial burden on parents, particularly mothers, who have young children.

Outdated and illogical arguments of overpopulation and excessive pessimism regarding the long-term future of society need to be quelled through effective counter arguments and newly branded optimism throughout our institutions. 
These are just a few suggestions and are by no means a final word on the subject. The times are producing a great deal of unpredictability. One thing, however, is for certain. There is a looming population crisis and it needs to be met with realism.  
Nick completed his Honours Bachelor of Arts Degree in Labour Studies at Brock University. He has previously served in municipal and federal politics. In his free time, Nick enjoys following sports, taking part in outdoor activities and reading biographies. Nick resides in Niagara Falls.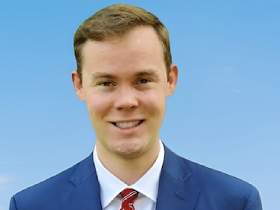 Nick Redekop completed his Honours Bachelor of Arts Degree in Labour Studies at Brock University. He has previously served in municipal and federal politics. In his free time, Nick enjoys following sports, taking part in outdoor activities, and reading biographies. Nick resides in Niagara Falls