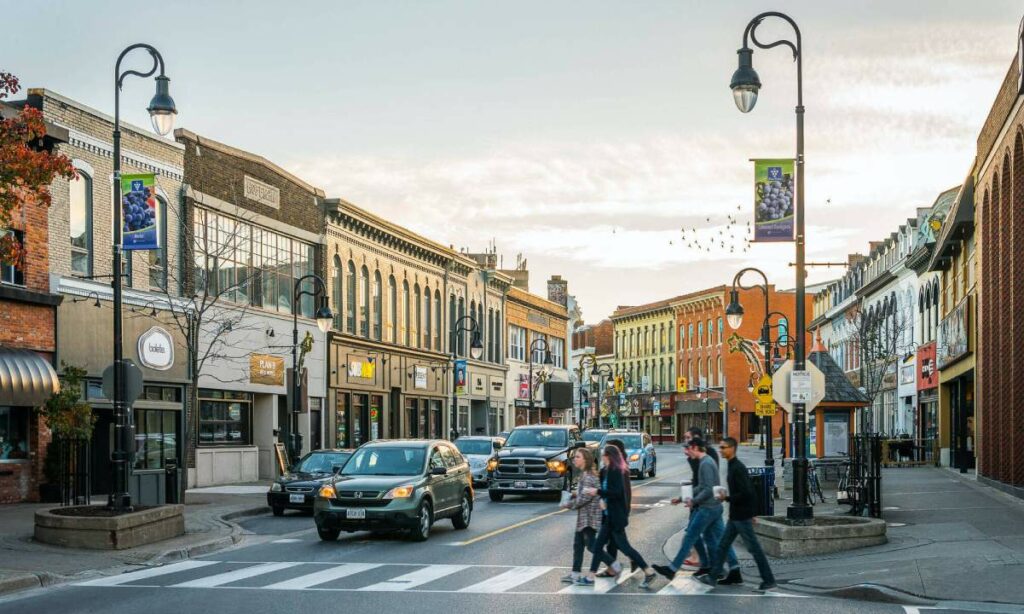 Recent report from Point2 analyzed happiness in communities around Canada. Niagara's three most populated municipalities all ended up in the bottom fifth of the country's 100 largest cities. Pictured is St. Catharines, which ranked 87. Photo credit: Flickr/Ontario Municipal Affairs and Housing
A new study suggests Niagara's Big Three municipalities are among some of the unhappiest communities in all of Canada.  
According to a recent report from real estate marketing website Point2, Niagara Falls, St. Catharines, and Welland rank 83, 87, and 93, respectively, among Canada's top 100 largest cities in terms of general "happiness."
"Happiness is as elusive a term as it is subjective, and it encompasses a multitude of aspects, from the pragmatic to the existential," Point2 opined in the introduction to its new report. "And, although measuring it is somewhat possible due to the many factors that can come into play, there will always be a certain elated vibe that cannot be encapsulated through hard data."
Published on May 4, the study analyzed 30 "happiness-related metrics", everything from median income, poverty rate, and perceived health to simple practical factors like commute time and air quality, which were distilled down to four broad dimensions: economy and real estate, location and demographics, health and wellbeing, and community and environment.
On the resultant 0 to 100 "happiness index", Niagara Falls finished first among the region's three ranked municipalities with a score of 43.04. St. Catharines ended up second with an index score of 41.82, while Welland brought up the rear with a grade of 40.79. 
The top and bottom index grades, for context, bookended a narrow band of achieved scores between 67.41 and 35.77. As Point2 explained, "Data shows that, just like in real life, there is no absolute happiness, as none of the largest cities in Canada ranked high in each and every happiness metric that would get them a 'maximum happiness' index of 100."
In regard to the four broad dimensions, both Niagara Falls and St. Catharines did particularly well in the community and environment category, ranking 29 and 21 among Canada's 100 largest cities. Welland ranked 65.
The three cities tied for 84 in the health and wellbeing category and did equally average in concern to location and demographics, with St. Catharines ranking 50, Niagara Falls 60, and Welland 62. 
In the fourth and final broad dimension, economy and real estate, Welland topped the group at 69, followed by Niagara Falls (76) and St. Catharines (89). 
Outside of Niagara, the country's five happiest large cities, according to Point2, are all located in Ontario. 
Caledon topped the list with a happiness index of 67.41. Milton came second with a score of 63.79. Halton Hills came third (63.06), and Clarington and Burlington rounded out the top five with scores of 62.50 and 62.47, respectively. 
The list's bottom five consisted of London (35.77), North Bay (36.39), Windsor (38.49), Sault Ste. Marie (39.01), and Saint John, NB (39.19). 
Neighbouring Hamilton earned a grade of 47.93, good enough to place 61. 
Canada's three largest population centres – Toronto, Montreal, and Vancouver – finished 72, 86, and 67. 
Calgary finished a respectable 51, while its Albertan cousin did less well, ending up 88 overall. 
Ottawa did the best of the big cities. The nation's capital earned an index score of 56.05 and nabbed spot 26 on the list. Quebec City wasn't far behind with a score of 55.86, placing 28. 
For further analysis and to view the full list go to Point2's website here.