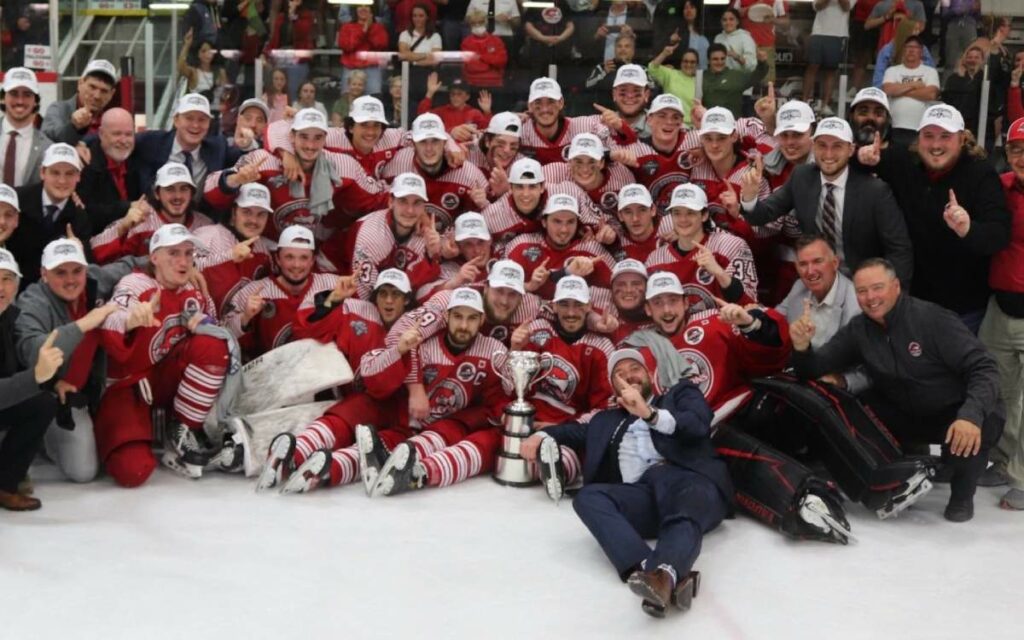 Player and coach are part of defending Sutherland Cup Champion St. Catharines Jr. B Falcons. Photo credit: Twitter/GOJHL
They were supposed to be honoured Monday night at St. Catharines City Hall, but instead they'll be playing Game 3 in their best of seven second round playoff series against the Caledonia Corvairs. 
The duo are proud members of the St. Catharines Jr. B Falcons organization, and were just named 2022 St. Catharines Athlete and Sportsperson of the Year.
Forward Mitchell Armstrong as athlete, and head coach Tyler Bielby as sportsperson from the defending Sutherland Cup Champion Falcons. 
First awarded in 1934, the Sutherland Cup is emblematic of Junior 'B' supremacy in the Ontario Hockey Association (OHA).
The 24 teams in the Greater Ontario Junior Hockey League (GOJHL) now compete for the trophy.
The St. Catharines Falcons are part of the Golden Horseshoe Conference along with the Hamilton Kilty B's, Fort Erie Meteors, Caledonia, Thorold Blackhawks, Niagara Falls Canucks, Welland Jr. Canadians, and Pelham Panthers. 
Sixteen other teams (eight in each conference) make up the Western and Midwestern Conferences. 
Bielby credited his players first and foremost for winning the 2022 St. Catharines Sportsperson of the Year.
"I think three groups in particular, starting with the young men who put those skates on," said Bielby recently on the Niagara Sports Report on Newstalk 610 CKTB. 
"They're the ones in the middle of that fire.
Secondly, the village. It takes a village to win. And that starts with our board, our management team, all the volunteers, our billets and all the fans. 
And thirdly the people in my personal life. A lot of sacrifice. We live at the arena anywhere from five to seven days a week. I thank my girlfriend, and my parents, and everybody who allows me to follow my passion."  
Armstrong was not only part of the Falcons, he also won a gold medal for Canada at the World Junior Indoor Lacrosse Championships, and is a member of the St. Catharines Jr. A Athletics Lacrosse Club and Brock Badgers field lacrosse team. 
"I think I have to thank my coaches and my teammates first," Armstrong explained. "I wouldn't be getting this award without them. 
Obviously, my parents, they've been through everything in life with me – through thick and thin – and I couldn't thank them enough.
My brother and sister. My friends.
From the Falcons to the A's (Athletics) I can't say enough about their organizations. They've been so much help to me. 
I'm extremely grateful for it."
And while the St. Catharines City Hall presentation has been postponed, the Falcons are looking to make another long playoff run in 2023.
After sweeping Pelham in four games to open their GOJHL postseason, as mentioned St. Catharines is now playing Caledonia with the winner to meet either Fort Erie or Hamilton in the Golden Horseshoe Final. 
Armstrong decided to rejoin the Falcons after Christmas because of those aforementioned players in the Falcons dressing room, and says it comes down to two words for St. Catharines to possibly repeat as Sutherland Cup Champions this year.
"Staying humble and staying hungry is what coach likes to say. Stay committed to the plan." 
Humble and hungry. Two words most of us could apply in everyday life. 
Congratulations to Mitchell Armstrong and Tyler Bielby.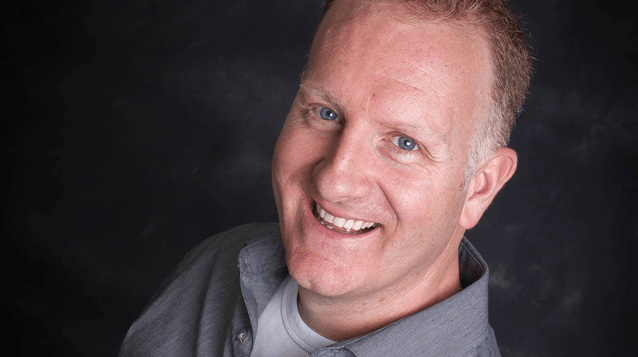 Rod Mawhood is a lifelong Niagara native who has had the pleasure of working in all three mediums – Radio, Print and TV – for over 20 years. His first announcing gig was with the then St. Catharines Stompers. Since then he's worked in radio and TV in Toronto, and currently is the announcer for the Niagara IceDogs and Niagara River Lions.
Rod also covers the Buffalo Bills for FOX Sports and the Buffalo Sabres for NBC Sports.