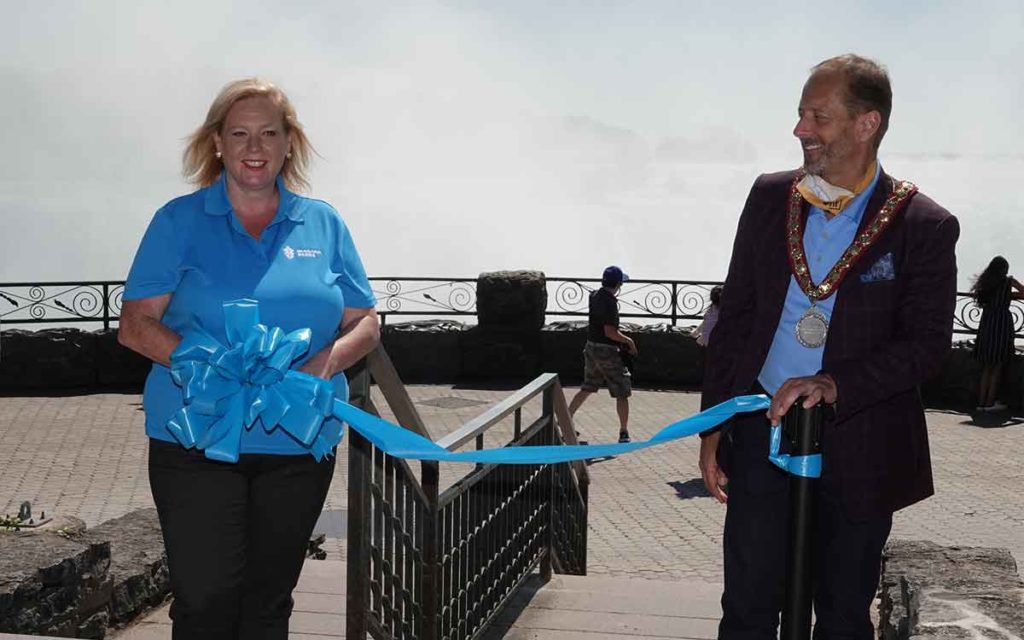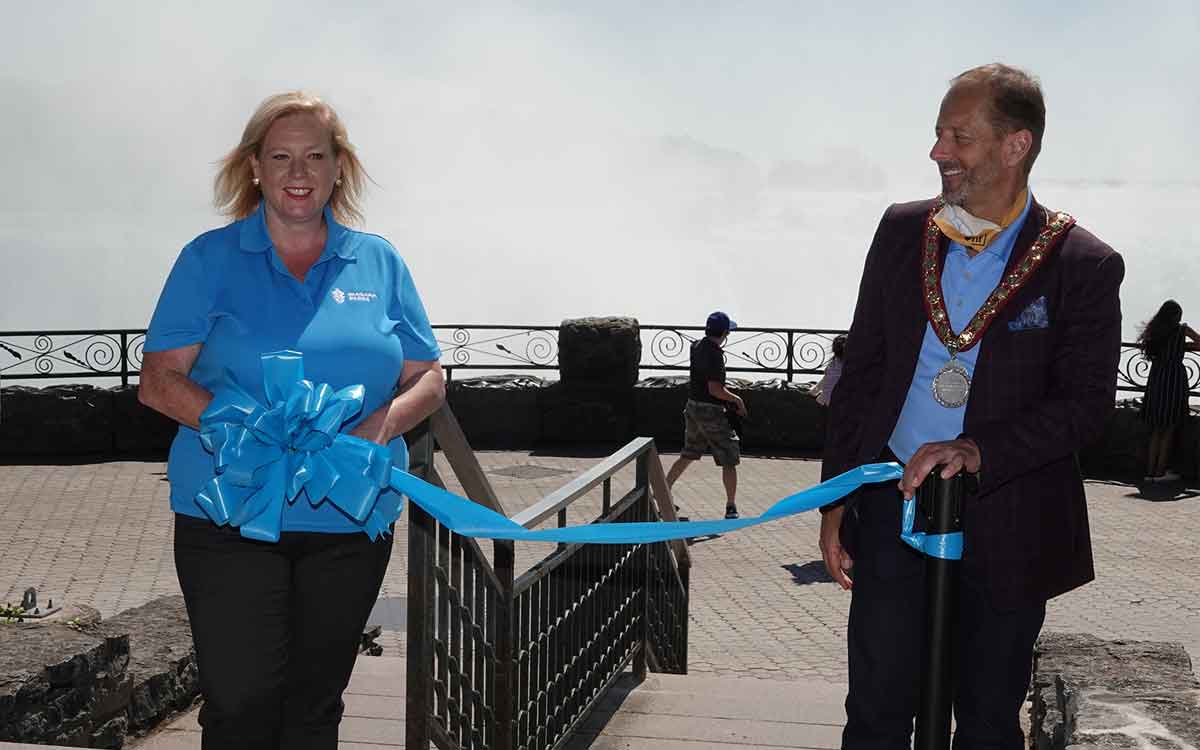 From left to right, Lisa MacLeod, Minister of Heritage, Sport, Tourism and Culture Industries and  Niagara Falls Mayor Jim Diodati
The snip of a blue ribbon by Niagara Falls Mayor Jim Diodati and Lisa MacLeod, Minister of Heritage, Sport, Tourism and Culture Industries, reopened – in part – Niagara's economy. The minister and the mayor were joined by Sandie Bellows, Chair of Niagara Parks Commission, Joel Noden, Chair of Niagara Falls Tourism and Rebecca Mackenzie, President and CEO of Culinary Tourism Alliance, for a ribbon-cutting ceremony to officially welcome people back to the Niagara Region as part of Stage 2 of the province's reopening plan.
"This has been a very challenging time for the tourism sector, but today the Niagara Region will begin to reopen its world-class attractions and start down the road to recovery," said Minister MacLeod who spent all day Friday touring several attractions and eating at local restaurants to help signal Niagara is safe and ready to open its doors to visitors. She also announced that the Ontario government is supporting the Niagara Region's vital tourism sector by providing a $25-million loan to the Niagara Parks Commission to redevelop the historic Canadian Niagara Power Generating Station (CNP) into a one-of-a-kind, made-in-Ontario attraction.
"The adaptive reuse of CNP will provide an exciting new tourism driver for the region, while also continuing to deliver on Niagara Parks' mandate of preserving and promoting the natural and cultural heritage along the Niagara River Corridor, while remaining financially self-sufficient. We are proud, as an operational enterprise agency of the province, to be able to self-support this project with the support of our ministry while doing our part to grow tourism in Niagara and in Ontario," said Sandie Bellows, Chair of Niagara Parks Commission. Phase One is expected to open on July 1, 2021.
Noden, a senior manager for HOCO Ltd. one of the largest tourism operators in Niagara, said by all accounts the first weekend of Niagara being in Stage 2 of reopening was a success. While there will always be some who ignore public health recommendations Noden said from what he saw visitors were being respectful. From a staff perspective Noden said they were ready to go and eager to get back to work even if it was under different circumstances. "The staff followed the protocols and adapted well. They got the hang of it quickly," he said. Noden added that with more attractions opening soon like Hornblower Niagara Cruises and Whirlpool Jet Boat Tours as well as HOCO's Niagara Speedway Go-karts, visitors will be more spread out.
In Niagara-on-the-Lake, where visitors have been returning steadily over the past few weeks, business was a bit more brisk this past weekend. Peter Earle who owns Halleys' Fashion for Men on the main street of the old town said he noticed an uptick in sales on Saturday. "I recognized Saturday," he said. "There was more energy which is encouraging." But, Earle cautioned a day does not a month make. "Sunday settled back down but that's to be expected with many visitors doing day trips." Earle said the Town's businesses are a long way off from what they would normally be doing at this time of the year but, "we must press on".  He said people are starting to buy more whereas the past few weeks visitors mostly just wandered up and down the main street and seldom made a purchase. "There's no mistaking we have a very difficult year ahead of us but you have to take the positives where they show up."
Charlie Burland, whose company had 17 of its 22 Niagara Falls businesses open for the weekend said he wasn't surprised to see the big influx of people but anticipates mid-week will continue to be slow. He said his businesses did anywhere from 20 to 60 per cent of what they would normally do this time of year.  "My guess is Monday to Thursday will stay slow," said Burland. He added that even though the province gave Toronto the green light to proceed to Stage 2 this week, his prediction is that many in the GTA will still come to Niagara on weekends.
On Sunday Minister MacLeod visited Ball's Falls Conservation Area on her way back home. NPCA Chief Administrative Officer, Chandra Sharma, said they were pleased to be able to show off the flagship conservation area to the Minister. "We were pleased to welcome Minister MacLeod along with Niagara West MP Sam Oosterhoff, and our valuable partners from the Town of Lincoln, to Ball's Falls Conservation Area this past Saturday," said Sharma. "We were proud to have been given the opportunity to showcase one of our 41 Conservation Areas, and discuss the role of conservation authorities in supporting the revitalization of the green economy. We recognize the significant economic and health benefits that Ontarians receive from having access to greenspaces and how critical our parks and green infrastructure are in supporting sustainable eco-tourism in Ontario."
The province announced yesterday that both Peel Region and Toronto can proceed this week to Stage 2.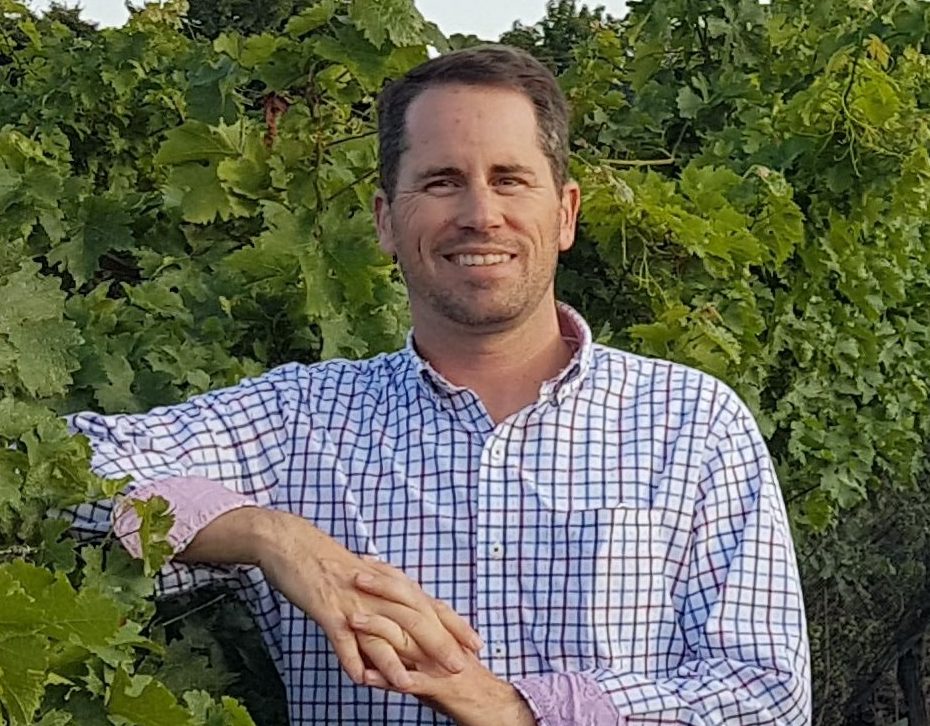 Kevin has spent over two decades as a public relations professional in a variety of sectors including professional sports, the arts, industry and healthcare.  After tiring of the daily commute to Toronto he returned to Niagara and launched The Niagara Independent, an online news source published twice weekly.
He is a graduate of Brock University, Niagara College and the Richard Ivey School of Business. He was named one of Niagara's 40 Under Forty in 2005.
Kevin is most proud of his twin daughters. He is also a triathlete and four-time Ironman finisher.