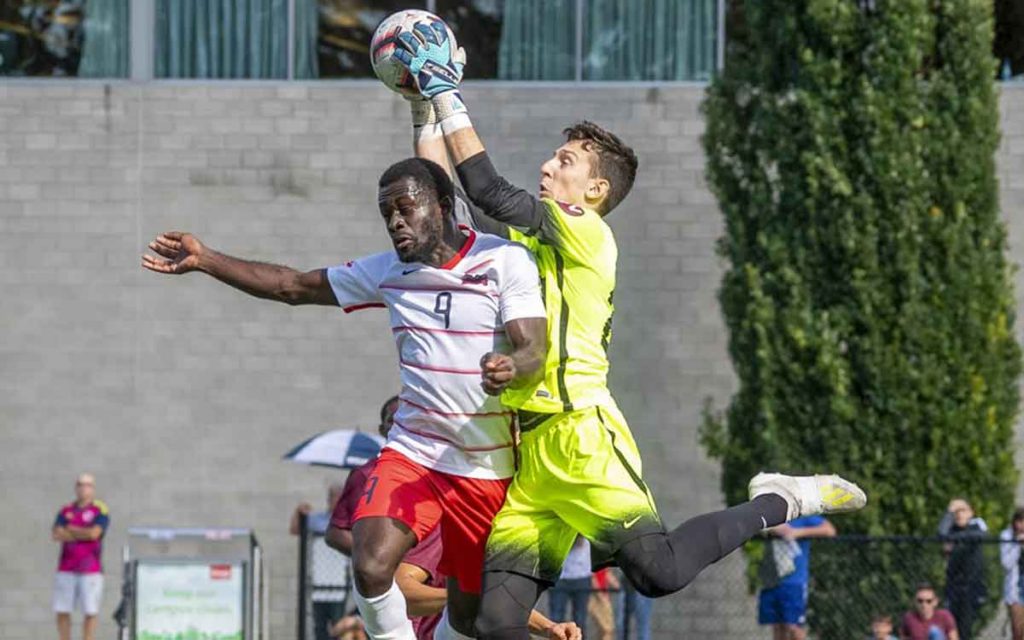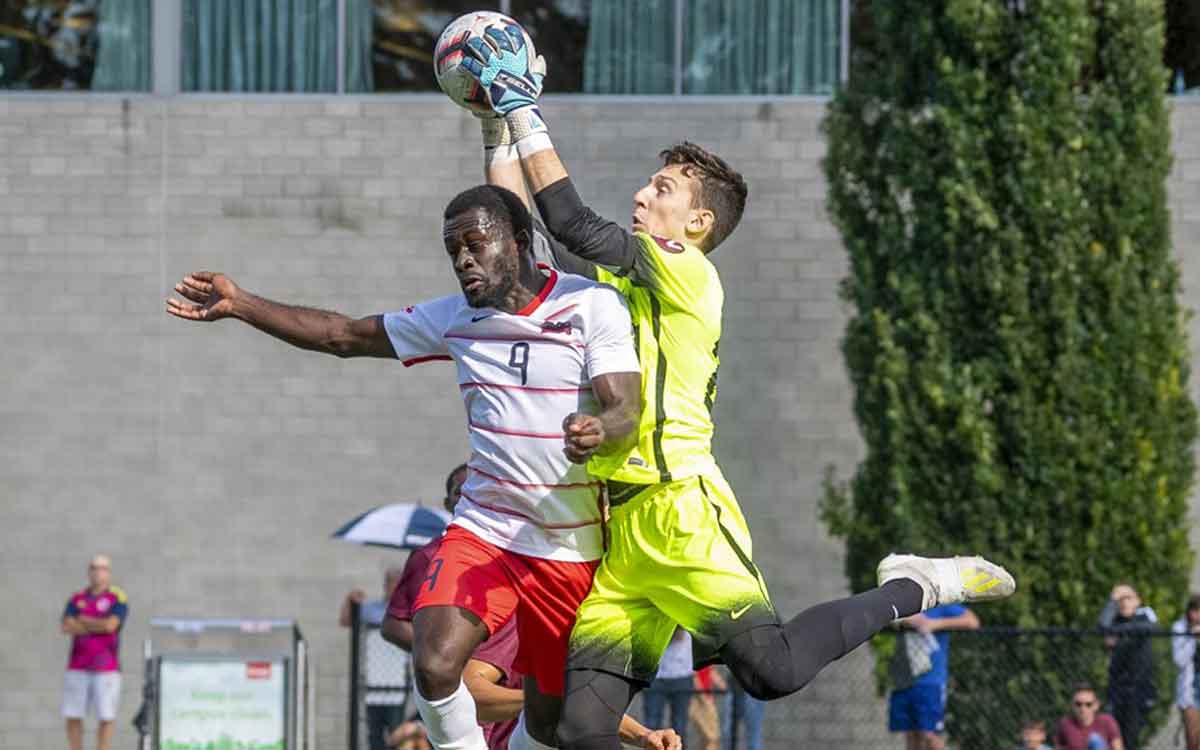 Brock striker Jared Agyemang competes for the soccer ball versus McMaster at Brock Alumni Field on Saturday. Photo by Mackenzie Gerry
The Brock men's soccer team defeated the nationally-ranked McMaster Marauders to remain undefeated on Saturday. Unfortunately for Brock they had to turn around and play the No. 4-ranked York Lions (3-0-1) on Sunday, a game they lost 3-0.
Brock upended No. 8 McMaster by a score of 4-2 at Brock Alumni Field, on Saturday improving to 2-0-2.
"Being the underdog is a great spot to be in sometimes," said head coach Lucio Ianiero. "We have an unbelievable work rate and we're a bit of an unknown quantity. It's difficult for opposing teams to study our formation, because we're always changing. Always adapting."
Brock outshot McMaster 20-14.
Badgers centre back Joshua Paterson opened the scoring early with a beautiful bicycle kick during a goalmouth scramble in the eighth minute. The Marauders pulled off a bicycle kick goal of their own as Christian Cossidente netted one to tie the game up before halftime.
The Badgers took the lead three times in the match despite the Marauders doing a good job of countering Brock's midfield play, according to Ianiero.
"They read us in the second half and put four guys in the midfield to our three," he said. "We didn't adapt well to that and we thought about matching them, but our three players up front were having so much success that we didn't want to pull any of them off. We kind of rolled the dice on that one."
The coaching staff's faith in their forwards paid off as first-year striker Sebastian Augdo of St. Catharines found the back of the net.
McMaster tied it up once more before Jared Agyemang netted a penalty kick goal and Jordan Smalling delivered the dagger for his first of the season.
Agyemang has scored a goal in every match thus far and is currently second in OUA scoring with four markers.
Midfielder Matthew Wnukowski finished the match with five shots and Paterson recorded four.
In Sunday's matchup York outshot Brock 8-2. "Our guys battled well and never quit," said head coach Lucio Ianiero. "We made two mistakes and they capitalized. They are a very good team and are extremely technical and fast on transition."
For the Lions, Merci Yuma, Christian Cavallini and Soji Olatoye each scored a goal in the first half.