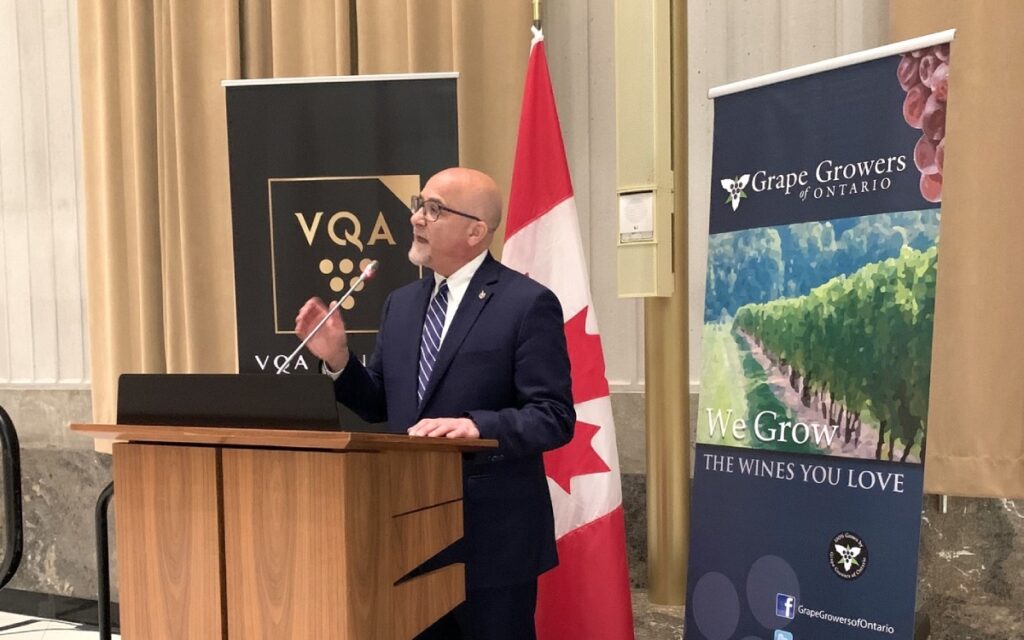 Since first taking office in 2019, Niagara Falls MP Tony Baldinelli has been a vocal advocate for local winemakers. At a recent committee meeting, Baldinelli asked Minister of International Trade Mary Ng if the Liberal government will continue to share revenue from the government's newly reimposed excise tax on wine with producers into the future. The minister was noncommittal. Pictured Baldinelli speaks at a Grape Growers of Ontario event, May 18, 2022. Photo credit: Facebook/Tony Baldinelli
The Niagara grape and wine industry has been reeling from the effects of the pandemic. And for local vintners and many small businesses, the federal government's excise tax has created even more difficulty. 
Prior to a June 30, 2022 amendment, a 2006 exemption to the Excise Act (2001) allowed Canadian firms to export their 100 per cent Canadian-made wine duty free. The Canadian government made the switch on the heels of a lengthy trade-dispute with Australia, a commonwealth partner. 
The removal of tariff exemptions is now wreaking havoc on an industry that has already been through a lot of turmoil. Local businesses are, in many cases, trying to eat their losses to limit the impact on employees and customers. The sustainability of this strategy in the long-term, of course, will be riddled with intensifying difficulty. 
Niagara Falls Member of Parliament Tony Baldinelli has been a vocal advocate for the industry since taking office in 2019, continuing his fight at a recent committee meeting in Ottawa. 
"The first question I ever asked in the House of Commons had to do with the WTO Australian challenge to the 2006 Excise Exemption", Baldinelli stated during a meeting in the Standing Committee on International Trade the Friday before last. "The challenge was to implement a replacement program… but it has only lasted for two years".
"The industry wants certainty."
Minister of International Trade Mary Ng responded to Baldinelli's inquiry. 
"The issue of compliance is a real one" she said. "What I can tell the stakeholders is that we will always work with them… our track record is really good on that".
Baldinelli pressed further, seeking clarification on whether the current compliance program will be extended. "The government shows (projected) revenue for five years at $390 million. Does this mean the government plans to extend the current agreement? Will this revenue, taken from the (tax), be returned to the growers and the industry?"
Minister NG was non-committal. "This is a question that involves me working closely with my agricultural colleague, my finance colleague," she said. "What I can tell you is that the wine industry is an important one and I will keep working with you and my other colleagues". 
In addition to the amendment to the Excise Act, business owners are contending with soaring inflation, deep supply-chain inadequacies, and labour shortages. With all of these challenges mounting simultaneously, the future is anything but predictable. 
Nick completed his Honours Bachelor of Arts Degree in Labour Studies at Brock University. He has previously served in municipal and federal politics. In his free time, Nick enjoys following sports, taking part in outdoor activities and reading biographies. Nick resides in Niagara Falls.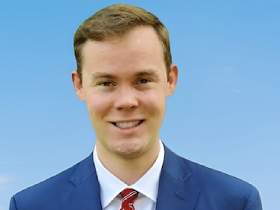 Nick Redekop completed his Honours Bachelor of Arts Degree in Labour Studies at Brock University. He has previously served in municipal and federal politics. In his free time, Nick enjoys following sports, taking part in outdoor activities, and reading biographies. Nick resides in Niagara Falls