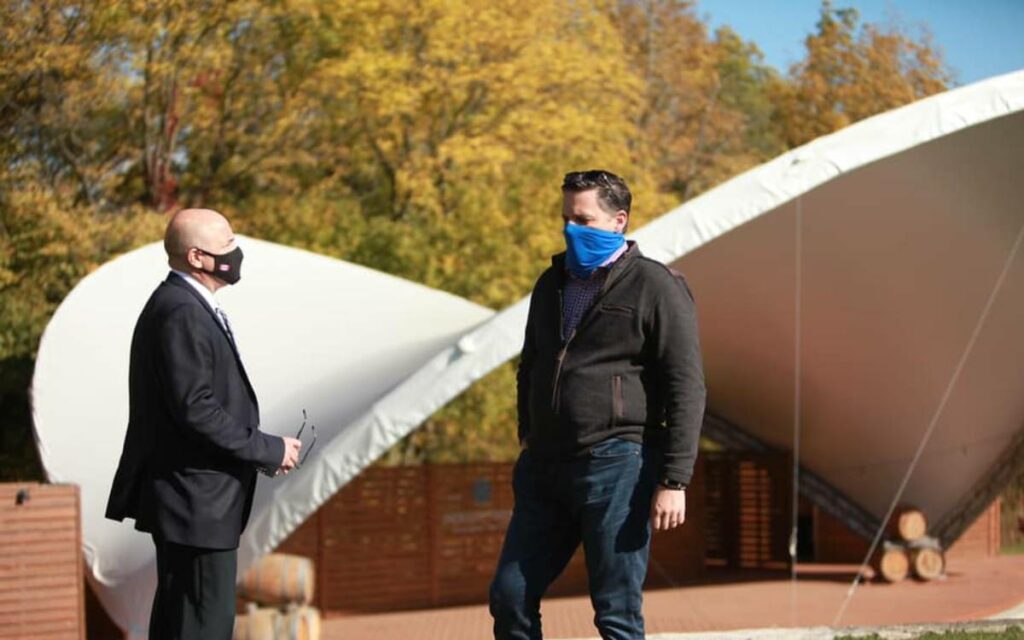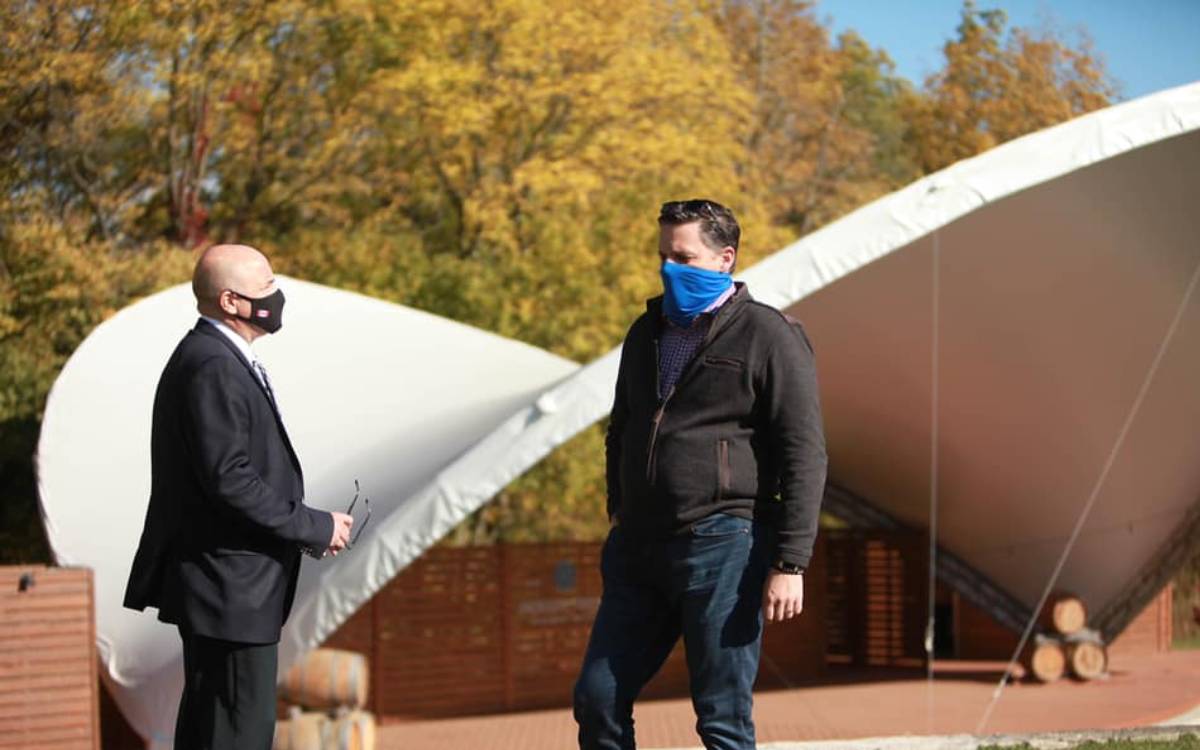 Conservative MP for Niagara Falls Tony Baldinelli (left) meets with Del Rollo, Secretary of Wine Growers Canada and VP of Industry and Government Relations of Arterra Wines, at Jackson-Triggs Winery in Niagara-on-the-Lake, October 2020. Photo credit: Facebook/Tony Baldinelli

On July 7, Niagara Centre MP Vance Badawey and Parliamentary Secretary to the Minister of Agriculture and Agri-Food MP Neil Ellis toured Huebel Grapes Estates in Niagara-on-the-Lake.

While there, the pair repeated an already announced $101 million in federal funding set aside in the Liberal's April budget for the wine industry.

The funding is the Trudeau government's attempt to offset the losses the Canadian wine industry will inevitably incur when the federal excise tax exemption is discontinued in June 2022.

"Canada's award-winning wine industry is a source of pride for all of us. It has created many local jobs here at home and fuels our economy," said Matthias Oppenlaender, chair of the Grape Growers of Ontario.

"Now we face an uncertain future, the coming to an end of the excise tax has triggered changes that put our locally-grown industry at risk — changes that could push Canadian wine off the shelves and push local businesses and farm families to the brink. We're eager to continue working with the federal government to implement a long-term solution."

The result of a competitive legal challenge from Australia at the World Trade Organization, the excise (or sin) tax is expected to add at least 50 cents to the production cost of every standard bottle of 100 per cent Canadian-made wine. The tax will make Canadian-made wines less competitive at market.

The $101 million in funding will be allocated over two years starting in July 2022. While the money will help provide partial relief for a few years, it's only a temporary fix. The Liberals do not currently have a long-term solution to the excise tax, something Conservative MP for Niagara Falls Tony Baldinelli said is unacceptable.
"We need our federal government to be inclusive, transparent, and honest in its actions with regards to the support required by our important local grape and wine industry," said Baldinelli. 
"Perhaps, if the Trudeau government were interested in providing the long-term solutions, certainty, and stability, so badly needed by this sector, our grape growers and wineries would be better served. Instead, anxious industry members get a staged pre-election photo-opportunity to re-announce funding already pledged in the spring budget. Our vitally important grape and wine sector – both wineries and grape growers – deserve far better than this."

Since his election in October 2019, Baldinelli has met regularly with local grape growers and wineries to stay on top of pressing federal issues facing the industry, both locally and nationally.

"My takeaways from these meetings are that the wine industry is extremely frustrated by this inept Liberal government when it comes to supporting Canadian wine interests", said Baldinelli. "First, it was this Trudeau government, which cost the wine industry it's valuable excise tax exemption program, through its bad decision to implement an automatic escalator tax on alcohol, beginning in 2017."

"Then, the same government prolonged industry uncertainty by delaying the announcement of a replacement program", Baldinelli explained. "And now that replacement funding has finally been announced in its recent April budget, the wine industry is concerned that the program is short-term, that funding is insufficient in year one, and the government is delaying the release of more details about how this important program is going to work."

As the Grape Growers of Ontario pointed out in a recent press release, "700 wineries and 22,400 jobs hinge on the outcome of the federal response to the excise tax situation."

In the 15 years since the exemption was first introduced in 2006, the number of Vinters Quality Alliance (VQA) wineries has more than doubled. The loss of the exemption could spell the end for smaller wineries, while it could mean less production and investment from the sector's larger players.