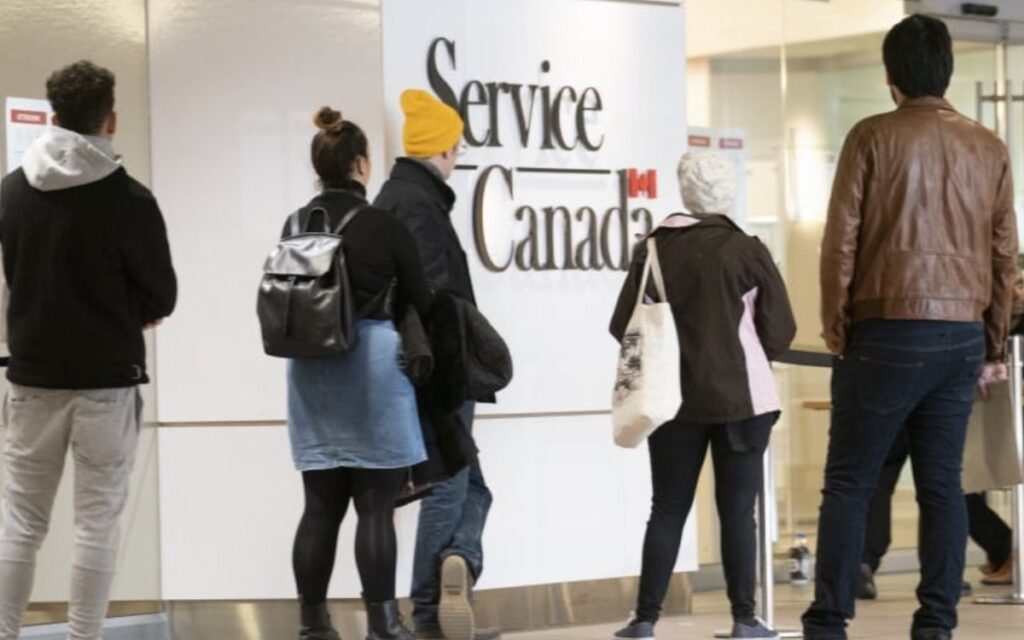 The federal government continues to expand at a rapid rate, and yet Canadians continue to endure what seems like ever-worsening service delivery. Photo credit: The Canadian Press/Paul Chiasson
Canadians spent the summer complaining about government services. 
You'd be hard pressed to ask a colleague or neighbor how they were doing without being on the receiving end of a horror story about a missed flight to Europe because of hours spent in a security line up. Worse still, you might have heard about the friend of a friend who was forced to set up camp outside of a government office to try and beat the line to get their passport renewed.
While most issues were written off as an inconvenience, some had real life consequences.
Take for example the Afghans living under Taliban rule, who have been stuck in the queue for well over a year waiting to receive visas from Immigration Refugees and Citizenship Canada. For many of the individuals waiting to come to Canada, their visa approval could make the difference between life or death.
The list of problems goes on and on.   
Much of the last two years has been characterized by rolling lockdowns, news about what you can and cannot do, and how to obey public health restrictions. For most, it's been a shock to the system to emerge and discover that many of the government services we've traditionally relied on broke under the weight of the pandemic.
Canadians are rightly upset about the current status quo that seemed to have reached its peak this summer. They took to social media to air their grievances. 
In response, the government took a two-fold approach.
First, they tried to pass the blame to Canadians, saying in the case of travel backlogs that travellers were 'rusty' going through airports and this was the primary reason for delays at security. When it was clear this tactic wasn't well received, they set up a taskforce to deal with this, and a litany of other service delivery problems.
But the truth of the matter is that there should never have been a need for a taskforce, or any other communications buzzwords to cover up for the incompetence of the federal government. 
According to a CBC analysis, the federal government added more than 35,000 employees since the pandemic started in 2020. And over the last eight years, 79 of 84 departments grew in size, including departments like the Canadian Revenue Agency, Immigration Refugees and Citizenship Canada, and Employment and Social Development Canada.
Like most private sector corporations who were forced to deal with the realities of the COVID-19 pandemic, it's not shocking that the federal government was forced to hire. But the hiring spree has been ongoing since the Trudeau government took power in 2015.
Most Canadians would probably shrug their shoulders at the revelation of the federal government's headcount, except for the fact that outcomes for average Canadians only seems to be getting worse. Issues with passports, visas, security lines – these are just the problems that managed to get the most traction in the news. 
Kevin Page, a former Parliamentary Budget Officer, concluded that the public service "is growing well in excess of five per cent a year, which is much, much faster than the private sector and faster than the rate of growth in the real economy."
Staffing for peaks is understandable. 
But continuous growth that outpaces that of the private sector, with no clear service standards, or measurable targets that are being achieved (or aren't, in the case of bringing in 40,000 Afghan refugees), should not be normalized. Moreover, it is an issue that deserves further scrutiny to understand exactly how public service growth has reached its current levels, and at what cost.
If the Trudeau government is serious about getting spending under control and its books in order ahead of the next budget cycle, they will start by addressing the structural challenges within the federal bureaucracy that have led to failed service delivery for Canadians. 
Josie Sabatino is a Senior Consultant at Summa Strategies, focused on providing strategic insight and helping clients meet their objectives in an ever changing and complex political and regulatory environment. Prior to joining Summa, Josie spent nearly a decade in political communications and most recently served as the Director of Communications to the Hon. Erin O'Toole, former Leader of the Official Opposition.