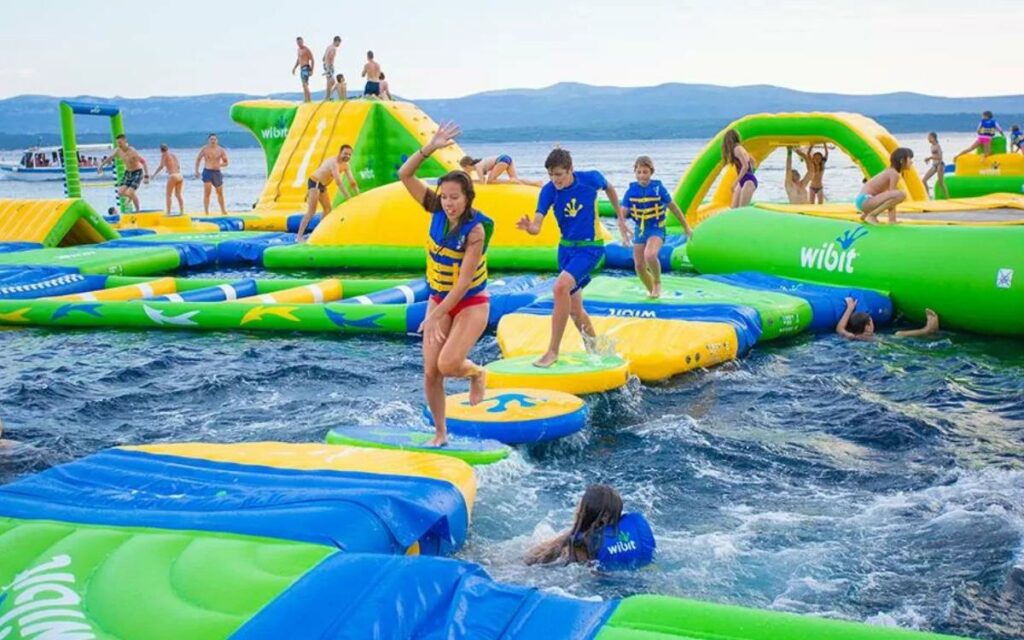 Splashtown opened for its second season off Nickel Beach two weeks ago. Photo credit: Splashtown
Splashtown Water Parks has reopened for summer fun at Nickel Beach in Port Colborne. 
The inflatable water park has slides and an obstacle course just a short swim from the shoreline. The attraction is family friendly — encouraging all ages to get outside, get physical, and have fun. 
Derek Stonier, the founder and owner of Splashtown, is excited for the reopening of the attraction and the changes made to Nickel Beach. 
"Splashtown brings a lot of people to the beach, and many are from outside of the Niagara Region. Those people come and they buy fuel, lunches, snacks and enjoy the town of Port Colborne. Splashtown is important to the local economy with the amount of tourists it brings in, and the amount of spending they do," he said.
"With ample parking available at the gate and a huge beautiful sandy beach with shallow water for the kids to play, this will quickly become your favourite summertime destination."
Port Colborne has gone to great lengths to revitalize Nickel Beach as a tourist attraction for locals and beyond.
This season, it opened with a fresh new look. 
No longer a drive-on beach, landscaping has gone a long way to beautify and delineate the entrance to the beach with an expanded paved parking lot. An additional gravel parking lot is also available just a short walk away. 
Washrooms on site have been completely upgraded with accessible mobile washrooms funded through a community improvement grant in partnership with Vale Canada and the Province of Ontario. 
The decision to close the beach to drive on vehicles was a result of a request from the Ministry of the Environment, Conservation and Parks (MECP) to protect an endangered species, the Fowler's Toad, which breeds and lives in and around the beach habitat.
Hours of operation and information on parking fees for residents and out-of-town visitors can be found on the City of Port Colborne website.
Additional information on Splashtown Niagara, including ticket reservations, can be found on its website.
Privately owned and operated, Splashtown runs two sites in Ontario, one in Port Colborne, the other at Manitoulin Island's Lake Mindemoya.