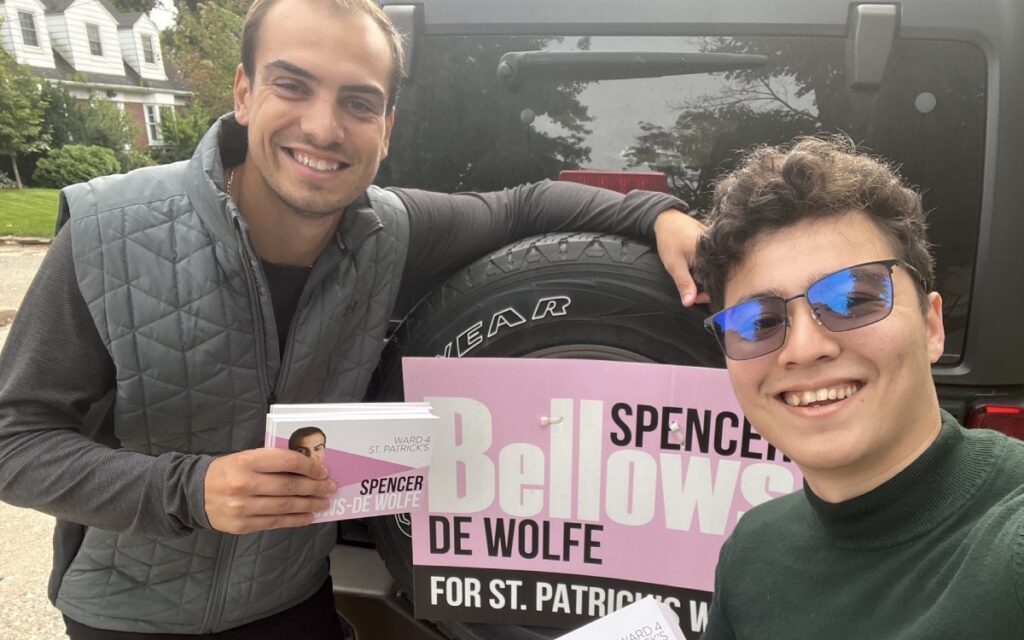 Spencer Bellows-De Wolfe (left), son of late community leader Sandie Bellows, is running for St. Catharines City Council in the 2022 municipal elections. Photo credit: Twitter/Spencer Bellows-De Wolfe
Spencer Bellows-De Wolfe is one of six candidates vying for two city council spots in St. Catharines' St. Patrick's Ward this October.
A teacher by trade, Bellows-De Wolfe said he has "always been politically-minded" and is motivated by his students to build a better community for the next generation.  
"Being a teacher causes you to always be thinking about the world we're leaving for our children and grandchildren", Bellows-De Wolfe said in an interview with The Niagara Independent. "You want to set them up well… solve the problems of our day and build a bright future". 
There are a number of key issues that Bellows-De Wolfe would like to see addressed in the months and years ahead. 
"We need to get back on our feet after Covid", he said. "This means ensuring timely government service delivery and helping those without work find good jobs". 
"We've also got to create an environment for businesses to flourish… this is how we create jobs, provide quality goods/services and generate wealth for the local economy". 
Community safety is another big priority for Bellows-De Wolfe. 
"We all want our kids to have a safe community to play and grow in." For Bellows-De Wolfe, this means ensuring the rules of the road are clear, visible, and followed. "Parents are understandably uneasy about letting their kids go out and play if they're worried the roads aren't safe… we want to address that". 
Bellows-De Wolfe also believes it is necessary to push for adequate funding from the provincial and federal governments. 
It is also a deep conviction of Bellows-De Wolfe that council needs to work together, regardless of perspective or political slant, to realize prosperity and growth for St. Catharines. 
"Liberal, Conservative, NDP, Green, whatever. We need to come together and work for the betterment of the community. That is what our great residents expect of us."
Speaking of his mother Sandie's rich legacy of service, Bellows-De Wolfe shared that she is an immeasurable inspiration to him, his family and the entire community. He particularly admired the work his mother did in standing up for seniors, as well as supporting women, especially in regard to violence and abuse. 
"You know, when I'm door-knocking, we often talk about my mom, and I always say her impact was so great, if I could do 1/100th of the good she accomplished, I would be successful", he said. 
Municipal elections will be held on Monday, October 24, 2022. 
Nick completed his Honours Bachelor of Arts Degree in Labour Studies at Brock University. He has previously served in municipal and federal politics. In his free time, Nick enjoys following sports, taking part in outdoor activities and reading biographies. Nick resides in Niagara Falls.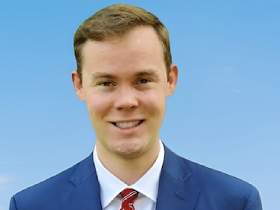 Nick Redekop completed his Honours Bachelor of Arts Degree in Labour Studies at Brock University. He has previously served in municipal and federal politics. In his free time, Nick enjoys following sports, taking part in outdoor activities, and reading biographies. Nick resides in Niagara Falls