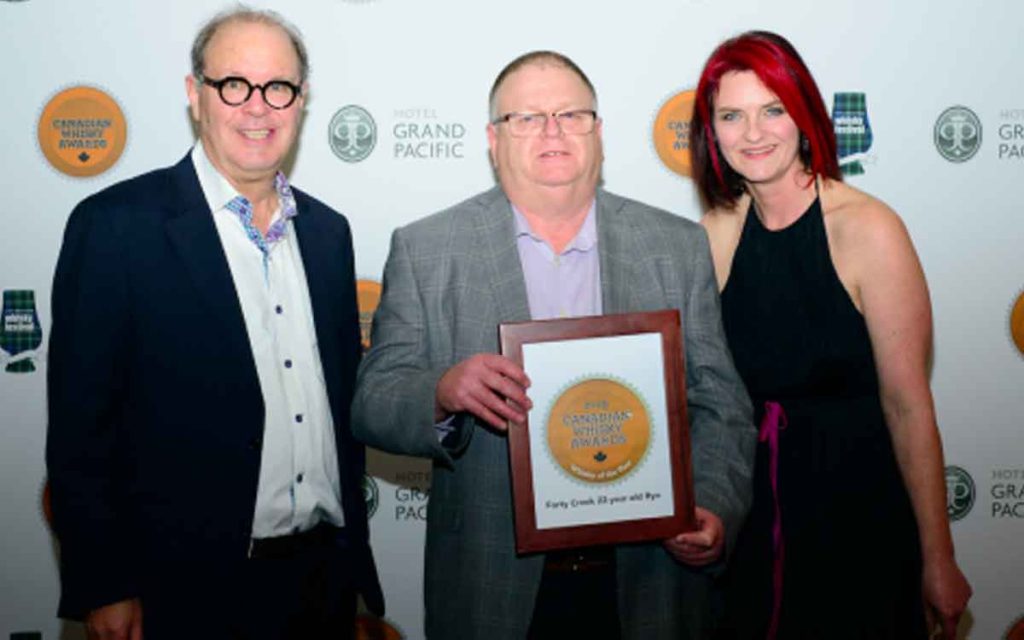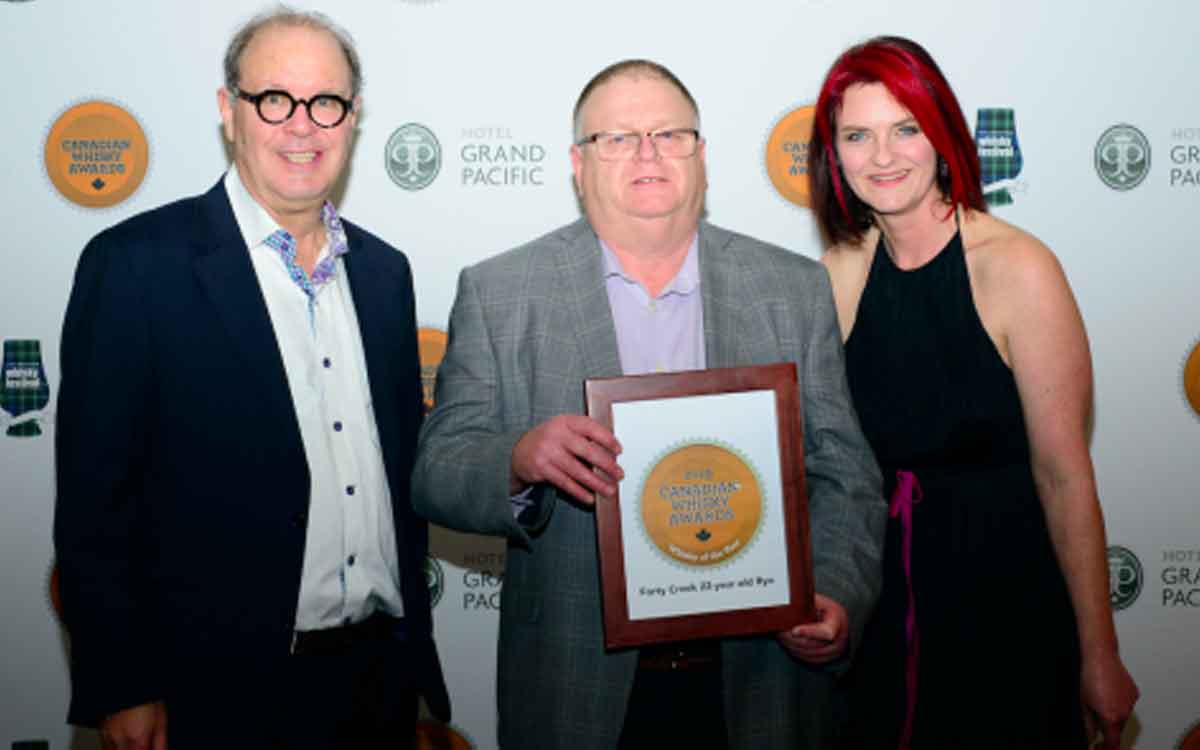 Forty Creek distiller, Bill Ashburn (centre) accepts the award for Whisky of the Year from head judge and awards founder, Davin de Kergommeaux (l), and co-host Heather Leary (r).
In a region known primarily for its wines, Niagara-made beverages such as craft beer and spirits are gaining national and international recognition. In fact, the best whiskey in Canada is an all-rye whiskey, distilled 22 years ago in Grimsby at Forty Creek Distillery.
Ten independent whiskey experts blind taste tested more than 100 whiskeys and declared Forty Creek 22-year-old Rye as Canadian Whisky of the Year in the ninth annual Canadian Whisky Awards recently held at the Hotel Grand Pacific in Victoria, BC. The Canadian Whisky Awards recognize the very best whiskeys produced in Canada.
Awards founder, Davin de Kergommeaux described Forty Creek 22 year-old Rye in a media release as: "A huge, yet elegant rye whiskey, just bursting with complex flavours."
John Hall, a winemaker with over four decades of experience in the industry, wanted to be a world-class whiskey-maker and launched Forty Creek in 1992. In 2007, Hall was recognized by Malt Advocate Magazine as "Pioneer of the Year", and was the first and only Canadian whiskey maker to receive such a prestigious award.  In 2017, John was honoured with the first-ever Lifetime Achievement Award from the Canadian Whisky Awards.
The onset of successful spirits makers and growth of the industry in Niagara and other parts of Ontario lead Niagara College to open its Artisan Distilling (Graduate Certificate) program, a first in Canada. The 2,500 square-foot teaching distillery is based on the college's successful teaching winery and teaching brewery – also Canadian firsts. The fully operational distillery houses five stills, four mash tuns and ten fermenters that allow for on-site production of a wide variety of distilled products, including vodka, gin, whiskey, brandy, rum and more.
Just last week the College's Teaching Distillery released its inaugural product: Eau-de-vie de Fruits, Fruit Spirit.
Other top accolades went to whiskeys from JP Wiser's, Canadian Club, Crown Royal, and Gooderham and Worts. Forty Creek founder, John K. Hall was announced as the first member of the Canadian Whisky Hall of Fame, while Dr. Don Livermore was named Blender of the Year.
"Every year the whiskeys are just that much better than the year before," said de Kergommeaux as he revealed the winners. "Top whiskeys from five or six years ago might earn a silver medal today.  The competition is that intense."