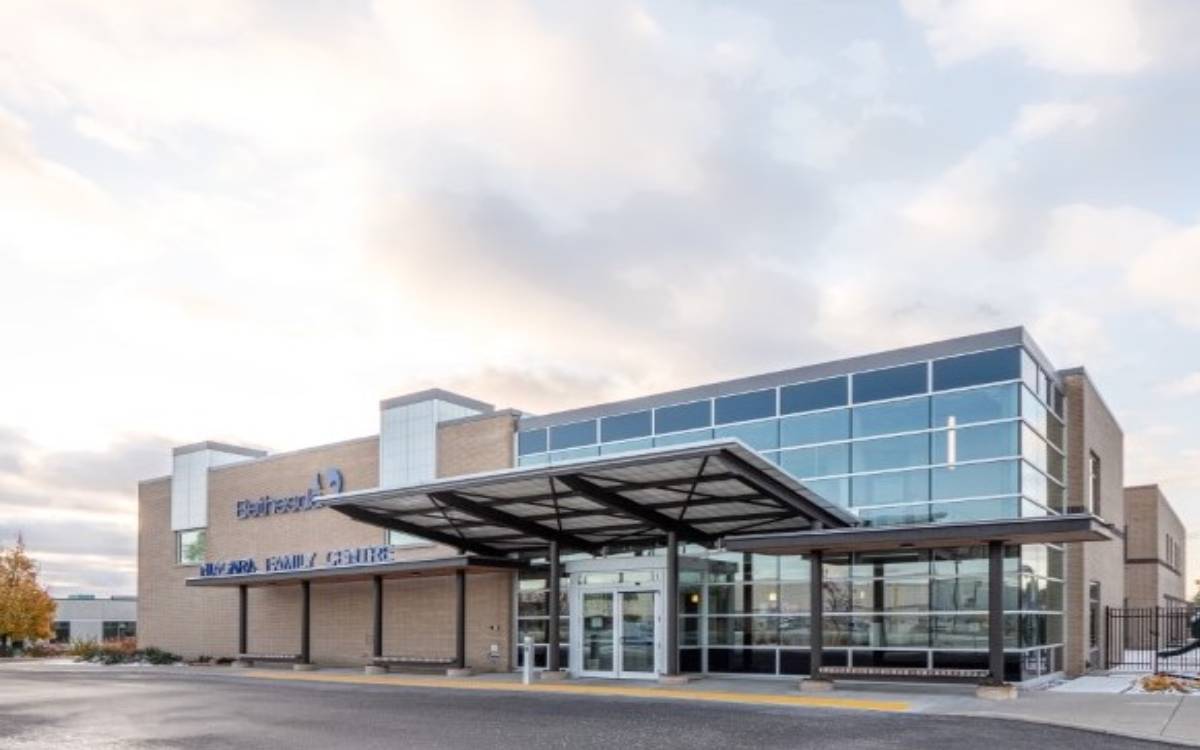 Since 1937, the Thorold-based organization (main facility pictured above) has offered a wide range of supports and services to individuals with developmental disabilities. Photo credit: Quartek Group Inc.
Five employers from the Niagara Region were included in the 2022 list of Hamilton-Niagara's Top Employers: Fort Erie's Airbus Helicopters, Brock University, Durward Jones Barkwell & Company LLP, Niagara Health, and Thorold's Bethesda Community Services. The first four have all been named top employers before, but it is Bethesda Community Services' first time being recognized since the competition began.
Organized by Canada's Top 100 Employers, this year's list marks the 15-year anniversary of the competition and features 20 organizations in the Hamilton-Niagara area that provide an exceptional work environment.
The newly featured organization, Bethesda, provides support to adults, children, and youth with developmental disabilities within the Niagara Region and beyond. The main service network and head office are located in Thorold. 
"We provide 24-hour care within a residential setting for adults with developmental disabilities in group home settings, we provide all aspects of support for daily living," said Paul McGowan, Associate Chief Executive Officer of Bethesda, "we also operate a number of day programs where individuals that live withing our family home program would come during the week to either get support, volunteer opportunities, or just general events." 
Bethesda also offers clinical services in Hamilton, such as speech and language pathology and behavioural therapy. However, the main operation is with adult services, more specifically within on-site group homes. Most of Bethesda's staff are considered developmental support workers. 
As for the children services, Bethesda mainly focuses on children with autism. Working one-on-one with them, introducing life skills, a focus on return to school, or entry to school programs. The majority of the staff in this sector are considered behaviour therapists or interventionists. 
During the pandemic, Bethesda worked alongside Niagara Region Public Health to implement measures to reduce the risk of the infection, while still trying to provide support to all the individuals. The residential programs continued to operate 24/7.
Children and adult clinical programs were most impacted by the pandemic. But staff pivoted and came up with ideas on how to stay connected online, and virtually support people during the pandemic. iPads were provided to families and individuals that needed them to facilitate virtual connection.
"My goal is that what we have learned in the last 24 months, we continue to expand upon and continue to provide additional services. We had to learn new ways to operate, and we learned them quite well and our staff adapted quite well, so my hope is that we take what we learned and grow on that and continue to touch the lives of more and more people," said McGowan.
Throughout the pandemic, the organization went above and beyond to offer safe and supportive environment and opportunities to their staff. 
"We believe that a model where we support the staff providing the services only enhances and creates a better service for the users, which is our goal," said McGowan, "through the pandemic we introduced various different programs that help support mental health, to help support them and their families, we increased the access to benefits to employees."
From mental health support to continued pay during isolation due to COVID-19, Bethesda covered the areas that cause the most stress for employees.
"We see it as a great honour to be listed with other great companies and we hope to continue to be part of the list in future years, we are proud of our employees – of what they have achieved over the last 22-24 months to get us as an organization to where we are," concluded McGowan.
Bethesda has been around for 85 years and employs around 450 people.