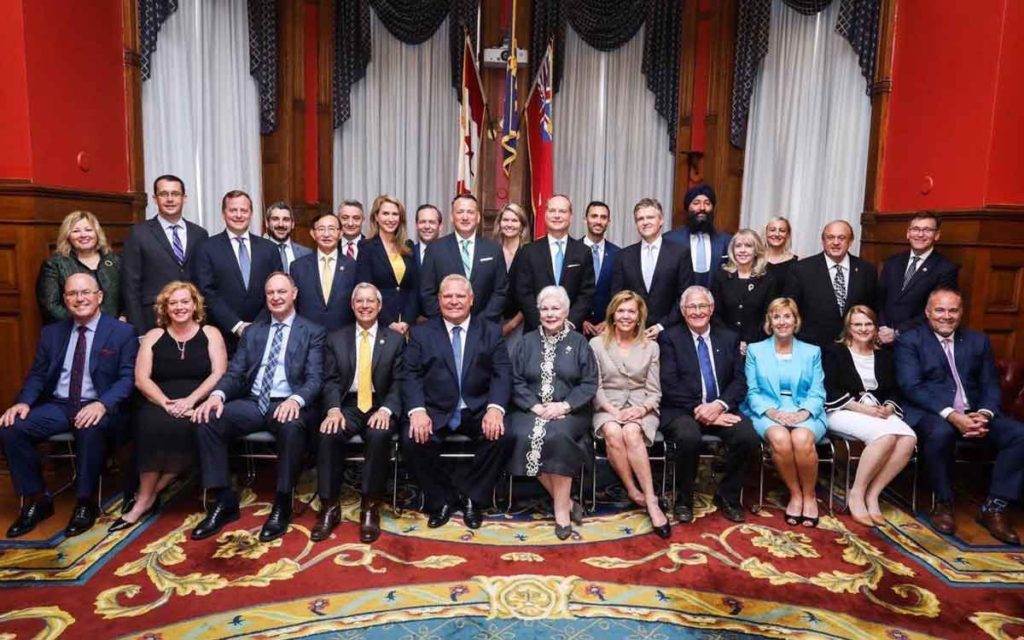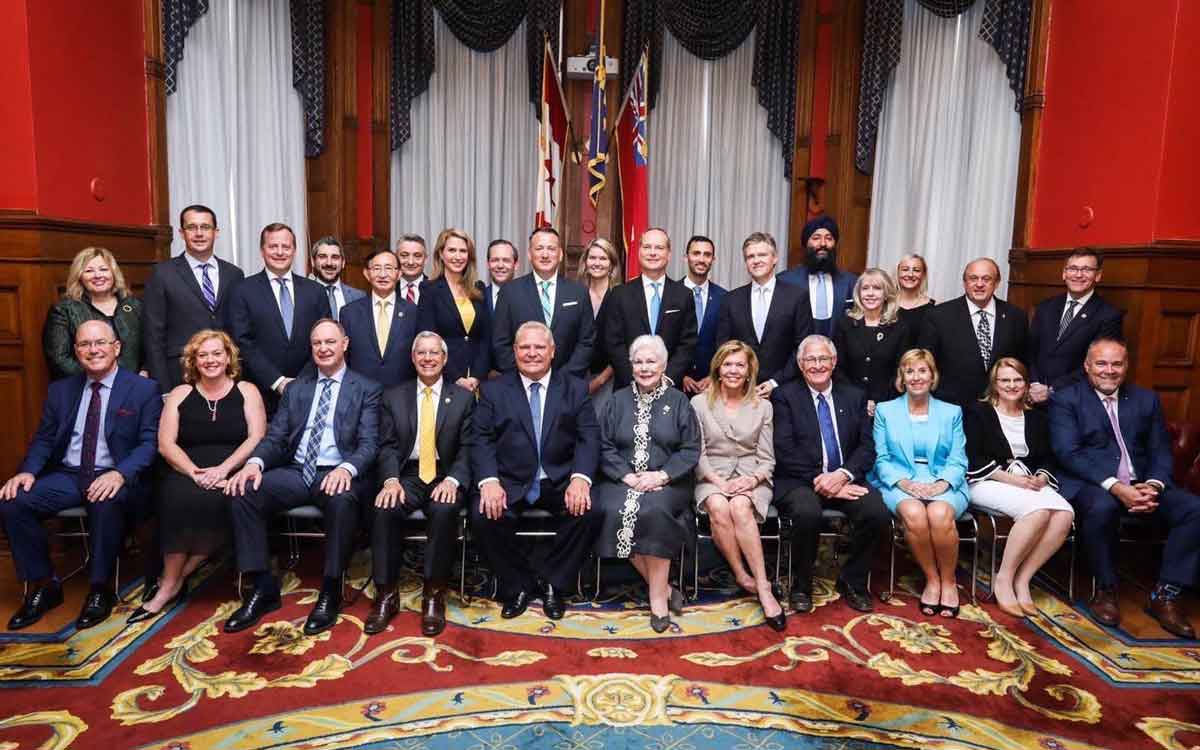 The new Ontario Cabinet after yesterday's massive shuffle.
After almost exactly one year in office, Premier Doug Ford announced a major Cabinet shuffle this week.  And it was indeed major.  Almost all of the most important portfolios saw a change in the responsible Minister.  Some of the key moves include Vic Fedelli leaving Finance for Economic Development with Rod Phillips moving into the Finance role and Lisa MacLeod exiting Children and Social Services and being replaced by former economic development Minister Todd Smith.  Also significant was the departure of Lisa Thompson from the education portfolio, replaced by Stephen Lecce, a first-time MPP who has performed well as Deputy Government House Leader and Parliamentary Assistant to the Premier.  Caroline Mulroney is out as Attorney General, with Doug Downey stepping into that important post. Christine Elliot remains as Health Minister, but elements of the health ministry are to be split off with Merrilee Fullerton now responsible for long-term care and Michael Tibollo for mental health.  Laurie Scott switched places with Monte MacNaughton with the former moving to Infrastructure and the latter to Labour.  All in all, a very significant shuffle.
It was not surprising to see changes targeting Lisa MacLeod and Lisa Thompson, both of whom had become lightning rods for anger on the autism and school class size issues respectively.  But taking Vic Fedelli out of Finance was very unexpected. Fedelli had been the Finance critic for the Conservatives in opposition for years, and is by far the person most knowledgeable about provincial finances in the caucus.  Rod Phillips is also a very capable individual, however, with extensive public and private sector experience, and has done yeoman's service to date in the difficult Environment portfolio. The shuffle also brought a number of younger, newer MPPs into Cabinet in important roles.  The changes enlarged the Cabinet considerably to 28 from the previous size of 21.
There is no doubt the Ford government has been struggling on several fronts.  They inherited a massive mess from the previous Liberal government that would have challenged any new administration.  They were elected with a mandate to reverse the big-spending, big government ways of their predecessors, and although most Ontarians knew cutbacks were needed, the reality of cuts is never pleasant.  The government has also made some of its own grief by poor communication strategies, moving too quickly on a number of issues with little or no consultation with affected parties and reneging on some practices that they were rightly very critical of the Liberals engaging in, such as using taxpayer dollars for partisan advertising. It is also true that any political party that has been out of power for 15 years, with many MPPs that have never been in government, will make some missteps.  As well, they are getting push back from a government bureaucracy that has been marinating in big spending Liberal ways for a very long time.  Government officials are always much happier when they have lots of taxpayer dollars to spend rather than having to implement efficiencies and cutbacks.  The fact that there have been a number of leaks of what should have been confidential documents indicates the presence of some in the bureaucracy who seek to undermine this government.
The Ford government has been moving ahead very rapidly on a range of controversial and difficult policy changes, all the while facing constant and high profile opposition from powerful and well-funded public sector unions and other leftist groups that were nowhere near as riled up when the Liberal government did things the leftists opposed.  Moving so quickly on an ambitious agenda will inevitably lead to stumbles, but a number of the problems that have arisen are self-inflicted.  That being said, even if the changes had been implemented flawlessly, loud and frenetic protests would still have taken place by these groups that will always rail against any conservative government.  The overarching goals of the Conservatives to contain runaway government bloat and spending, improve the quality and efficiency of key services such as health care, leave more money in taxpayers' pockets and get government out of areas where it doesn't belong, such as alcohol and marijuana retailing, are laudable and supported by the vast majority of Ontarians.  Hopefully the new team in Cabinet can move forward in accomplishing these goals with fewer glitches and snafus than we have seen in the last year.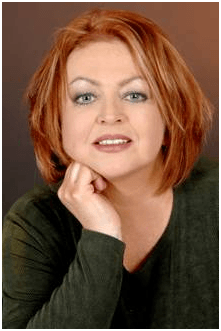 Catherine Swift is currently President and CEO of Working Canadians (www.workingcanadians.ca.  Prior to that, Catherine Swift had been with the Canadian Federation of Independent Business since September 1987, initially as Chief Economist. She became Chair in June 1999 after being named Chief Executive Officer in July 1997 and President in May of 1995.  Her various responsibilities included coordinating policy issues at federal, provincial and municipal levels of government, representing CFIB with politicians, government, business, media and other groups.
Ms. Swift has worked with the federal government in Ottawa holding several positions with the Departments of Consumer and Corporate Affairs, Industry and Communications. Her areas of specialization included corporate and industrial analysis and international trade. Catherine Swift has a MA in Economics.
She has published numerous articles in journals, magazines and other media on such small business issues as free trade, finance, entrepreneurship and women small business owners. Ms. Swift is a Past President of the Empire Club of Canada, a former Director of the C.D. Howe Institute and past President of the International Small Business Congress. She was cited in 2003 and again in 2012 as one of the top 100 most powerful women in Canada by the Women's Executive Network.