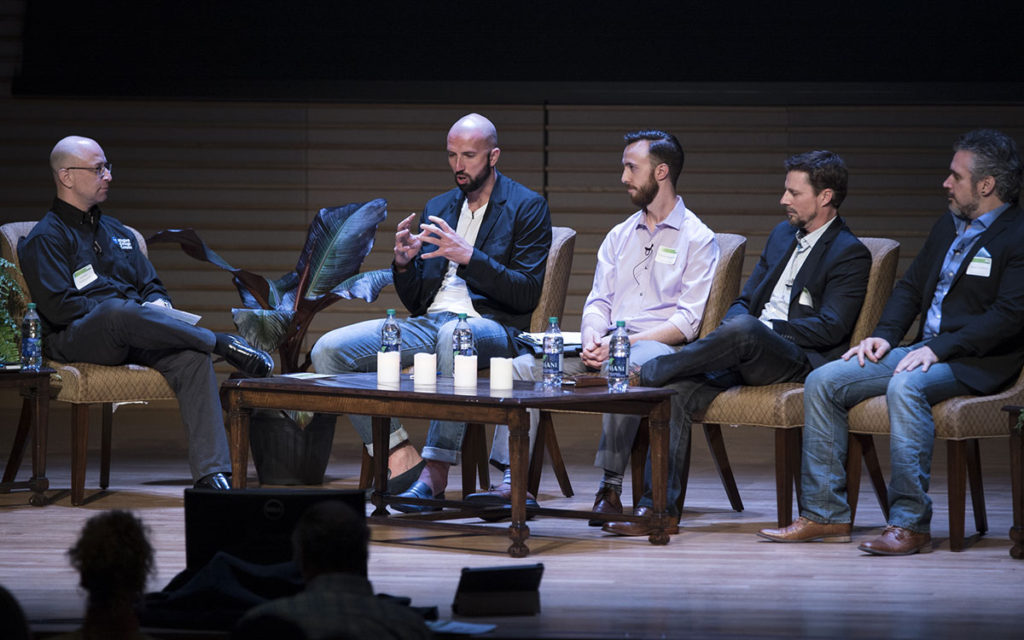 Panellists discuss big ideas at the 2017 Big Thinkers event.
Inspired by one of the greatest marketing and advertising minds this country has known Innovate Niagara is hosting its second annual Big Thinkers: Innovation in Business event May 16 at the First Ontario Performing Arts Centre.
Innovate's CEO Jeff Chesebrough said it was through a lunch meeting with marketing legend and proud St. Catharines resident, Terry O'Malley, that the event was born. "Terry said to me that we in Niagara don't celebrate our business success enough and we need a big event to do that and to let people know what Innovate Niagara is doing," said Chesebrough.
Chesebrough said given the success of last year's event there won't be any major changes to the format for the 2018 version. "We still want to focus and celebrate the cross-border side that we are fortunate to be a part of," said Chesebrough. "Last year's flow and format worked very well and we will stick to the same arrangement this year but with different content and speakers."
Following the keynote presentation, BIG Thinkers: Innovation in Business will feature two panel discussions the first is titled: Niagara Innovators Maximizing Data and will be moderated by Kevin Tuer, Managing Director, Open Data Exchange.  Panelists will include; Jennifer Beckage – Partner, Leader of the Data Security & Privacy Team, Phillips Lytle LLP; Meghan Chayka – Co-founder, Stathletes;        Ransom Hawley – Founder and CEO, Caddle and Bob Lytle – Founder and CEO, Rel8ed.to.
The second panel discussion, Crossing Borders in Buffalo Niagara Life Sciences, will be moderated by  Barry Wright, Associate Professor, Goodman School of Business, Brock University with panelists;          Patrick Whalen –Managing Director, Capstone Scientific LLP; Franck Hivert – CEO, Oculys Health Informatics;  Ryan Denomme  –  Founder and CEO, Nicoya Lifesciences and Sime Pavlovic – CIO, Niagara Health System.
Last year's event had about 150 people in attendance and the organizers are hoping to surpass that for this year's event.
Chayka will also be the keynote speaker. The company she co-founded with Neil Lane is called  Stathletes, and is a Niagara based sports analytics company with a focus on hockey. Niagara born and raised and a Brock University alumnus, Chayka says Niagara offers some competitive advantages for people looking to launch start-ups. "Niagara has a lot to offer including two post-secondary institutions with talented students who are hungry to work, proximity to the border and a much easier commute to Niagara than to Toronto," explained Chayka.
Chayka says events like Big Thinkers are great because it allows business owners to be inspired and learn from each other.  She said it's also good to get people from outside of Niagara to attend so they can share what's working in their regions. "You never know where the next big idea will come from. You can have a global operation right here in Niagara," she said.
Stathletes incorporated about a year ago but has been in existence for a decade. Chayka said her and Lane came up with a market gap and thought it's not only a good idea it's a good business. She says the analytics they come up with are not only used by teams they are also used for ticket sales, fantasy sports and management of the organizations.
For her keynote address Chayka plans on dispelling the myths about operating a business in Niagara and what it truly means to be an entrepreneur in 2018.
For more information on Big Thinkers: Innovation in Business visit innovateniagara.com.