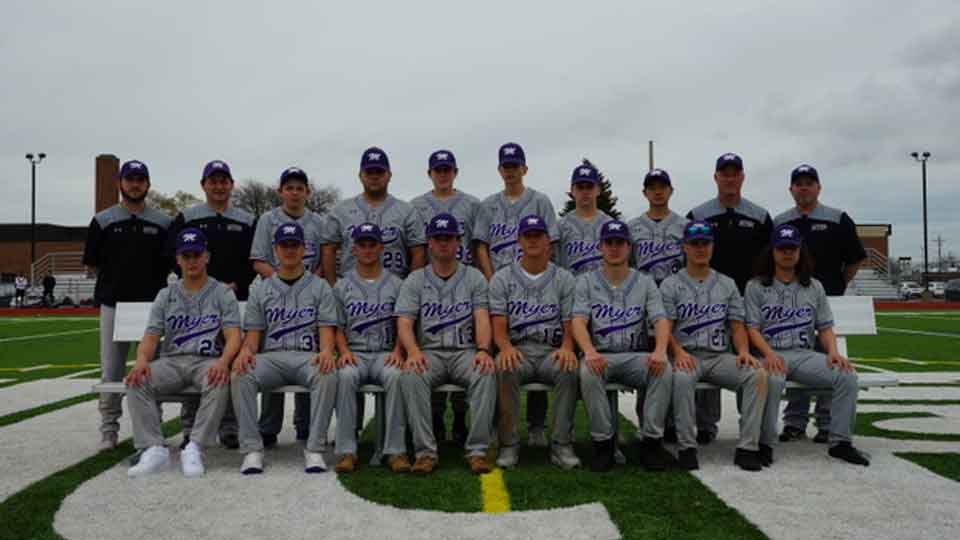 A.N. Myer's baseball team will compete for a medal at OFSSA on Wednesday
A.N. Myer's baseball team spent the week in Whitby competing for a chance to play for a medal in the provincial championships later this week.
The team, coached by Dave Buchanan, was successful in their quest to play for a medal in London on Wednesday after going 4-1 this past weekend with their only loss coming to Mount Carmel in their second game which extended over two days. Tied 4-4 the game was called due to rain and play started again the following day. Mount Carmel ended up winning 6-4 to hand Myer their only loss of the tournament.
To make it to the provincial medal round in high school baseball is one of the most difficult things to do in secondary school sports said coach Buchanan. "There are 18 teams in the OFSSA tournament and every team has elite level ball players on their rosters." Buchanan said his squad is full of travel ball players, some will be going on to play college ball in the states next year while others he predicts will be heading south of the border in the next couple of years. But he added every team they faced has the same quality line up.
One snag that high school baseball teams tend to face is travel coaches telling their players they don't want them pitching or wanting their pitch count limited for high school teams. "We pitched well in all our games and we had to honour what the rep teams wanted for their pitchers," said Buchanan.
On the offensive side of the ball, the coach said they scored quite a few runs which is a bonus given that Myer isn't an offensive powerhouse on paper. "We are a selfless team and we just put the ball in play. We got walks; we got hits at the right time."
While the team, and one of its star players in particular, was trying to focus on the task at hand on the field, one of the biggest decisions of a young ball players life was taking place in the middle of the tournament off the field.
Myer catcher Owen Diodati was one of the highest ranked Canadians heading into last weekend's Major League Baseball draft. He had to make one of the biggest decisions of his life; turn pro or go to college.
"It was an amazing experience as a coach to be a part of that process," explained Buchanan. "Owen didn't have to come with the team to OFSSA. He could have stayed home and eliminated the risk of getting injured but that's not his mind set. With all of the stress of the draft he decided to be with his teammates and away from his family."
Diodati was in a hotel room without family, getting advice from his advisor. He ultimately turned down a nearly $900,000 signing bonus with the Toronto Blue Jays who ended up drafting him and instead committed to play baseball next season at the University of Alabama.
Buchanan said Diodati is an excellent student and made what he called, "a very mature decision".
"He stuck to his guns. It's not easy to turn down that kind of money as a 17 year old kid," said Diodati's coach.
Diodati will play two years at Alabama and then is eligible to go back into the draft.
In the meantime, Diodati will do his best to help his team capture an Ontario high school baseball championship tomorrow.