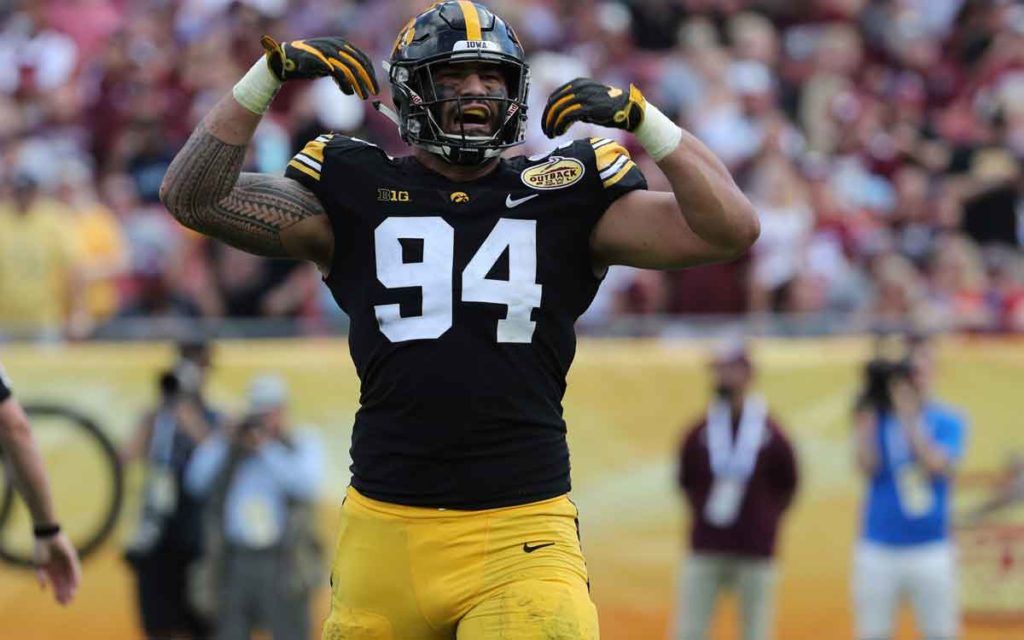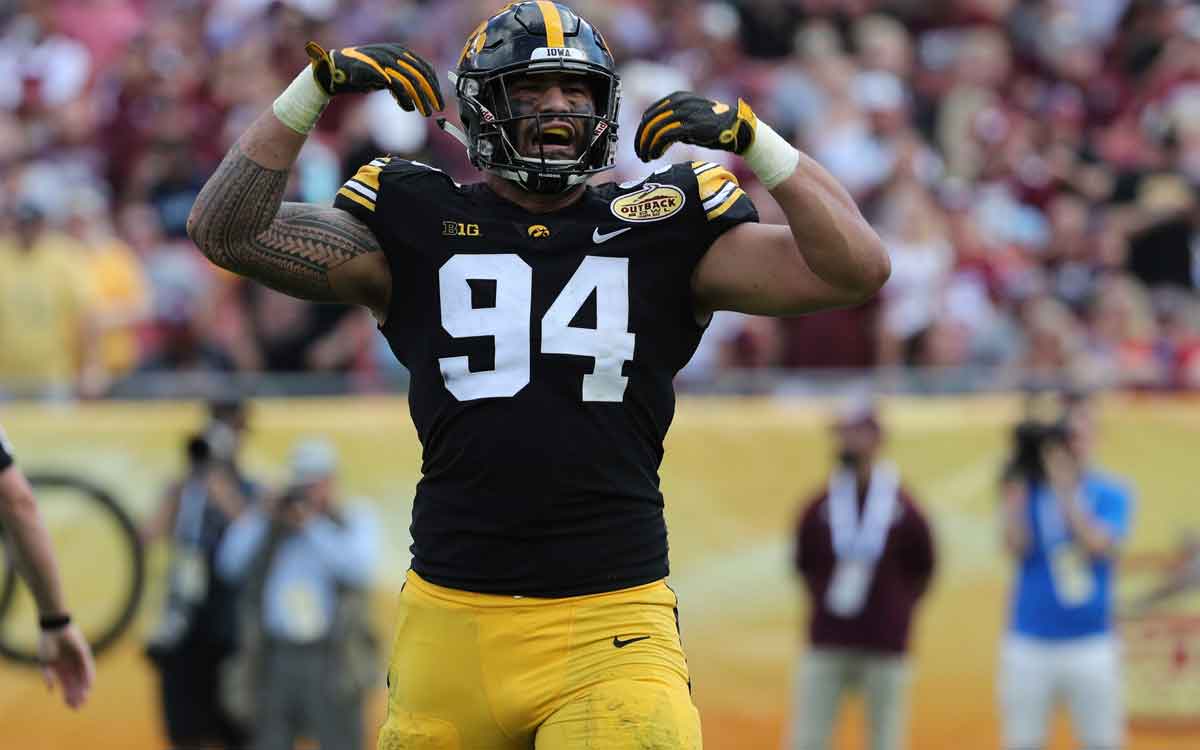 Buffalo Bills first pick A.J Epenesa
Despite lacking a first round pick (thanks to a blockbuster trade up for top-tier receiver Stefon Diggs), the Buffalo Bills managed to turn in a solid scorecard for this year's NFL draft.
With the 54th overall selection, Buffalo nabbed 21-year-old defensive end out of Iowa, A.J. Epenesa. Standing 6' 5", weighing 280 lb., the former Hawkeye is massive. What he lacks in flash and burst, he makes up for in power and rush versatility.
A number of analysts had Epenesa going in the first round, with some placing him as high as 15th or 20th overall. At 54th, the Bills got a steal.
Epenesa will be second on the right-side at defensive end, behind the ultra-talented — though, ageing — Jerry Hughes. Should the young D-lineman continue to progress and learn from his senior counterpart, he will be starter-ready after two seasons.
With the 22nd pick of the third round, Buffalo secured another outstanding deal in drafting the 2019 PAC-12 Offensive Player of the Year, Zack Moss. The 5' 9", 223 lb. power runner out of Utah will fit well into a Bills offense in need of a reliable fullback. With Frank Gore's departure,
Moss will likely slide right into the number two running back position for 2020 and will make a nice compliment to fellow third round selection from 2019 Devin Singletary.
Buffalo used its fourth round selection to beef up its ever-deepening receiving corps, selecting UCF product Gabriel Davis 128th overall. Davis likely won't see much playtime over the coming seasons, but he will have several top-level veterans — Diggs, Brown, Beasley, and Williams — to watch and learn from as he develops.
With the 167th overall pick, the Bills made perhaps their most surprising choice of the draft: quarterback Jake Fromm.
Fromm, who led one of the best collegiate football teams in the nation to the 2018 CFP National Championship game, as well as the 2019 and 2020 Sugar Bowl, has NFL starter potential. His selection by Buffalo was surprising because the team already has a young, talented starter with a world of potential in Josh Allen.
While surprising, Fromm's selection in the fifth round was far from a bad deal. As Bills general manager Brandon Beane told ESPN's Chris Mortensen, the team wasn't planning on selecting a quarterback in 2020, but the junior out of Georgia's value was too high to pass up.
Sports Illustrated projected Fromm to go 88th overall. While NFL analyst Daniel Jeremiah placed him at 70th, and FantasyPros estimated he could go as high as 36th.
With Buffalo backup Matt Barkley entering the final year of his contract, Fromm could prove to be a valuable asset behind Allen in seasons to come.
Rounding out the team's final three picks were kicker Tyler Bass (188th), wide receiver Isaiah Hodgins (207th), and cornerback Dane Jackson (239th).
For the team's overall performance in the draft, Pete Prisco at CBS Sports assigned the Bills a B letter grade. ESPN analyst Mel Kiper gave the team a B+. Eric Edholm of Yahoo! Sports and PFF.com both gave Beane and his recruitment squad an A-. And NFL draft analyst Chad Reuter awarded the Bills an A.