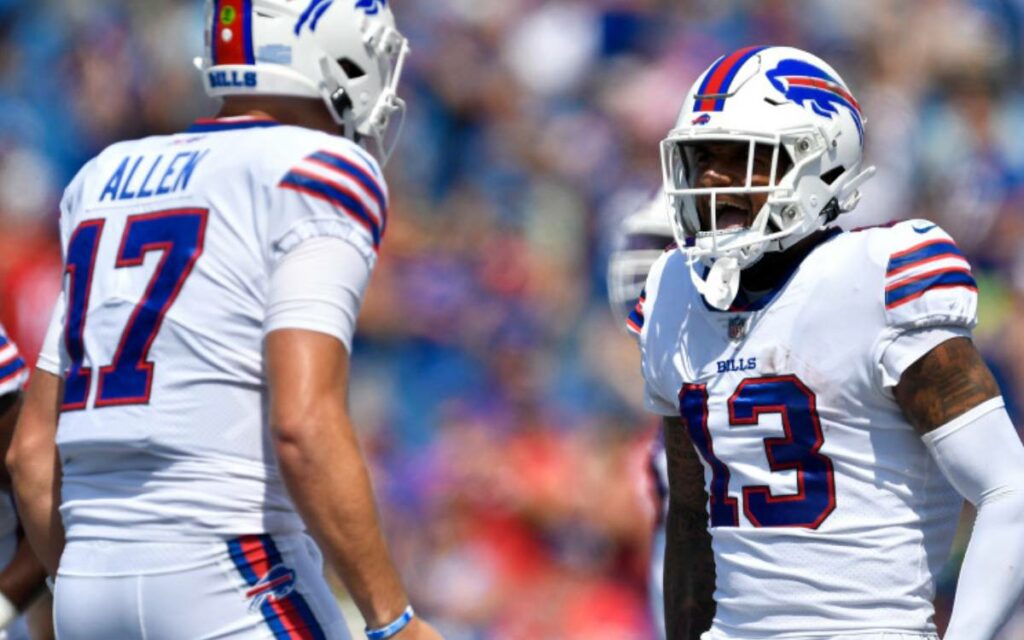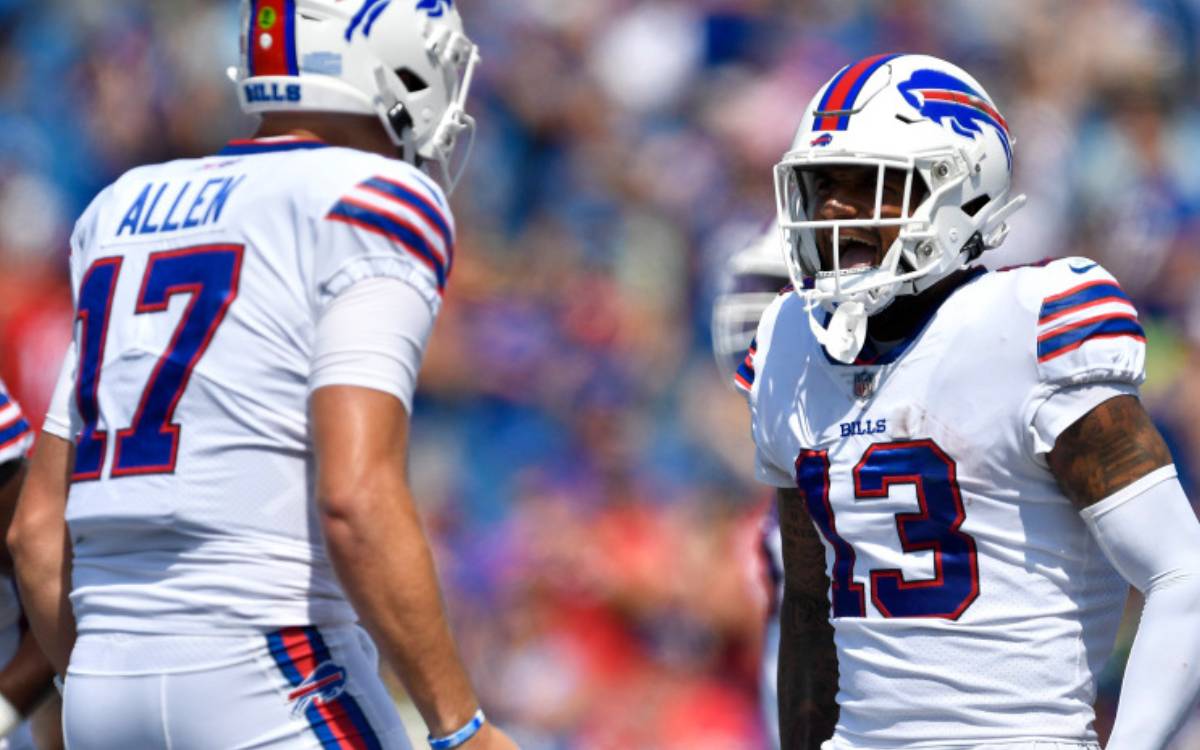 Buffalo Bills wide receiver Gabriel Davis (right) celebrates a touchdown with quarterback John Allen in the team's final preseason game against the Green Bay Packers, Aug. 28, 2021. Photo credit: AP/Adrian Kraus
As the 101st NFL season is set to kickoff Thursday night in Tampa Bay, when the Dallas Cowboys visit the Buccaneers, we know two things for sure: Tom Brady didn't need Bill Belichick or the New England Patriots to prove his worth, and the 2021-22 NFL regular season will feature its first ever 17-game schedule.
Other than that, one question remains constant in these parts: can the Buffalo Bills finally get back to the Super Bowl?
The Bills teased their faithful fans by winning the AFC East for the first time since 1995, and reaching the AFC Championship Game earlier this year, but in that game Kansas City showed why they are the class of the American Football Conference. 
Let's examine if Buffalo did enough in the off-season to close that gap on Patrick Mahomes and KC.
There's no doubt that quarterback Josh Allen officially arrived in 2020. His play had him in the conversation for the NFL's Most Valuable Player all season long. Allen threw for 4,544 yards and 37 touchdowns. Those numbers led the Bills to signing the former University of Wyoming quarterback to a six-year $258-million contract – with $150-million guaranteed. The $43-million per season is the second highest in the NFL, just two million dollars shy of the aforementioned Mahomes annual salary.
Buffalo receiver Stefon Diggs showed why Bills General Manager Brandon Beane traded for him heading into the 2020 season. Diggs was easily Allen's number one target catching 127 passes for 1,535 yards and eight touchdowns. 
The Bills perhaps got even stronger on offense with the addition of free-agent receiver Emmanuel Sanders. 
One aspect that Buffalo hopes to improve on this season is its rushing game. The Bills ranked 20th on the ground last season, something Welland born Offensive Coordinator Brian Daboll, even though vague, knows has to be better this season. 
"There's yards and then there's efficiency, and there's all these numbers you can look at," said Daboll. "There were a lot of good runs and there were some runs that weren't as good as we'd like them to be. You're always trying to be better, you want to be the best offense you can be."
Devin Singletary remains Buffalo's number one running back as the Bills get set to open their season Sunday at home against the Pittsburgh Steelers. 
On defense, Buffalo's number one need is quarterback pressure. 
That's why Beane drafted a pair of pass rushers in Greg Rousseau and Carlos 'Boogie' Basham Jr. to open the 2021 NFL Draft. 
"You can never have enough pass rushers. We thought the value was too good to pass up," was how Beane explained his decision to draft the pair back-to-back. 
Bills faithful weren't the only fans to take notice of the team last season. The NFL schedule makers have given the team four primetime games this campaign.
Perhaps Allen's comments after signing his massive contract in August summed things up best as the new season is upon us:
"The ultimate goal for now is winning, and it's not going to matter if we don't win."
Here's a look at the Buffalo Bills 2021-22 schedule:
Week 1 Sept. 12th home Pittsburgh 1:00 PM EST 
Week 2 Sept. 19th at Miami 1:00 PM EST
Week 3 Sept. 26th home to Washington 1:00 PM EST
Week 4 Oct. 3rd home to Houston 1:00 PM EST
Week 5 Oct. 10th at Kansas City 8:20 PM EST (Sunday night primetime game)
Week 6 Oct. 18th at Tennessee 8:15 PM EST (Monday night primetime game)
Week 7 BYE WEEK
Week 8 Oct. 31st home to Miami 1:00 PM EST 
Week 9 Nov. 7th at Jacksonville 1:00 PM EST
Week 10 Nov. 14th at New York Jets 1:00 PM EST 
Week 11 Nov. 21st home to Indianapolis 1:00 PM EST
Week 12 Nov. 25th at New Orleans 8:20 PM EST (Thursday night primetime game)
Week 13 Dec. 6th home to New England 8:15 PM EST (Monday night primetime game)
Week 14 Dec. 12th at Tampa Bay 4:25 PM EST
Week 15 Dec. 19th home to Carolina TBD
Week 16 Dec. 26th at New England TBD 
Week 17 Jan. 2nd home to Atlanta 1:00 PM EST 
Week 18 Jan. 9th home to New York Jets 1:00 PM EST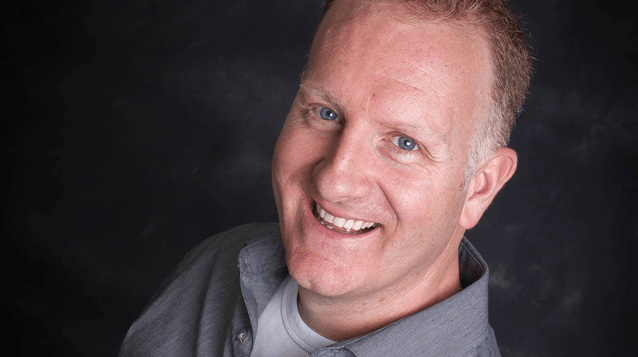 Rod Mawhood is a lifelong Niagara native who has had the pleasure of working in all three mediums – Radio, Print and TV – for over 20 years. His first announcing gig was with the then St. Catharines Stompers. Since then he's worked in radio and TV in Toronto, and currently is the announcer for the Niagara IceDogs and Niagara River Lions.
Rod also covers the Buffalo Bills for FOX Sports and the Buffalo Sabres for NBC Sports.