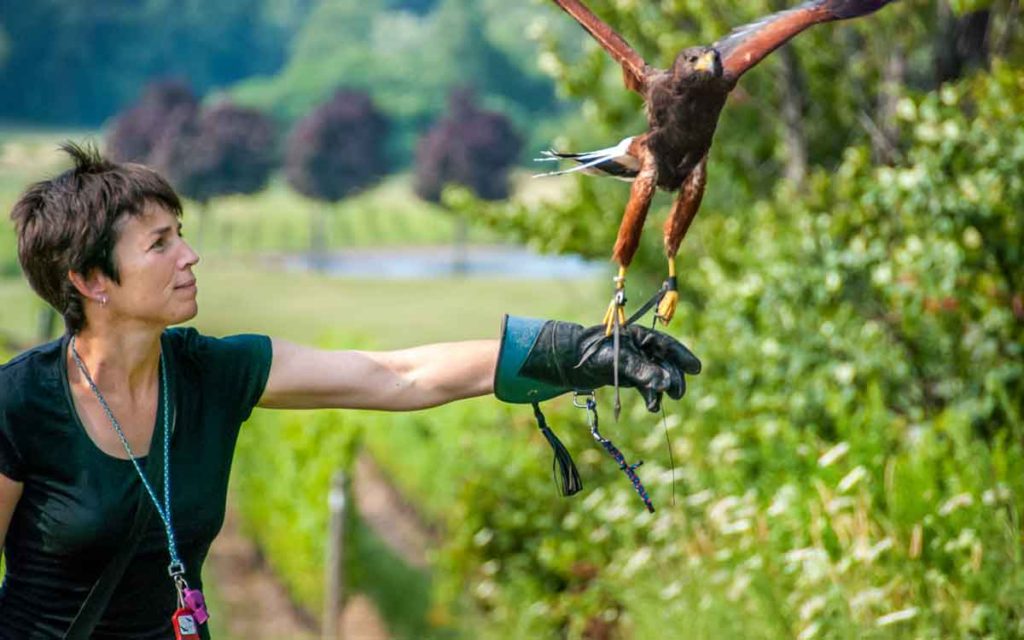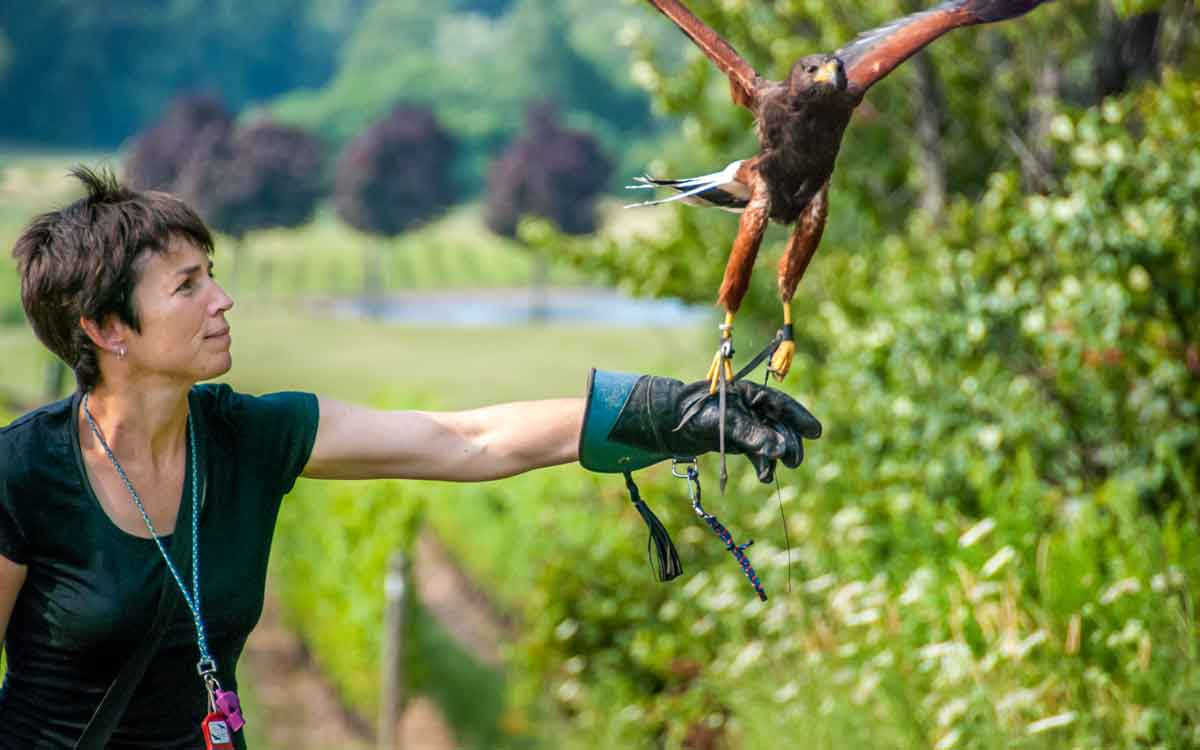 Featherstone Estate Winery co-owner and licensed falconer Louise Engel.
This is a multi-part series giving readers a in-depth look at some of the most successful business owners in Niagara and the fascinating stories that make up their journey.
How do you go from owning a specialty food store in Guelph to owning one of the most successful craft wineries in the province? It's not as much of a stretch as you might think. But like any successful business story the road is paved with hard work, a bit of luck and good timing. Such is the case for Louise Engel and David Johnson co-owners of Featherstone Winery located in Vineland.
At the age of 21 Louise and husband David started a specialty food store in the 1980s. At that time red meat was taboo. So the young couple specialized in selling poultry. "If it had feathers, we sold it," said Engel. They both grew up on farms and David's education is in agriculture. Engel's is in business. "The more we got interested in food the more we got interested in wine."
Johnson started to make his own wine. He joined an amateur wine making club in Kitchener. Around that time there were several examples of amateur turned professional wine makers explained Engel. The pieces of the puzzle started to fall into place. Both Engel and Johnson had managed a retail outlet, they had experience in sales, managing staff and farming, all key ingredients when it comes to operating a winery. "We always had this vision of moving out of Guelph and into the country," said Engel. And so they made the leap in 1999, moving to Niagara and buying a piece of property which is now home to Featherstone Winery.  Their on-site tasting room opened in 2002.
Currently celebrating the company's 20th anniversary, Engel says they couldn't have made it to this milestone without the help of Niagara's winemaking community which she describes as, "very supportive".
She credits Herb Jacobson of 13th Street Winery as being one of those supportive winery owners that was incredibly helpful especially at the beginning. "Herb would come to the winery on his motorcycle for half a day and give us great pointers," said Engel. She said that despite the massive number of wineries dotting the Niagara landscape; it's definitely not a cut throat mentality amongst winery owners. In fact, it's just the opposite. "No wine is exactly the same. Even if two different wineries are using Riesling grapes grown in Niagara the wine will taste slightly different so we can support each other because our products are always different."
The first batch of wine made at Featherstone in 1999 produced just a couple of hundred cases. That jumped to 600, then 1,200 and now Featherstone produces about 8,000 to 9,000 cases a year. "We are on the large end of a smaller sized winery," explained Engel. She said at their current production they are maxing out their equipment and have no plans to expand and are quite comfortable with the size the winery has grown to. "I have other things I enjoy doing in life as well like walking my dogs and reading." There's one more very interesting hobby Engel has; she's a licensed falconer. After completing a 15 month program, Engel is certified to fly birds of prey which she does over the Featherstone vineyards to scare away the nuisance birds that attack the grapes. It's the only winery in Ontario and one of only a few in the country to employ this technique.
Johnson is the wine maker and a very successful one at that. In fact, this year he was awarded Wine Maker of the Year for Ontario and in 2003 was crowned the Grape King. He's the only wine maker to ever hold both titles something Engel is very proud of. "For David to be honoured in both respects is pretty darn rewarding and we are both honoured and flattered."
When asked what the biggest challenge has been over the 20 years they've owned and operated a winery, Engel answers the question with just one word, "weather". "Every year there is something where you go, 'haven't seen that before'." Engel said ideally they want warm days and cool nights. Last year was a lot of warm days and warm nights which posed a challenge. This year, the very late spring posed a problem.
The most rewarding part of the job? "Being a part of people's memories," said Engel.  She recalls being at a restaurant with David and the couple at the table next to them ordered a bottle of Featherstone wine. "Of course they had no idea who we were but watching them pour our wine and celebrate together was special."
"It's a privilege to be a part of people's lives."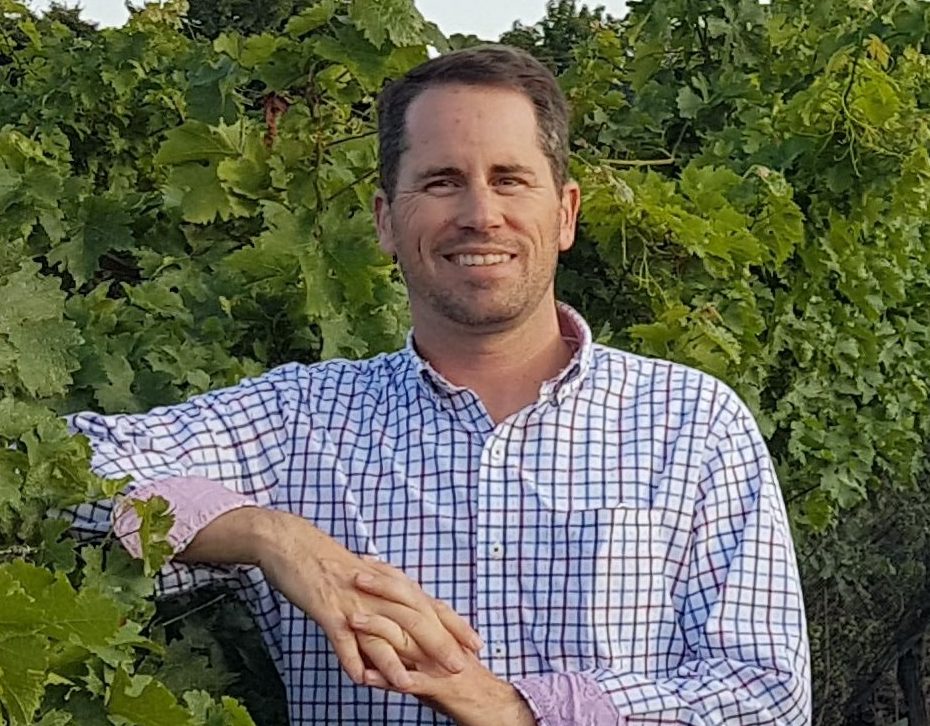 Kevin has spent over two decades as a public relations professional in a variety of sectors including professional sports, the arts, industry and healthcare.  After tiring of the daily commute to Toronto he returned to Niagara and launched The Niagara Independent, an online news source published twice weekly.
He is a graduate of Brock University, Niagara College and the Richard Ivey School of Business. He was named one of Niagara's 40 Under Forty in 2005.
Kevin is most proud of his twin daughters. He is also a triathlete and four-time Ironman finisher.