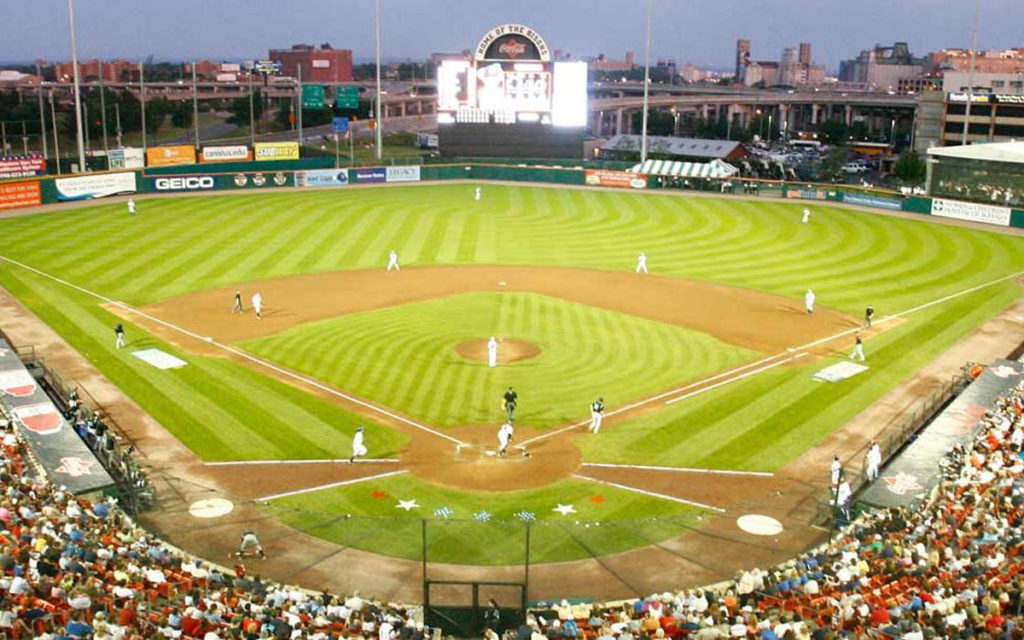 The baseball season is in full swing and most people in this neck of the Ontario woods are focused, frustratingly focused, on "Canada's Team", the Toronto Blue Jays. There is, however, a professional ball club just a baseball throw away, that is near the top of the division and playing entertaining ball night in and night out.
The Buffalo Bisons are the Triple A affiliate of the Toronto Blue Jays and play in the International League.  Niagara and Ontario Blue Jays fans, have the unique opportunity of watching future Jays, current Jays who are rehabbing, or sent down to the farm to work out kinks in their swings or pitching mechanics before making it back permanently to Toronto.
It is obviously very good baseball and happens to also be a very good time.  It's a beautiful ballpark, Coca-Cola Field, in the heart of Buffalo and is very easy to get to as it's just five minutes from the Peace Bridge.  It's a natural grass field with seating capacity of 16,907.  Tickets and parking are affordable. The parking can be found for free if a fan is willing to walk a bit.  The atmosphere is very family friendly – there's even a fireworks show following some Bisons' home games.  Prices for food are also reasonable, a rare thing in a professional sports stadium.  And the food is actually pretty tasty.
The Bisons are managed by Bobby Meacham who is in his 28th season of his coaching career and his 12th as a manager in the minor leagues. Meacham has a career managerial record of 695-778 (.472 pct.) and was named the 20th manager in the Bisons modern era on November 28, 2016.
Fans get a great up-close look at some future Jays.  For example, Sean Reid-Foley, a second round draft pick of the Jays in 2014, is an intense 23 year-old, 6'3", 220 pound hard throwing right hander.  He is up with the Bisons following a solid year in Double A ball.
Reid-Foley features a 96 mile per hour fastball and he can still light up the radar gun in the mid-90s well into the late innings.
One of the catchers for the Bisons is Reese McGuire who was a top rated MLB prospect two years ago when Toronto secured him in a trade that sent Drew Hutchinson to Pittsburgh in exchange for Francisco Liriano, Harold Ramirez and McGuire.  McGuire was the 13th overall pick in the 2013 draft.  He is the backup catcher on the Bisons but calmly receives a very nice game.  Batting only .230 so far this year, Jays fans probably won't see him in Toronto until next year but it is very likely they will see the Bisons starting catcher Danny Jansen in the not-too-distant-future.  Jansen is a 6'2" 200 pound catcher who was drafted by Toronto in the 16th round of the 2013 draft.  He is hitting over .300 so far this year for the Bisons and leads the team with 37 runs batted in.
Niagara baseball fans looking for quality ball in a family friendly ballpark that's affordable, should keep an eye on these future Jays in person and don't hesitate to make the trip to Buffalo one night this summer – you'll be glad you did.