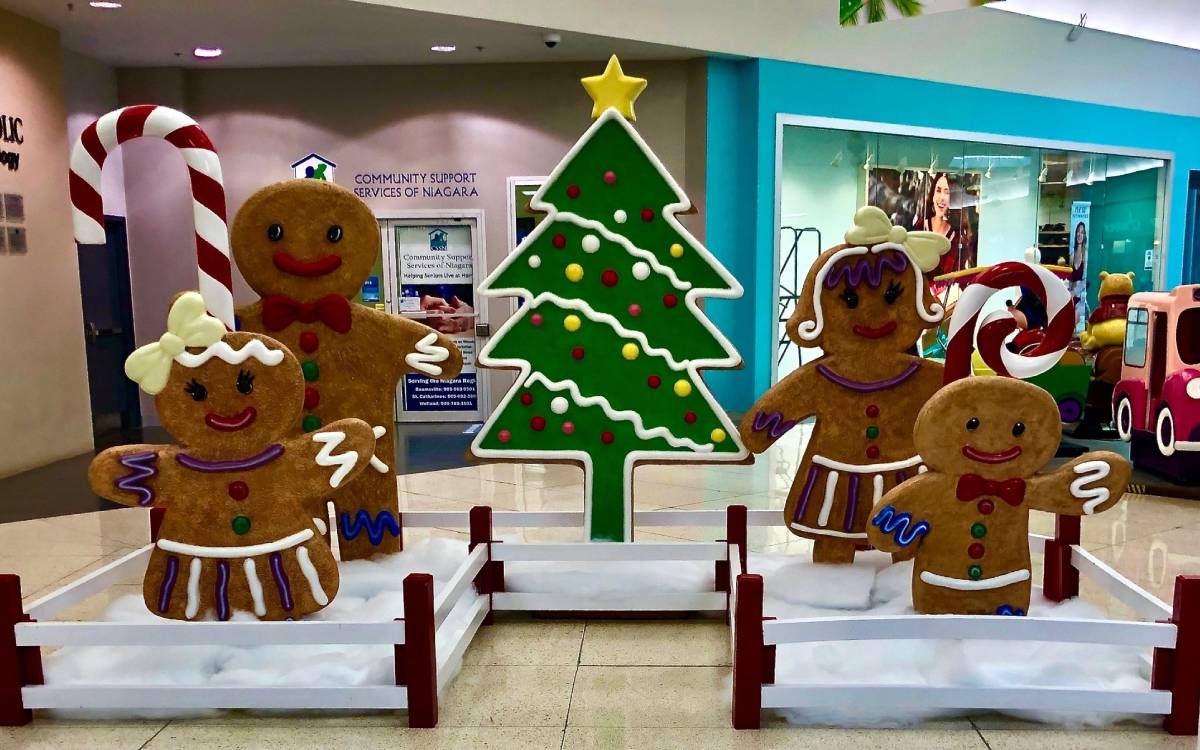 Part of the Seaway Mall's Christmas display, a gingerbread family greets patrons hunting for holiday deals at the Welland shopping centre. Photo credit: Facebook/Seaway Mall
It's that time of year again. Yes, the time where families put up lights, decorate trees, and light menorahs. But more specifically, the time of year when shoppers frantically run around spending countless hours trying to find the deal of the century.
Over the past few years specifically, an event called Black Friday serves as the opening bell for the holiday shopping race. Originally starting in the United States, it coincides with the day after American Thanksgiving, and is known by shoppers as the day of the deals, with many retailers offering steep discounts on items in their stores. 
From the retailer or business owner's perspective, however, Black Friday is a welcome opportunity to see more customers in their stores. And with the pandemic wrecking havoc on most business over the past 18 months, stores are more than willing to offer discounts in exchange for patrons.
Delores Fabiano, Executive Director of the South Niagara Chambers of Commerce, says that so far, the year has been understandably slow, but stores are ready and willing to see more locals in their stores. 
"I think 2021 has been slow but steady in terms of growth and getting back to a healthy place for some of our retailers. So, I think they're anticipating Black Friday. I think in-store shopping is back to a certain degree. People are feeling comfortable coming back out, and many people have looked forward, and are looking forward to the opportunity to get back out there, do some in person shopping, and get back some of that normalcy in their lives."
Despite a downturn in sales over the past two years, Fabiano says that the pandemic has had some positive influences on consumer retail habits.  
"If we're being honest, local is in. Everyone wants to shop local. Everyone wants to support local. I think the pandemic has really shown us how important it is to support our neighbours and colleagues and friends and family who are shopkeepers and business owners in our communities." As a result, she says that most store owners are happy to offer incentives to get more people into their stores, as a 'thank you' for the community's support. 
And from the sounds of things, shoppers are eager and ready to get back out to the stores. Mike Belcastro, president of Welland's Seaway Mall, has been impressed and overwhelmed with the number of shoppers he's seen at the mall over the past two weekends. 
"We were not sure what to expect for Christmas events…this Saturday we have 'Breakfast with Santa' that we have done for the past 10 years, but again, we didn't do it last year because of COVID, and we sold out in one day." 
Belcastro says that store owners have been pleased with the amount of traffic going through the mall in the early few weeks of the holiday season. "Events we're doing are selling out quickly. So, it looks like people are excited to get back out, get into the malls and shops, and the stores are telling us so far, it's been very good for them." 
On top of in person deals, Fabiano also highlighted a local initiative for people wanting to purchase discounted gift cards to Niagara businesses online.
"There are a lot of shop local initiatives, and we have one ourselves called NiagaraGiftCards.com. It's a digital platform that allows you to support local businesses and save up to 40 per cent. There's exclusive offers only on the website and it [features] all of our local retailers, restaurants and services."
Fabiano says that for retailers, the goal of Black Friday this year is the same as it was pre-COVID, and the same as it is every other day of the year. 
"The hope is what it's always been, which is to have your return, loyal customers come and support you, and attract new customers, and you do that by providing great service, and having some really great products."