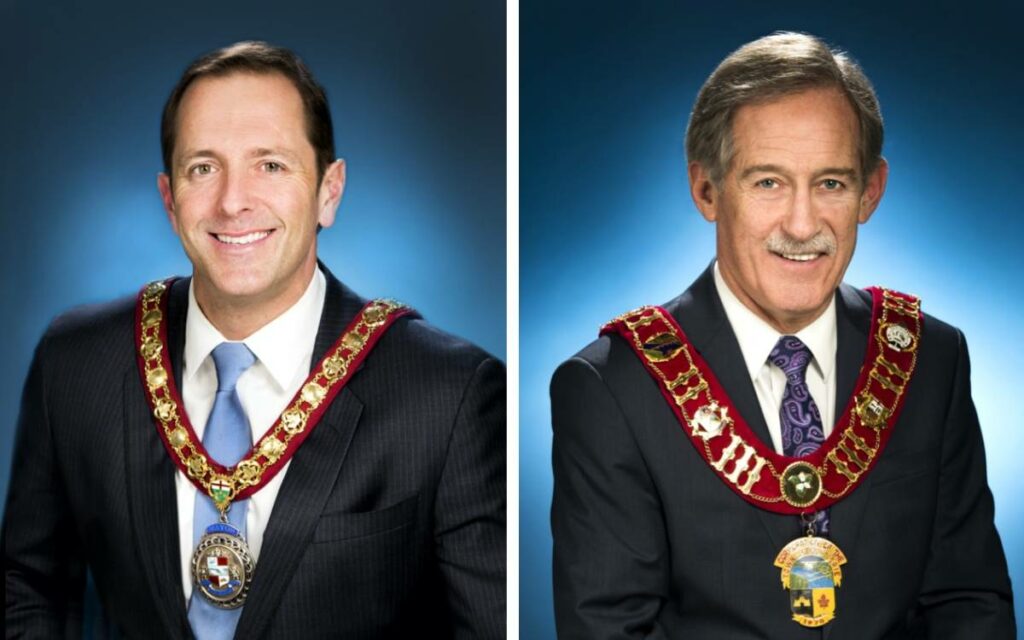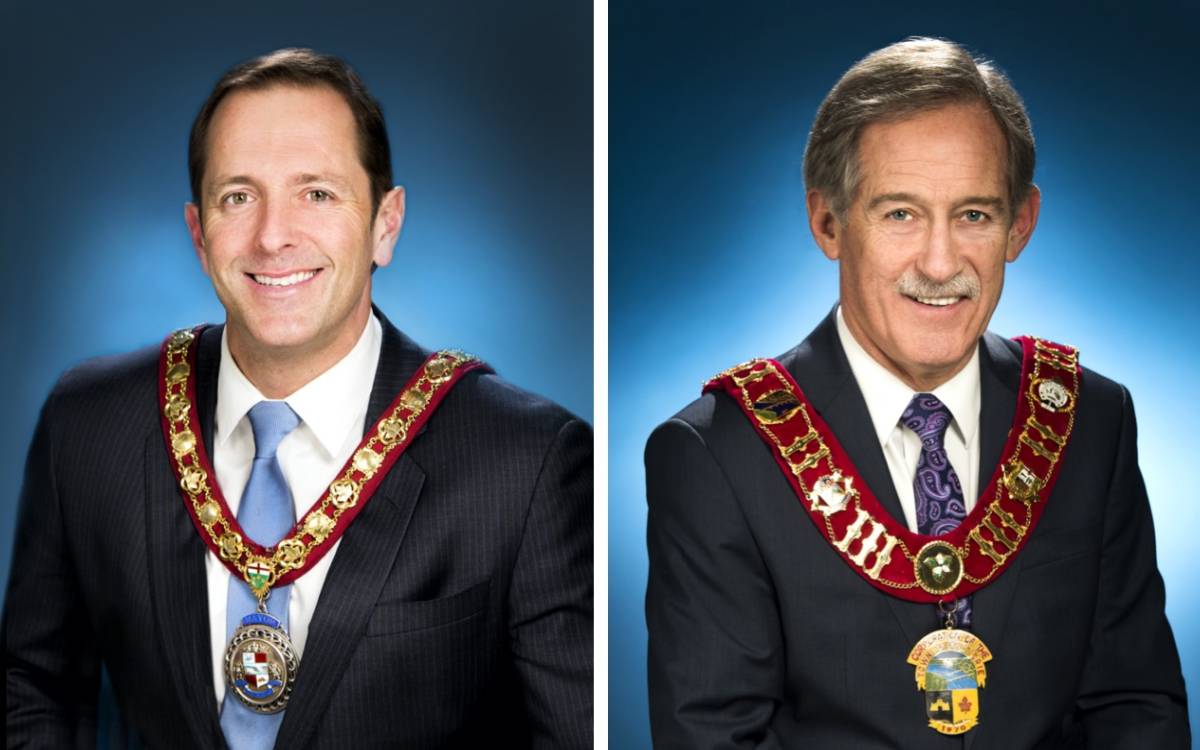 Niagara Falls Mayor Jim Diodati (left) and Fort Erie Mayor Wayne Redekop (right). Both Niagara mayors, along with their municipal counterpart from Windsor Drew Dilkins, spoke to The Niagara Independent about trying to acquire excess American COVID vaccine, as well as their frustration with various pandemic-related bureaucratic regulations and restrictions.
A recent Toronto Star headline broadcasted, "Awash in vaccines, Canada plans to share with other countries." But COVID-19 vaccine supplies in Niagara have not kept pace with the demand, as many thousands of Niagara residents have been shut out from online registration for second doses. As the highly transmissible Delta variant spreads rapidly throughout Ontario, border-city mayors are lobbying hard for creative solutions to get their communities vaccinated, including accessing surplus American vaccine doses which are currently filling New York and Michigan dumpsters.
To help stop the senseless waste, Mayor of Niagara Falls Jim Diodati has been a vocal advocate of cross-border jabs.
"It's very, very frustrating," said Diodati. "We're trying to be innovative, use some critical thinking to come up with common sense ideas. But it seems that everybody has been immobilized with fear. They [upper levels of government] are afraid to make a mistake, they're afraid to do the wrong thing. We get management instead of leadership. The first lockdown was all about fear, the second one was all about frustration. And now the third one is about anger. People are saying 'what the hell is going on? Let's open the doors.' If the vaccines really are the panacea, and we believe they are, then it stands to reason that anyone fully vaccinated should have no issues of crossing the border without having to quarantine.
Another of Diodati's complaints is that there appears to be no accounting for all the Canadians that have been fully vaccinated in the U.S. "The federal government says it's up to the province, but the province doesn't track international flyers, the federal government does. So, it's finger-pointing in both directions," he said. "The Snowbird Association has already noted that at least 300,000 Canadians have wintered in the southern U.S. this year, and many got fully vaccinated. So why aren't we accounting for them? Why are we making excuses to not open up the border?"
Diodati said that he got a call from Mayor Robert Restaino of Niagara Falls, New York, saying, "Jim, things are really back to normal here. Are you guys close to opening up? What can I do to help?' Diodati's response was, "Do you have a jar of common sense I can borrow? This pandemic is polarizing people, and putting the mental health of many in a questionable state."
Diodati said he has heard through the grapevine that the U.S. may unilaterally open its border on June 22. "I'm hoping that they follow through on that, to force our hand," said Diodati.
The mayor is perplexed by what he perceives as changing metrics for re-opening by Canada's federal government. "Minister Blair [federal Minister of Public Safety and Emergency Preparedness] keeps telling me 'I'll let you know when we get there.' But they keep moving the goalposts," lamented Diodati.
Another sore spot for Diodati is the way that Section 22 of Ontario's Health Protection and Promotion Act is being enforced with regard to food premises. While the provincial government has said that a maximum of four people can be seated together, in Niagara, the rule currently being enforced by acting health officer M. Mustafa Hirji is that patio diners at a table must be from the same household, with an exception for essential caregivers.
"I'm frustrated and disappointed with his [Hirji's] way of thinking," said Diodati. "I'm asking that he show us his professional perspective based on science…show us why that's a good decision. We know from the CDC [Centre for Disease Control and Prevention] that 99 percent of the viral spread takes place indoors, and we know that the sun naturally sanitizes the virus with its ultra-violet rays, and the wind disperses it."
"But here's the dilemma," continued Diodati. "His caution is causing much greater concern and risk, because what's happening now is that people are disregarding his rules. That's why he [Hirji] has called in the cavalry, he's asked the Ministry of Labour to get involved, which is going to further polarize people. The real outcome will be that people are going to have more gatherings in their backyards, in their houses, in their cottages. And they're not going to be physically distanced or monitored, and there will be no contact tracing…whereas in a restaurant, all these rules are implemented. So, I call those good intentions, but unintended negative outcomes. I appreciate what he's trying to do, but the outcome is going to make the situation worse."
Fort Erie's Wayne Redekop shares the views of his mayoral colleague from Niagara Falls regarding American vaccines, insisting that "If the federal government is making it difficult for Canadians to go to the States to get a vaccination, why not send the doses here? It just makes sense."
Redekop believes that if you're living in a border community, you understand the dynamic, the closeness of the relationship between the people and the two economies. Part of the problem seems to be that Public Health doesn't have a clear understanding of what is actually happening at the borders, according to Redekop.
"Whenever we meet with Mr. Blair, who's from Toronto, he appears to possess a fairly clear understanding, and he indicates his appreciation for the advice that we provide about what's happening on the ground. But with Public Health, maybe not."
Part of the disconnect could be due to the fact that Canada was desperate for a supply of American vaccines earlier in the pandemic. "Maybe the Canadian government is feeling that they were badly treated by the U.S. when they were focused only on vaccinating their own people. The gesture is a bit late in coming, so maybe that's part of it. I'm not exactly sure but, you know, government and lawyers like me can make everything complicated," said Redekop.
To the southwest of Niagara in Windsor, Mayor Drew Dilkins recently told a House of Commons health committee that Canadian pharmacists working in Detroit have regularly offered surplus supplies to his city, but that government regulations have blocked the arrangement. Dilkins is incredulous that 37,000 doses now rest in Detroit landfills. The doses are going unused because there are multiple shots in a vial and a limited timeframe in which to use the product once it's opened.
Approximately 75 per cent of Canadians over the age of 12 have had at least one dose of COVID-19 vaccine, but only 18 per cent are fully vaccinated. By comparison, almost half of America's population has had both doses.
Under Dilkin's proposal, the Detroit-Windsor Tunnel would serve as a makeshift COVID-19 vaccine clinic for the administration of second doses to Canadians, who would remain in their cars on their own side of the border, thereby eliminating the mandatory 14-day quarantine restriction for returning international travellers. "The people doing the vaccinations would actually be Canadian doctors and nurses who live in my community and cross the border to work in Detroit every day," said Dilkins.
However, the Public Health Agency of Canada (PHAC) has thrown up roadblocks to Dilkin's plan, saying that if a U.S.-based medical professional administered a vaccine to a person in Canada, that amounts to importing a drug for sale into Canada and runs afoul of Canadian health and customs regulations. Additionally, PHAC warned that people who suffered side effects from the vaccine wouldn't be covered for Canadian compensation. A spokesperson for Ontario Health Minister Christine Elliot said that federal quarantine rules are the primary impediment.
The PHAC has stated that there will be enough vaccine to allow all Canadians to get their first vaccine dose by Canada Day.
Dilkens has reached out to Prime Minister Justin Trudeau, asking that he raise the issue with U.S. President Joe Biden at the recently concluded G7 Summit meetings in London, England. To date, he has received no response.
Dilkins knows that more vaccines are coming and agrees that Windsor will probably be flooded with supply at some point later this summer. "But we're now in the middle of June, and people are being told to wait until the end of August for a second dose," he said. "Everyone knows we have a supply and demand mismatch, no matter how the government tries to spin it. With the number of doses that are coming in, we simply do not have enough supply to meet the demand here in the community."
People in border communities have deeper connections with folks on the other side, maintains Dilkins. "Last summer, businesses in Windsor and Niagara Falls didn't see the same type of rebound that other communities saw, simply because they didn't have the cross-border traffic that drives so much of the border city business," he said.
The first day the border opens to the United States, Dilkins expects thousands of people to cross into Detroit to connect with family members and friends and visit their Detroit mailboxes to pick up the eBay packages that have been piling up for a year.
"We're still in the middle of this pandemic. We want to get out of it. Vaccination is the key to moving forward," said Dilkins. "All I'm trying to do is expedite the vaccination in my community with doses that are destined for landfills in Michigan, offered to us by people who live here and work over there in healthcare."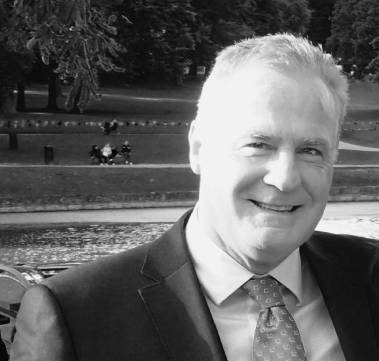 Don Rickers' career in education spanned over three decades, and included stints as a teacher, student recruiter, coach, boarding school housemaster, enrollment management director, and headmaster. He has travelled extensively and visited hundreds of schools around the globe, and served for almost ten years on the governing committee of the Association of Boarding Schools based in Washington, DC. Now a member of the Canadian Association of Journalists, his freelance articles have been featured in newspapers, blogs, and educational journals. A former national team lacrosse player, he holds a masters degree from Brock University, and is a member of the board of directors of the South Niagara Rowing Club. He resides in Fonthill.