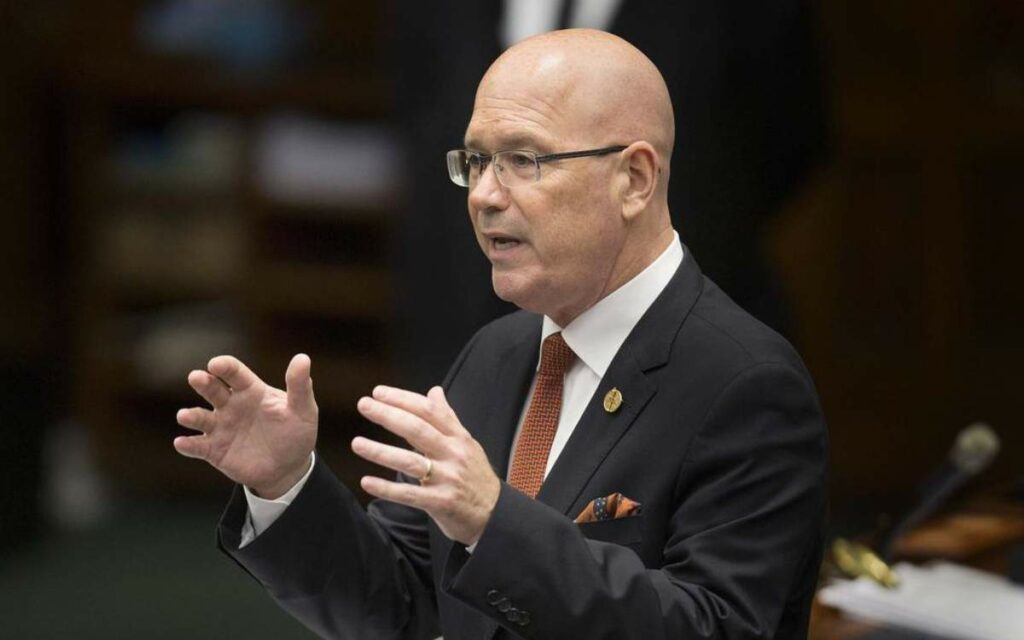 Reappointed chair to provide "continuity and stability", Bradley will work hand-in-hand with a provincially selected "facilitator" who will review the municipality's two-tier governance system. Led by Minister of Municipal Affairs and Housing Steve Clark (pictured), the province wants to reduce duplication and cut red tape in order to, among other things, address the housing crisis. When asked if the review could result in total elimination of regional government, Minister Clark did not deny the possibility. Photo credit: OHBA
Earlier this week, Ontario Minister of Municipal Affairs and Housing Steve Clark effectively confirmed what up until now was only speculation: the province is not satisfied with the efficacy of Niagara's two-tier government and is actively looking to make changes. 
Speaking at Queen's Park Wednesday, Clark said newly introduced legislation – Bill 39, Better Municipal Government Act, 2022 – is necessary for the province to achieve its aggressive goal of seeing 1.5 million new housing units built over the next 10 years. 
"This (legislation) would take decisive action to help address the housing crisis in some of Ontario's fastest-growing communities," Clark said.
Among other changes, the act would grant the province formal authority to reappoint former head of council Jim Bradley as Niagara's regional chair for the 2022-26 term. Regional councillors were previously scheduled to select a chair internally at their first meeting on November 24 – Bradley was set to put his name forward again. 
The reappointment of existing chairs in Niagara, Peel, and York regions is meant to ensure "continuity and stability" while the provincial government works out plans "to reduce municipal duplication to deliver on shared provincial-municipal priorities", primarily related to housing. 
Bradley, who put out a statement in full support of the province's move, will work closely over the coming months with a provincially appointed "facilitator" on how best to implement Ontario's determined strategy to address duplication and cut red tape, and possibly extend 'strong mayor'-type powers. 
"I fully respect the province's authority over local governments and their ability to make decisions they feel are in the best interest of the people of Ontario," the former long-time Liberal MPP and multi-era cabinet minister said.
"In regard to Minister Clark's announcement that he is reappointing the Regional Chairs in Niagara, York and Peel, I can affirm my steadfast commitment to the people of Niagara and my readiness to continue serving as Regional Chair."
"It goes without saying that there is a significant housing crisis across Ontario. I applaud the province for considering all options at their disposal to address this crisis, including exploration of expansion of so-called 'strong mayor' powers. As Regional Chair, I look forward to working with the announced Provincial facilitators to find ways to better support our growing population while addressing the housing crisis." 
There is no word yet on who Niagara's "facilitator" will be.
When asked by a reporter earlier this week whether the province ultimately intends to do away with regional governments like Niagara, Clark was noncommittal. 
"I'm not going to presuppose the discussions that take place by the facilitator."
Early in its first mandate, the Ford government launched a months-long assessment of municipal governance around the province, with rumours of amalgamation and the like in the cards for Ontario's eight upper-tier governments. 
Niagara, with its two-tiers, 13 councils, and record-high politician-to-population ratio, was consistently pointed out as a prime example of a bloated system. The premier himself even commented on the ridiculousness of Niagara having 126 elected officials for less than 500,000 people.  
In the end, nothing came of the comprehensive review three years ago, with Minister Clark at the time saying, "local communities should decide what is best for them in terms of governance, decision-making and service delivery."
However, evidently, a pandemic, housing crisis, and looming economic downturn have made Clark and the premier realize that "bold actions" are indeed necessary to give the province's more bloated, inefficient municipalities, like Niagara, the best chance to succeed now and into the future. 
Alongside Bradley, mayors of two of Ontario's largest cities also came out in support of Bill 39 and related measures. 
Mayor of Mississauga Bonnie Crombie called the province's renewed interest in governance reform "welcomed news for Mississauga", claiming she hopes it results in the municipality breaking away from the Region of Peel to stand alone as a single-tier city. 
"Independence would provide greater fairness for Mississauga taxpayers, create a single point of contact for public-facing services and help cut red tape for residents and businesses," Crombie said in a press release. 
Similarly, Mayor of Brampton Patrick Brown, whose city is also a member of Peel's upper-tier system, said he is "glad the provincial government is looking at ways to make municipalities in Peel more efficient by removing duplication."
"Redundancy is the enemy of productivity."