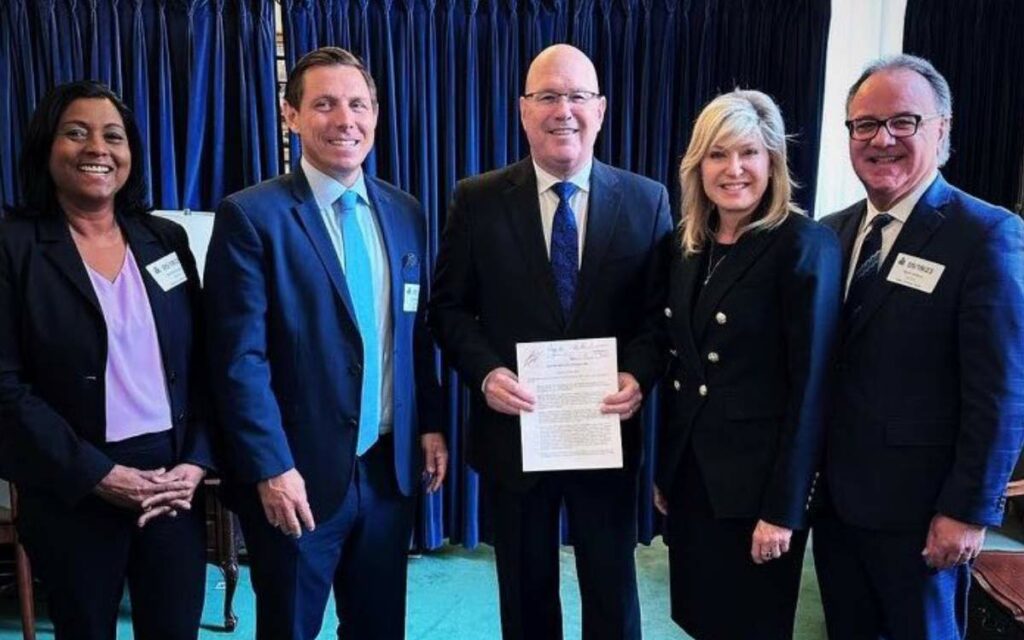 Ford government has tabled legislation that, once passed, will start the process of dissolving Peel Region and splitting its constituent communities into single-tier municipalities. Pictured (left to right) at Queen's Park on Thursday, May 18 are Caledon Mayor Annette Groves, Brampton Mayor Patrick Brown, Minister of Municipal Affairs and Housing Steve Clark, Mississauga Mayor Bonnie Crombie, and Peel Regional Chair Nando Iannicca. Photo credit: Twitter/Steve Clark
Early this week, Premier Doug Ford made good on his musings in recent days to break up Peel Region into its constituent cities of Mississauga, Brampton, and Caledon, so that the cities would become independent of the regional government. 
The plan received somewhat mixed reviews, as Mississauga Mayor Bonnie Crombie welcomed the development with open arms, stating that she estimated it would save Mississauga taxpayers about $1 billion over the next ten years. Mayor Patrick Brown of Brampton generally supported the change, but noted that his city would be looking to recoup funds it had previously spent to help finance infrastructure in Mississauga. Caledon is likely to have the most challenging transition as, unlike the other two regions, it is rural, has a larger geography but smaller population, and may find it difficult to be sustainable as a single-tier municipality.
Although there remain many details to work out, the plan is to dissolve the regional government and have the cities become independent as of the beginning of 2025.  
For Mississauga, the independence of that city was a goal of the late Hazel McCallion, long-serving Mississauga mayor. Premier Ford named the legislation the Hazel McCallion Act as a tribute to her. Last November, the Ford government launched a process to assess regional governments in Peel, Halton, Durham, Niagara, York, and Waterloo. Peel will be the first region to experience this change in government structure. 
The over-arching goal of the exercise is to review the roles and responsibilities of the lower level municipalities and their regional overseers to determine if the current mix is optimal.  Increased efficiency, shorter timelines for development approvals, eliminating duplication among levels of government and saving taxpayer dollars are also some of the goals. 
It is also positive to have clear lines of responsibility for each level of government to enhance accountability. When various levels of government all contribute to a particular project, no one government ends up being accountable, or responsible if something goes wrong. A good example is the recent conflict between auto manufacturer Stellantis and the federal and Ontario governments where both levels of government are pointing fingers at the other for any problems that have occurred. 
An ideal situation would have every level of government completely independent from the others, raising funds via taxes to finance their own projects and being uniquely accountable for any successes or failures. Unfortunately, within the Canadian context where so many undertakings involve spending by more than one level of government, this very rarely occurs. 
Another interesting element of the Peel Region break-up is the personalities involved. Doug Ford was the successor to Patrick Brown as leader of the Ontario Progressive Conservative Party, and the two have a fractious relationship. Current Mississauga Mayor Bonnie Crombie has recently been speculating that she may run for the leadership of the Ontario Liberal Party, and if so, would be facing Ford in the next Ontario election. 
The press conference announcing the Peel Region changes also revealed tensions between Crombie and Brown, who are both claiming they funded infrastructure in the other's municipality and therefore deserve some payback. Clearly there will be some difficult moments before all the issues are settled in this transformation. 
Policies that lead to less government are always a good thing, especially in Canada where we have a great deal of costly government for a relatively small population spread over a large geography. 
Unfortunately, however, savings for taxpayers are anything but guaranteed by these recent changes. Governments have an amazing talent for self-preservation, and even though one layer of government is phased out there is no guarantee that other governments will not simply expand to take up the slack and destroy any possible efficiencies. This was certainly the case when Toronto was amalgamated in 1998, and when Doug Ford cut Toronto City Council in half in 2018 and the remaining councillors merely doubled their budgets, ensuring taxpayers would not realize any benefit. 
Streamlining municipal and regional governments, as Ford claims to be doing, is good in theory. We'll have to wait a while to see if it will improve anything in practice.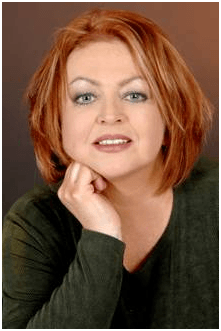 Catherine Swift is President of the Coalition of Concerned Manufacturers & Businesses of Canada (CCMBC). She was previously President of Working Canadians from 2015-2021 & President & CEO of the Canadian Federation of Independent Business (CFIB) from 1995-2014. She was Chief Economist of the CFIB from 1987-1995, Senior Economist with TD Bank from 1983-1987 & held several positions with the federal government from 1976-1983.
She has published numerous articles in journals, magazines & other media on issues such as free trade, finance, entrepreneurship & women business owners. Ms. Swift is a past President of the Empire Club of Canada, a former Director of the CD Howe Institute, the Canadian Youth Business Foundation, SOS Children's Villages, past President of the International Small Business Congress and current Director of the Fraser Institute. She was cited in 2003 & 2012 as one of the most powerful women in Canada by the Women's Executive Network & is a recipient of the Queen's Silver & Gold Jubilee medals.
She has an Honours BA and MA in Economics.