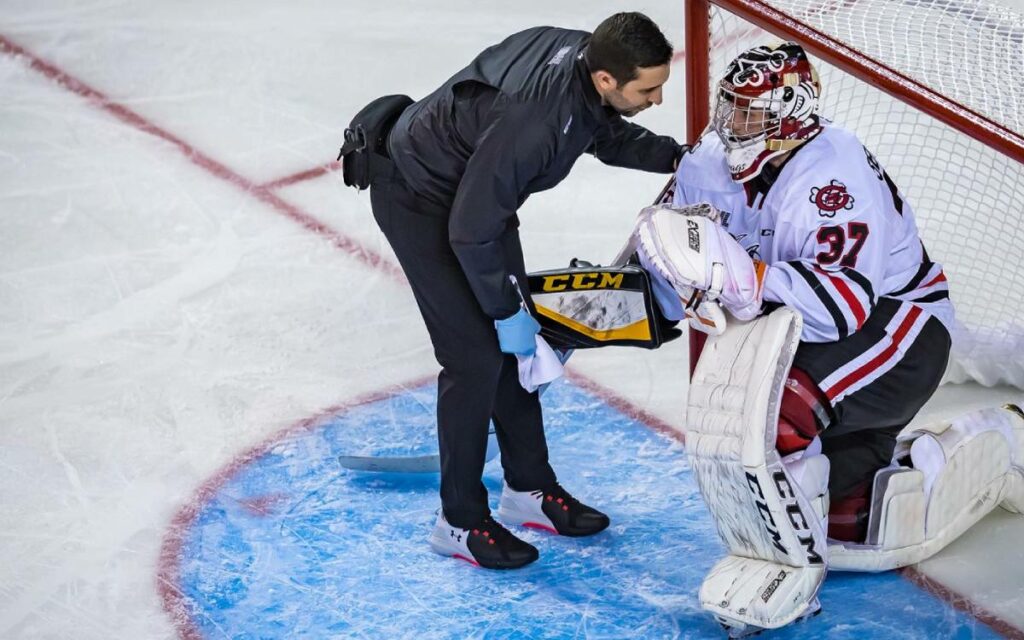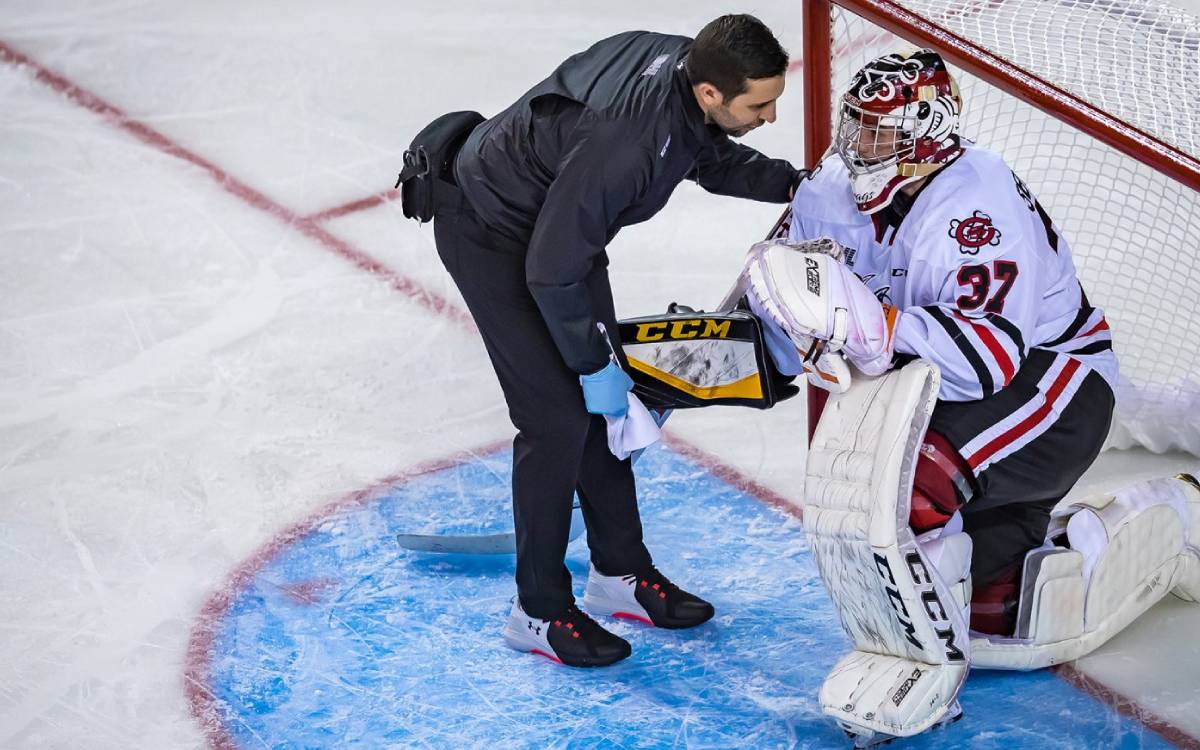 Niagara IceDogs Head Athletic Therapist Chris Trivieri is one of four Brock University alumni who worked in the OHL last season. Photo: Vivid Eye Photography
Chris Trivieri's job isn't for everyone, but for him and the athletes under his wing, it means everything in the world.
As the head athletic therapist for the Niagara IceDogs Trivieri (BPhEd '12) never stops brainstorming worse-case scenarios.
The range of outcomes for his work day could be as trivial as treating a charley horse or as serious as the nightmare-inducing scenario he faced on Dec. 12, 2019.
Trivieri recalled the moments revolving around a gruesome injury one of his players suffered during an Ontario Hockey League (OHL) game at the Meridian Centre in St. Catharines.
IceDogs goalie Tucker Tynan was in the midst of a goalmouth scramble against the London Knights early in the second period when he suffered a severe cut to the thigh from a skate blade.
The 17-year-old dropped to the ice as blood poured out of his goalie equipment. Trivieri witnessed the incident unfold from the Niagara bench.
"Before I even left the bench to attend to Tucker, I knew it was going to be a very serious injury," Trivieri said. "In the past, I've dealt with spinal injuries, seizures, cardiac episodes, but never faced a scenario where so much blood was lost so fast."
Tynan required a blood transfusion of five units. The Canadian Blood Services says the average human body contains 10.5 units of blood.
"When I think of Tucker's injury, it was the unbelievable teamwork from everyone involved that ultimately gave Tucker the best opportunity to have a full recovery," said Trivieri. "They were all instrumental in the success of what happened on Dec. 12."
Trivieri played a key role in those next few moments as he worked quickly to execute an emergency action plan alongside IceDogs equipment manager Nick Hornby, strength coach Nick Tamburri, team doctor David Dec, London Knights physiotherapist Doug Stacey, IceDogs defenceman Adrien Beraldo and the on-site paramedics.
"There's always adrenaline in those situations, but focusing on the task at hand puts you into a zone where everything you've been trained to do is recalled," said Trivieri. "Being calm and focused is key to success in those situations. Your demeanor sets the tone for the rest of the group."
Tynan spent time in hospital and made a full recovery after a long rehabilitation to repair the torn quad muscle in his leg. He was back on the ice a few months later.
Earlier this year, Trivieri was presented with a Merit Award from the Canadian Athletic Therapists Association for his efforts in helping save Tynan's life.
"It's a tremendous honour," said Trivieri. "The award itself is a peer-nominated award, so it really means a lot to have other professionals in the field recognize what myself and the rest of our team accomplished."
Trivieri is one of five Brock Kinesiology grads who worked in the OHL last season, including Windsor's Mark Packwood (BKin '12), Peterborough's Brian Miller (BKin '12), Barrie's Jimmy McKnight (BSc '14) and Dan Marynowski (BPhEd '91), who was with Ottawa and recently moved on to another job during the pandemic.
"My time at Brock was special. Being born and raised in the Niagara region, Brock University was always a special place," said Trivieri. "I was involved in numerous programs there through my childhood and always looked up to the people from Brock who made my experiences so memorable."
He said Brock played an integral part of where he is today, and couldn't ask for a better stepping stone for his career.
"Having the opportunity to spend five years of my post-secondary life there and getting to learn from some of the people that I look up to was an invaluable part of my career path," he said.
Trivieri first heard of athletic therapy as a profession while he was studying at Brock. He wanted to pursue a career in physiotherapy after graduating high school, but ultimately enrolled in the Child and Youth Studies program with the idea of becoming a teacher.
His goals changed after he had a conversation with a long-time family friend, legendary Brock head athletic therapist Joe Kenny.
Trivieri's father, Frank (BA'76, BEd '82), is also a Brock graduate and was Kenny's elementary school physical education teacher.
"Joe convinced me to change majors and pursue my original career path in athletic therapy," said Trivieri. "I switched majors and enrolled in the Physical Education department."
From there, he spent the next four years pursuing his newfound career path and worked closely with Kenny and Jim Bilotta in the Brock Athletic Therapy Clinic.
"Joe and Jim were the two who really jump-started my career and helped lay the foundation for the therapist I am today," he said.
After graduating from Brock, Trivieri secured his Honours Bachelor of Applied Science in Athletic Therapy, Orthopedics and Rehabilitation from Sheridan College where he also worked with the Toronto Maple Leafs' American Hockey League affiliate, the Toronto Marlies, from 2014-16.
He cut his teeth in the profession while working with Marlies' head athletic therapist Luc Leblanc, which is where he learned how to build treatment routines and how to organize and operate during practice and game days in professional hockey.
Before joining the IceDogs, he also worked with Hockey Canada at the U17 level during a development camp in the 2017-18 season and served as the head athletic therapist, strength coach and equipment manager for the Brandon Wheat Kings of the Western Hockey League. In 2018, he was named the Kingston Frontenacs' head athletic therapist and strength coach.
Trivieri also worked alongside another Brock grad, Alison Longo (MSc '09), with the Niagara Spears of the Ontario Provincial Football League for three seasons.