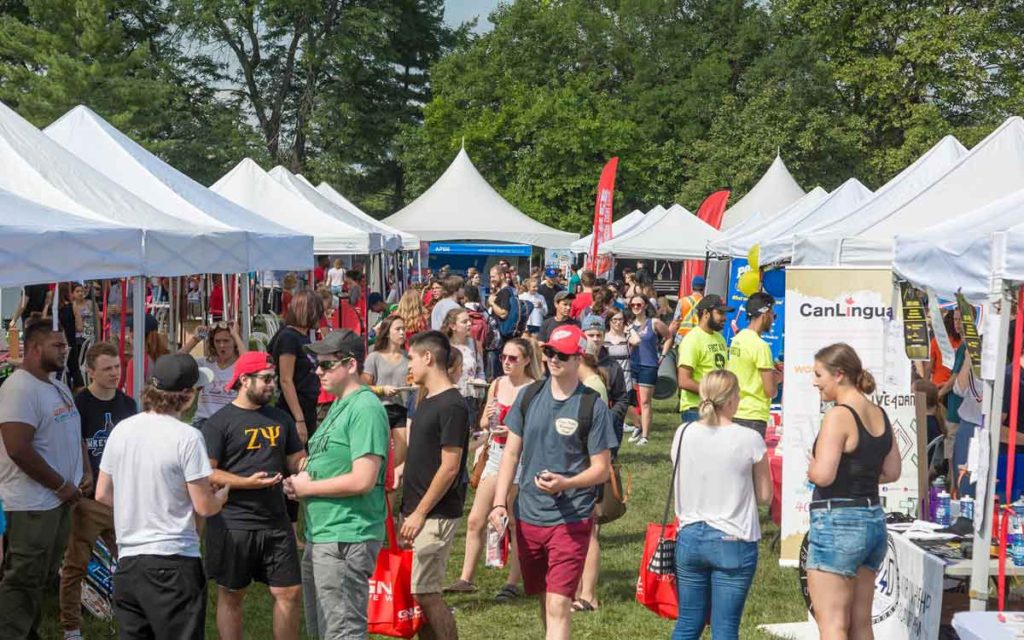 Brock University students walk the campus last week as both Brock and Niagara College experienced record enrollment numbers.
Niagara's post-secondary institutions are at the top of the class when it comes to enrollment numbers.
Brock University is starting the new school year with its largest incoming class in a decade, and it's largest-ever enrolment. Not to be outdone, Niagara College saw their enrollment numbers hit the record books as well.
More than 5,000 new students started the Fall Term at Brock last Wednesday marking a six per cent increase over last year's incoming class. Brock's 2018-19 total fall enrolment is projected to be more than 19,100 students — the largest in the school's 54-year history.
The incoming undergraduate class is the second largest since the double cohort year in 2003, when a massive influx of students headed to university as the result of the elimination of the fifth year of high school.
Brock says the positive growth this year can be attributed to: the number of high school grads entering Brock is up four per cent from last year, even though the Ontario-wide number declined by more than one per cent, overall; the number of new undergrads is eight per cent higher than a year ago and there is a two per cent increase over last year in new graduate students; more than 900 new international grad and undergrad students from 68 different countries have confirmed their intentions to come to Brock which is a 50 per cent increase from last year's intake of new international students.
Brock is bucking the provincial trend. Numbers are down across the province from where they were at this time in 2017. While the average enrolment for domestic students is down about one per cent, that number is up four per cent at Brock. And while international enrolment is trending higher across the province, Brock's numbers are more than three times the provincial average.
James Mandigo, Brock Vice-Provost for Enrolment Management and International, said the international enrolment numbers are "off the charts."
"One of the factors is we've diversified the countries we're focusing on with emerging markets such as Africa, Latin America and India," Mandigo said. "And there has been a huge increase internationally in coming to Canada. It's the fastest growing market because it's known as a multicultural country that supports diversity and offers a great education at an affordable price."
But Brock University has also focused on its own backyard, with staff visiting Niagara secondary schools and encouraging students to experience Brock with campus visits. The result has been a significant increase in the number of Niagara students making Brock their choice for post-secondary education.
Niagara College has also experienced a record breaking start to their 2018 academic year. While final numbers won't be available until next week, the college is confident in predicting a record enrolment for Fall 2018, with well over 10,000 students enrolled in full-time postsecondary programs.
"We're achieving record enrolments despite demographic trends that show a decrease in our traditional base of prospective students," said Adam Dusome, Niagara College registrar. "In addition to leveraging our reputation as a leader in applied education, we've been able to achieve growth through strong international enrolments, increased capacity in high-demand programs, expanded marketing and recruitment activities and developing new, innovative programs."
With thousands of bright young minds from around the world coming to this region to pursue their higher education, it can only bode well for the future of Niagara.