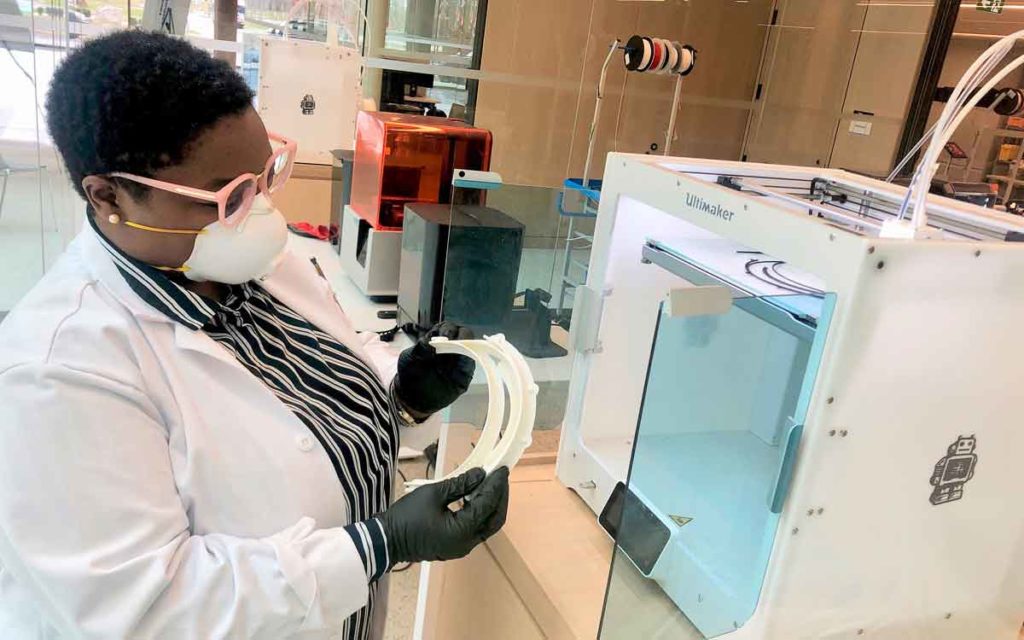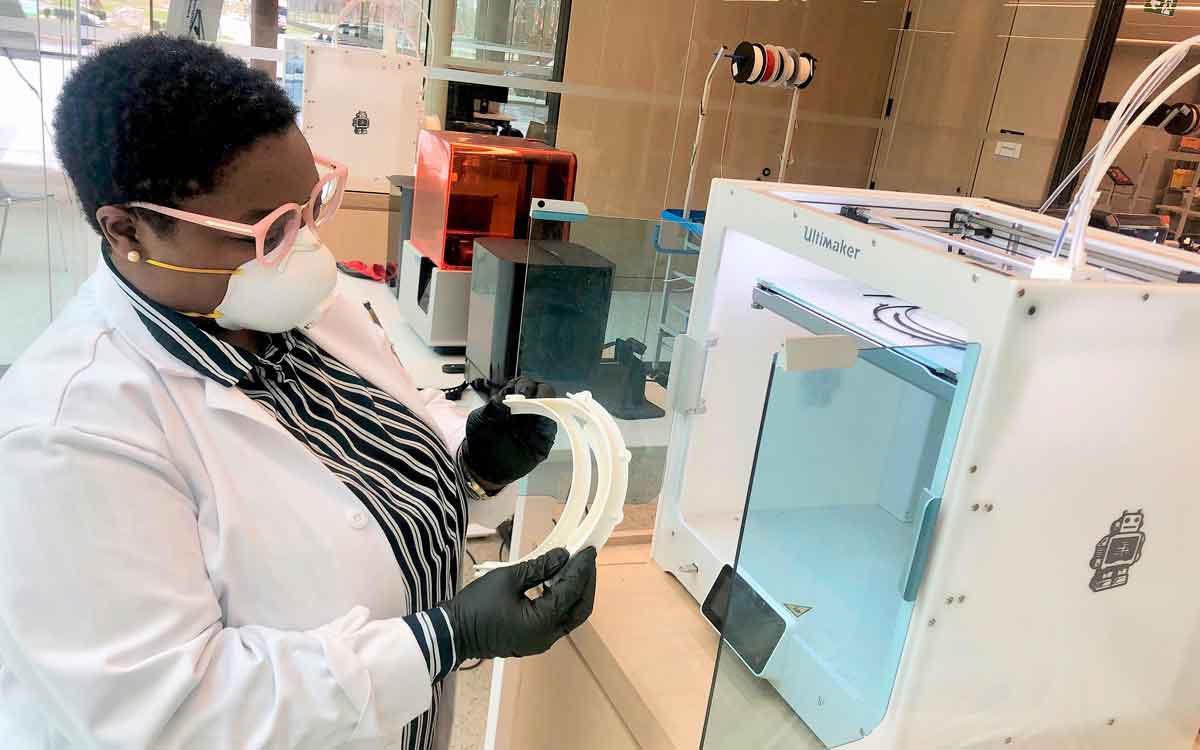 Brock University Makerspace Co-ordinator Tabitha Lewis looks over a 3D printed face shield mount. Brock's Makerspace has started building face shields that will be given to front line health-care workers in Niagara. Supplied photo Brock University.
As the number of Niagara residents testing positive for COVID-19 continues to rise (as of last night there were 34 cases in Niagara with six resolved) local businesses and organizations have been stepping up to help in the fight of flattening the curve of transmissions. While on-campus classes have shut down at Niagara's two post-secondary institutions, Brock and Niagara College, have joined others in refocusing their efforts to make critically needed supplies and help in other aspects as well.
Brock has made available supplies of gloves, masks and chemicals to Niagara Public Health, and researchers are also discussing ways to use the University's Level 3 containment laboratory (CL3).
The Canadian government has already approved Brock's CL3 lab to be used for COVID-19 research.
"We're taking a range of steps to prepare for requests that might emerge for research and testing," said Vice-President Research, Tim Kenyon. "We have a wide variety of expertise and facilities here that can be deployed in the greater fight against this virus."
Brock also has several Level 2 laboratories that can potentially support a scale-up of COVID-19 testing if demand from Public Health rises. Immunologist and Associate Professor of Health Sciences Adam MacNeil said his lab has the equipment to do this, but needs critical testing materials that are in high-demand globally. A potential local source has emerged in Norgen Biotek, a company that is working with the University on producing COVID-19 test kits.
Beyond the biological laboratories is a pool of expertise that can address a wide variety of facets of the unfolding pandemic, including financial data analysis, risk management and children's mental health.
Meanwhile, Tabitha Lewis, co-ordinator of Brock Library's Makerspace, which is home to a number of high-tech tools such as 3D printers, scanners and laser cutters, is using that technology to make face shields.
"The ethos in the Library's Makerspace has always been to find creative ways to solve interesting problems, and this is no different," Younker said. "Instead of helping with curricular and extra-curricular creative projects, we have an opportunity to leverage the skills of Makerspace staff and the use of Makerspace prototyping equipment to make a difference in the fight against COVID-19, and to help those on the front lines."
Lewis used public access design files being shared around the world for a quick-to-print face shield holder.
Czech 3D printer manufacturer Prusa has been continually updating an open-source design file that can be printed by anyone with any brand of 3D printer. The printers are used to manufacturer a head mount to which a thin plastic face shield is then attached. A piece of elastic fabric also attaches to it to go around the head. The face shields are used by health-care workers as an extra layer of protection in front of eye protection and face masks.
The Makerspace, which is part of the Brock LINC, located inside the new Rankin Family Pavilion, has five 3D printers — two of which and print two of the face shields at a time and three of which can print singles. It takes about two hours to print each unit.
"Once we're up and running, I'm estimating we could get around 20 face shields printed each day," said Lewis. "We're also looking at what other departments around the University have 3D printers so that we can all work together to be as successful as possible."
Younker said the first round of shields will be going to front-line workers with Niagara EMS.
Niagara's other post-secondary institution, Niagara College, has also responded to protect the health and safety of the community, and those on the front lines of the COVID-19 pandemic. The College has an assortment of in-demand supplies earmarked for local healthcare – including made-in-Niagara solutions created right on its campuses in both Welland and Niagara-on-the-Lake.
Initiatives include face shields created in college research labs at the Walker Advanced Manufacturing Innovation Centre; the provision of personal protective equipment, including N-95 masks, gloves and gowns collected from departments college-wide; and the production of sanitizer in the Niagara College Teaching Distillery.
"At Niagara College, we're training the healthcare workers and first responders of tomorrow, and we know there is no greater inspiration than the tireless efforts of those who are working within the healthcare system in the face of this unprecedented challenge," said Niagara College president Sean Kennedy. "We're leveraging our college's innovative spirit to provide support in any way we can."
The College's Research & Innovation Division is responding to the Niagara Health System's increased demand for protective equipment. Two thousand face shields are being produced at the College's Walker Advanced Manufacturing Innovation Centre (Welland Campus) using laser-cutting technology and computer design tools.
In addition to reaching out to assist local healthcare organizations, the College's Research & Innovation Division has also approached Health Canada with an interest in assisting with additional projects related to COVID-19.
Stills at the Niagara College Teaching Distillery in Niagara-on-the-Lake have been running throughout the campus closure – but not to create its signature artisan small-batch spirits. Since March 16, staff members have been responding to an overwhelming demand for hand sanitizer by producing a 70% alcohol disinfectant, which can be used for hand sanitizer and surface wipes.
Staff from departments and divisions across the College have been taking stock of their inventory to identify urgently needed personal protective equipment that can be donated to local healthcare workers.
Thousands of masks (including N95 and procedural masks) and thousands of gloves, as well as hundreds of face shields will be provided in the coming days.