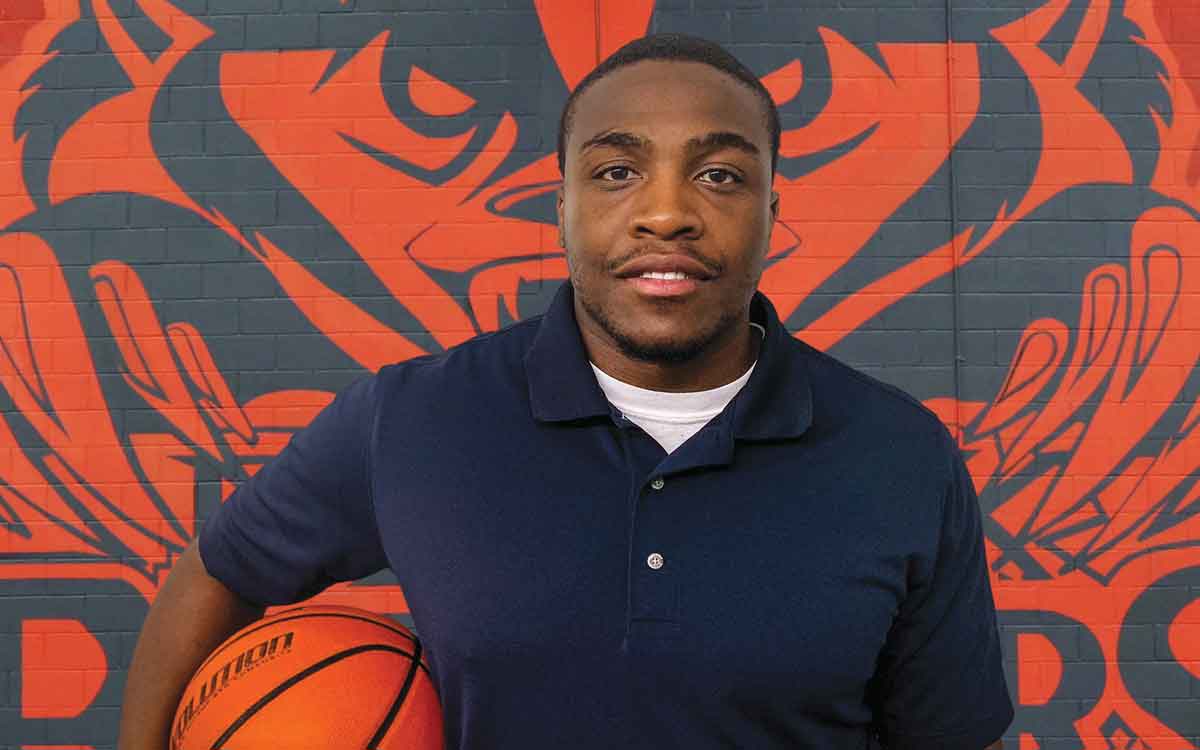 Willy Manigat is the new head coach of the Brock University men's basketball team.
The Brock Badgers have reached into the powerhouse Carleton University basketball program to find the new head coach for the Brock men's basketball team.
Willy Manigat, who has won three national university basketball titles as a player and two as a coach, will become the ninth coach in the history of the Brock men's program. His appointment takes effect July 5.
Manigat spent the past four years with the Carleton Ravens, who have won 14 of the last 17 national championships. He served as lead assistant coach for the 2018-19 season.
"Willy is a winner," said Brian Hutchings, Brock's Vice-President, Administration. "Every team he has played for or coached with has a winning record. He is a hard-working coach who players want to play for and train with."
Manigat is looking forward to leading the Badgers, who recorded a total record of 18-9 last season and reached the OUA Wilson Cup Final Four for a second consecutive year.
"Every single time the Niagara region comes out to watch our games, they're going to leave proud of what they saw on the floor," Manigat said. "I want to make Niagara proud, so we're going to be a tough-minded team. Our identity will be our work ethic — day in and day out."
He shied away from taking any of the Brock program's spotlight, instead shining it on the Badgers' community focus.
"It's not about one single person," he said. "Our team is about the community and everyone being a part of it."
Born in Montreal and raised in Ottawa, the former point guard played for the University of Ottawa Gee-Gees for two years before transferring to Carleton, who he helped lead to back-to-back U SPORT national championships.
In addition to his work with the Ravens, Manigat served for the past three years as associate head coach of an Ottawa prep school, Canada Topflight Academy, and as an elite coach for the Ottawa Youth Basketball Association.
"What Willy brings to the table is an extremely strong work ethic and the ability to focus on the big picture of running a successful university basketball program, which is a solid fit for the hallways of Brock Sports," said Associate Director of Brock Sports Emily Allan. "We're excited to have him as part of the Badger family."
The Badgers lost two pillars on offence with the graduation of Cassidy Ryan and Johneil Simpson, yet Manigat expects Brock, which led the OUA in three-point shooting and was second only to Carleton in points per game last season, to remain competitive heading into the 2019-20 campaign.
"My biggest goal for Brock basketball is to be an OUA contender and eventually compete on the national stage year in and year out," said Manigat. "Brock has always been a team that you have to come ready to play, and I'm here to continue to build on that."