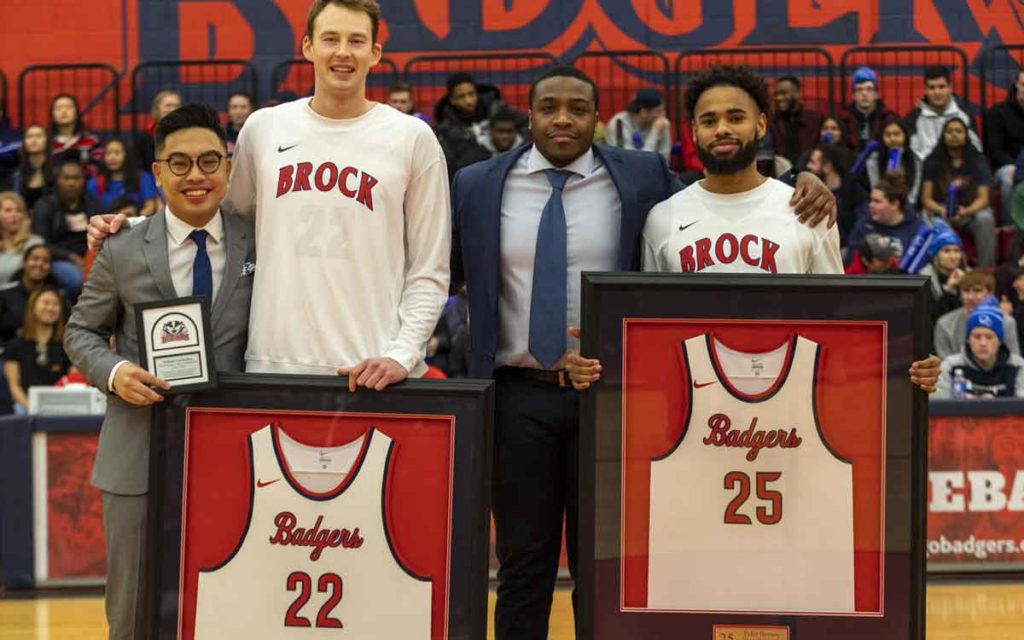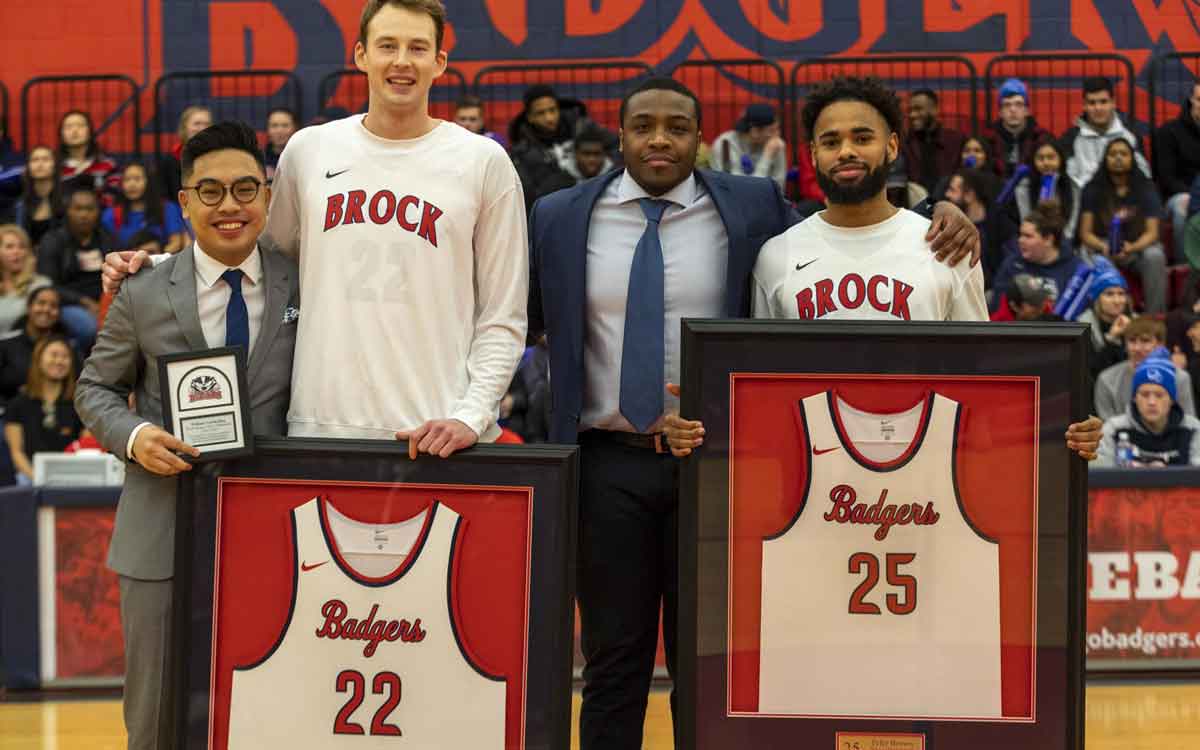 The Brock men's basketball team celebrated their senior players, and staff member, prior to their game versus York on Wednesday. From left to right: Operations Coordinator William Gatchalian, forward Mitch Saunders, head coach Willy Manigat and guard Tyler Brown. Brock photo.
The essence of family was on full display during Seniors Night at Bob Davis Gymnasium.
The Brock men's and women's basketball teams celebrated their senior players with a pair of wins. The men beat the York Lions 94-81 in front of a sold-out crowd while the women defeated York 73-55..
The Badgers men honoured senior players Tyler Brown and Mitch Saunders, including Operations Coordinator William Gatchalian, during a pre-game ceremony prior to tip off.
"Brock Basketball has meant everything to me. It's been my life for the last five years, so it's had a big impact on me," said Brown, who is currently third in the OUA with 5.8 assists per game. "It's been a great experience and has taught a lot moving forward. I've had the best five years of my life through Brock Basketball. My time here has been nothing less than amazing."
The Badgers and Lions opened the game by paying tribute to NBA legend Kobe Bryant, who tragically passed away on Jan. 26, by each sacrificing a possession to start the match.
York narrowly outscored Brock in the third and fourth quarters, but it wouldn't be enough as the Badgers outrebounded the Lions 44-28.
After scoring only four points in the first half, Brown dominated the second half and finished with a game-high 26 points, including six assists, four rebounds and three steals.
Head coach Willy Manigat said his team is beginning to trust one another, and it's paying dividends on the court.
"When there's trust that's when a team becomes a family," said Manigat. "To a winning basketball team, family is everything. In all of the teams I've been a part of that have had success there was an unbelievable amount of trust and that's what we're developing as a program here. We're looking to build on that for years to come, because we're just in the infancy steps of it."
The lady Badgers, ranked No. 8 in the country, have posted a record of 5-2 during the second half of season and now embark on a five-game road trip to close out the regular season.
Brock improves to 14-3 to take first place in the OUA Central, and extends their win streak to four games.
Prior to tipoff, the Badgers honoured graduating players Melissa Tatti and Jessica Morris with a pre-game ceremony.
"I wouldn't be the person I am without Brock Basketball," said Tatti, who currently leads the OUA in scoring with 18.2 points per game. "The individuals I have met through this program have all influenced me in one way or another and I wouldn't be here without them."
"The girls were really hyped up for this," said head coach Mike Rao. "You could tell at the beginning. Nothing was dropping, nothing was going our way and our defence was a little bit sloppy, but in the second half we cleaned that all up."
Both teams hit the road Saturday to take on the Ryerson Rams.