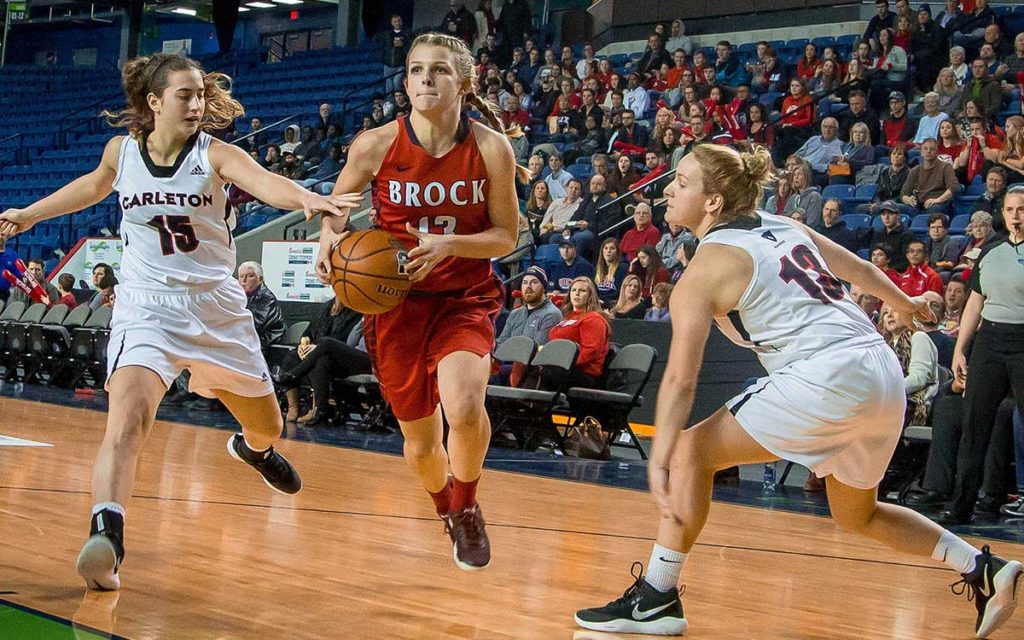 Kristin Gallant Brock University Women's Basketball.
As a rookie, Kristin Gallant figured her first year with the Brock Badgers women's basketball team would see her play a small role and fight for playing time.
But after a busy season that saw the 18-year-old Halifax native become a young leader on her team, Gallant was named to the Ontario University Athletics (OUA) all-star game.
The best female players in the province, a total of 18 players representing 15 schools, gathered at the University of Waterloo for the latest edition of the OUA Women's Basketball All-Star Game this past Saturday.
The 5 foot 7 inch Gallant said the experience was a lot of fun but also a bit overwhelming playing in a game with some of the elite female basketball players in the province. "It opened my eyes as to how much harder it will be next year and how much work I will have to put in over the summer," she said.
"Kristin has the potential to be one of the basketball greats at Brock," said Assistant Athletic Director Chris Critelli. "She is athletic and a joy to watch on the court. If she continues to be a student of the game and work hard, Kristin will help lead our team to new heights."
Gallant, who averaged a team-leading 13.1 points per game in 17 starts this year, is staying in St. Catharines over the summer to train with her teammates practicing twice a week as well as three strength training sessions and three cardio workouts.
"Being a first-year student-athlete and getting asked to be in that game was really surprising," she said. "My whole first year was way more than I thought it would be. I wasn't expecting to get playing time at all."
In some ways, Gallant became the face of the Brock women's program. A large photo of her taking a free throw adorns the main staircase in the Walker Sports Complex.
"There's definitely pressure, but I would rather have it how it was than how I was expecting it to be," she said. "The added pressure has given me a lot more confidence this year because I was forced to have it. It helped my game a lot as far as my mindset going into games."