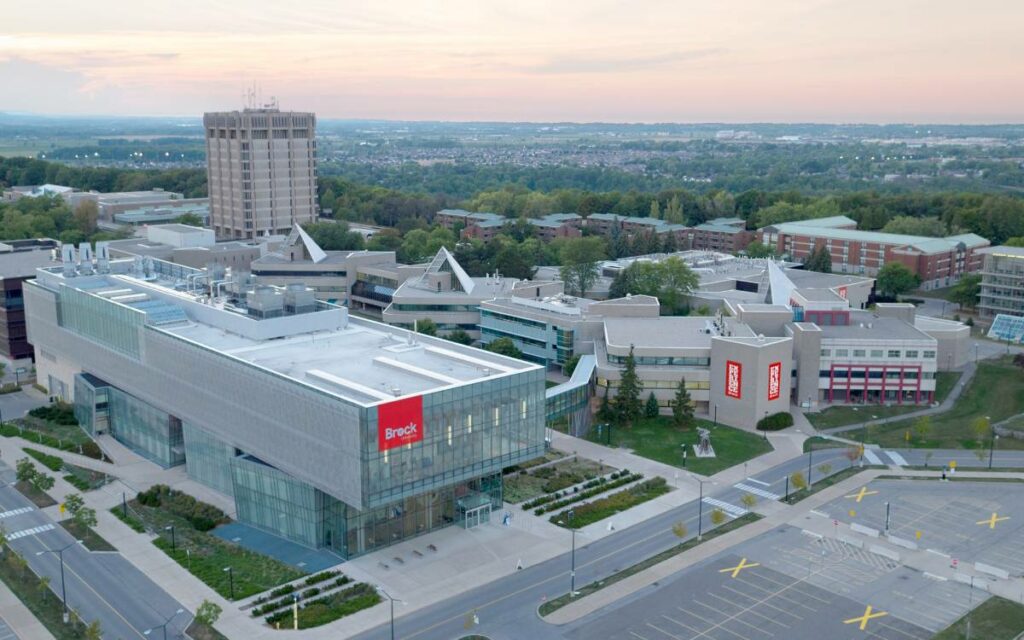 Brock University main campus in St. Catharines. Photo credit: Brock University
Maclean's Magazine released its annual university rankings for 2022 on Thursday. St. Catharines' Brock University ranked 12 overall in the comprehensive category, placing high in several subcategories and rising one spot overall from 2021.
For the fourth straight year, Brock earned the top spot among all comprehensive universities in Canada for mental health supports. The school also ranked second for academic advising, extracurricular activities, and administrative staff, and third for residence living and student life staff; finishing in the top three overall for student satisfaction across peer institutes. 
"These indicators clearly attest to the transformative experience students receive both inside our formal educational forums of teaching and research and across the spectrum of experiences that enhance and complete a truly comprehensive educational journey," said Anna Lathrop, Vice-Provost and Associate Vice-President of Students. 
"Brock's rankings for student satisfaction are again proof that our outstanding reputation for a student-centred post-secondary experience is a primary driver for all that we do. Within the context of the pandemic, ranking No. 1 in student mental health is quite simply an outstanding achievement."
The annual Maclean's rankings are based on data from thousands of student surveys and information provided by the schools themselves. The magazine breaks down the country's universities into three broad categories: medical-doctoral, comprehensive, and primarily undergraduate. 
Schools such as Brock that are in the comprehensive category "have a significant amount of research activity and a wide range of programs at the undergraduate and graduate level, including professional degrees." Brock is ranked against institutes such as the University of Waterloo, Guelph, Carleton, Ryerson, York, Simon Fraser, and more. 
"The last year has been disruptive for Brock students, staff and faculty in a number of ways. We persevered through these challenges to present students with the best educational experience we could," said Brock University Interim President Lynn Wells.
"Brock's improved rankings — both in the overall categories and around student satisfaction — point to the hard work being done across the university to support our students at a time when they need it the most."
Student leaders at the university lauded Brock's commendable showing in this year's rankings, particularly in terms of student satisfaction and mental health.  
"While it is reassuring to see we are once again ranked No. 1 for mental health, we are continuously working with students and our partners at the institution to work on more that can be done," said Brock University Students' Union (BUSU) President Rafay Rehan in a press release. "BUSU will continue to strive for a better experience for our undergraduate students through its funding of mental and physical health services, the Student Justice Centre, Human Rights and Equity office, sexual violence education and support, and more."
Graduate Students' Association (GSA) President Christopher Yendt said the results "affirm the continued commitment to graduate students and the graduate student experience."
"Mental health is a major priority among our members," said Yendt. "The University's investment in improved student access and outcomes is necessary to ensuring Brock provides an equitable and sustainable graduate community where all students feel supported, engaged and empowered to succeed."
McMaster University, Brock's nearest neighbour to the west in Hamilton, once again ranked an impressive fourth in the premier medical-doctoral category, finishing first in the country for student services and second for total research dollars.
To view the full rankings, go to Maclean's website.