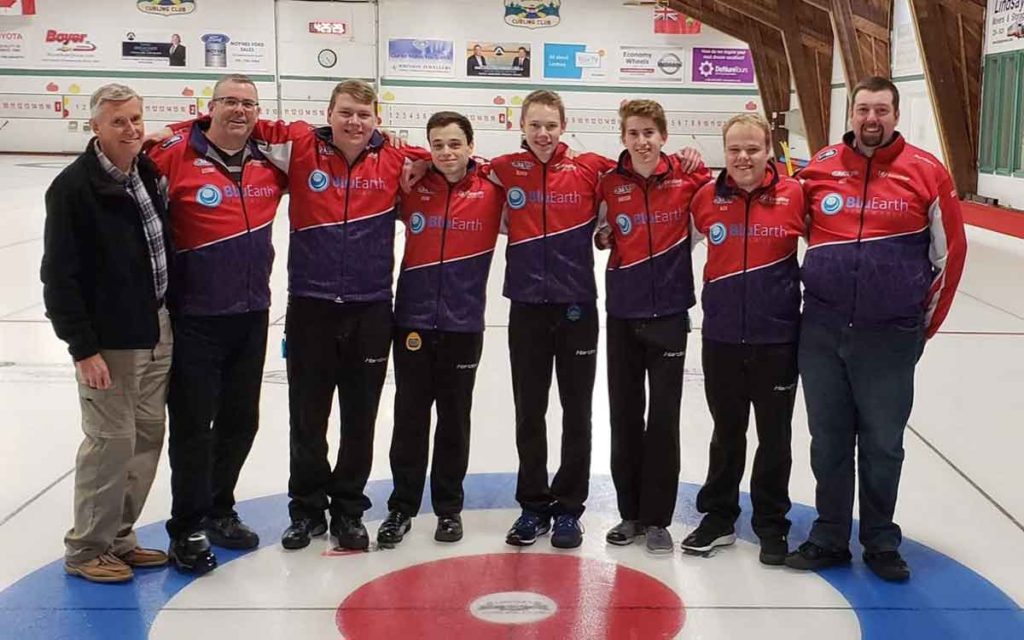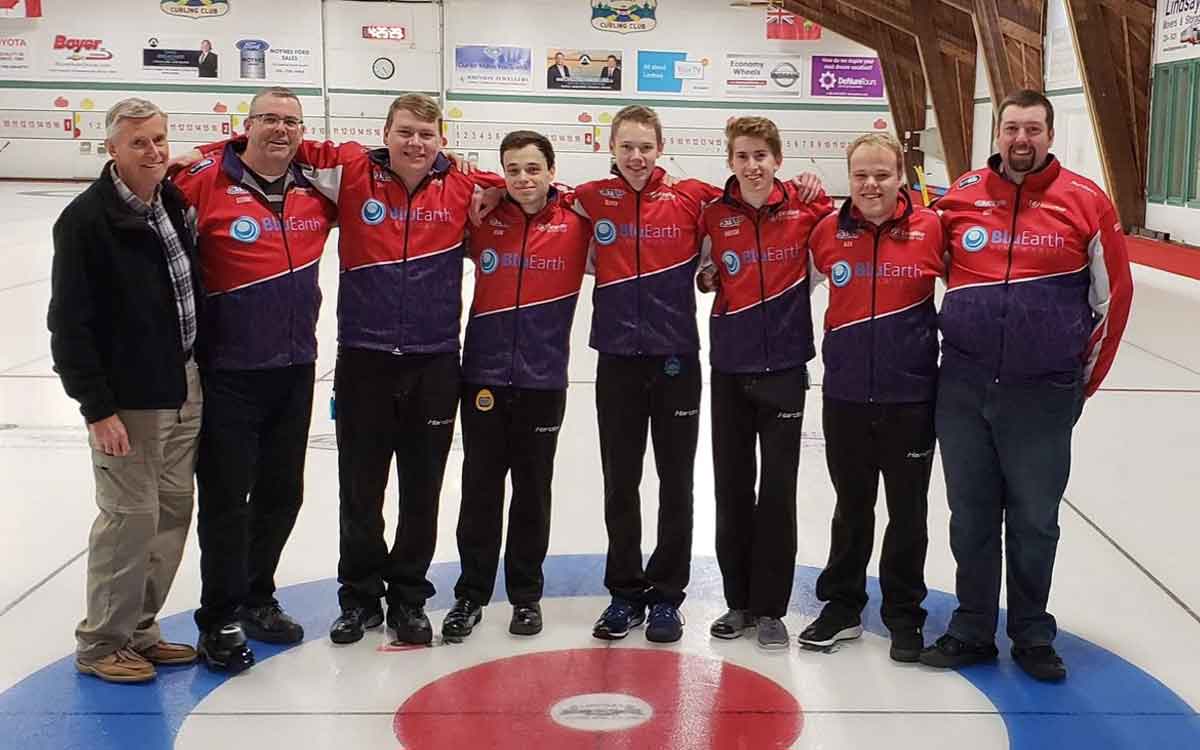 Brock curler Sam Steep (third from left) with his club team that won the provincial championships and is currently participating in the national finals.
UPDATE THREE – January 27, 2019, 7:53pm
Jessica Humphries' Team BC dropped the Gold medal game to Team Alberta  9-7.
In a thrilling men's final, Team BC beat Team Manitoba on the last rock making BC skip Tyler Tardi the only 3-time champion of a Canadian Junior  Championship in the history of the event.
UPDATE TWO – January 26, 2019, 7:55pm
Brock's Jess Humphries Team BC won their semi-final match today defeating Team Nova Scotia.  Team Nova Scotia were the defending  Canadian Junior and World Junior Champions.  Humphries and her teammates
will play undefeated Team Alberta in the championship game Sunday at 11 am live on TSN.
Brock Head coach Murray Etherington said "we are very happy and proud of  Jess Humphries. Jess is an extremely hard working individual and took advantage of an opportunity to compete for a Canadian championship. We will be watching and rooting for Jess and Team BC in the final on Sunday"
UPDATE ONE – January 26, 2019, 2:14pm
Jessica Humphries' Team BC went 5-1 in the preliminary rounds and made it into the playoff rounds.  They will play today, Saturday January 26  at 2pm on TSN in the semi-final against Team Nova Scotia.
Sam Steep's Team Ontario went 3-3 in the preliminary rounds and had to play in a sudden death playoff against Alberta.  They lost that match  and were eliminated from the competition.
MAIN STORY
Two of Brock University's curlers, women's varsity team third Jessica Humphries and freshman men's varsity team skip Sam Steep, have won the junior provincial championships and are currently competing for their respective teams at the New Holland Canadian Junior Curling Championships in Prince Albert, Saskatchewan.
Steep, a first-year recreation student at Brock, spent his holidays this year leading his hometown rink to the Ontario U21 championships title in Ajax.
"It was a different level of pressure competing for a title I have been working towards for the past five years," Steep told the Brock press. "Winning the final was a dream come true."
The championship match came down to the final end where Steep scored one with the hammer for an 8-7 victory over Team Mooibroek.
Last year the team finished last at provincials, so Steep and his rink of Emerson Steffler, Oliver Campbell and Adam Vincent came together and set a two-year goal of winning the Ontario championships and reach the national finals.
"We are hungry to compete against the best in the country for a spot in worlds representing Canada," said Steep. "So you can say step one of our goal is complete and we are focused on winning nationals. It was an amazing experience to put all our hard work together to win provincials."
Steep began curling at the age of five in his hometown of Seaforth, Ontario. He captured a high school provincial gold medal during his time at Central Huron Secondary and won the Gore Ontario School Provincial Championships twice.
Jessica Humphries has taken a slightly different path to the junior nationals.  Humphries, who hails from Bobcaygeon, took the year off from Brock and went to British Columbia where she and her fellow Ontarian Kayla MacMillan, hooked up with skip Sarah Daniels and lead Sarah Loken of B.C. to form a team.  Humphries is taking courses at Simon Fraser while in B.C.   The team has been competing in bonspiels across Canada since September to ready themselves for the provincial championships.
In December they became B.C. provincial junior champions by beating the defending champions Team Reese-Hansen and thereby punching their ticket to the nationals this week in Prince Albert.   Daniels, who won the 2014 BC Juniors with Team Van Osch and the 2016 BC Juniors as her team's skip, has silver medals from both her 2014 and 2016 Canadian Junior Curling Championship appearances.
At time of writing the preliminary rounds of both the men's and women's competitions were just wrapping up.  Humphries and Team B.C. went 5-1 and made it on to the championship round as the second seed.  Steep's Ontario team went 3-3 and had to play in a tiebreaker to get to the championship round of 8.