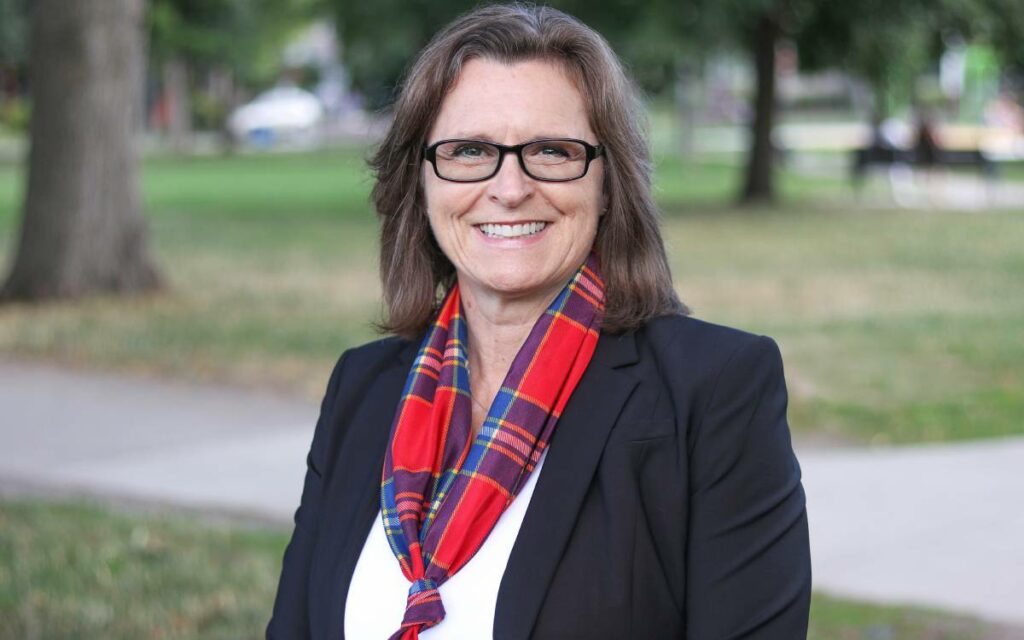 The university began searching for a new top administrator in June 2021. Rigg represents the first woman to hold the role of president on a permanent basis in the university's near-60-year history. Photo credit: Brock University 
Following an international, 14-month search, Brock University has hired Dr. Lesley Rigg as the institution's next president and vice-chancellor, effective Nov. 1, 2022.
An ecologist and geographer by training, Rigg comes to Brock from London's Western University, where she currently serves as professor and vice-president of research. 
In a statement released Monday, Rigg said it is a "distinct privilege to be invited to join Brock at this pivotal time in its history."
"We are emerging from the challenges of the pandemic and the work of the university is essential as our community recovers and seizes new opportunities," said the incoming president. 
"Over the years, I have been excited to watch as Brock evolved and advanced to become a leading student-centred comprehensive university. As I arrive in Niagara, I am fortunate to be joining such an accomplished and welcoming community. I have a deep-seated optimism for the future of Brock."
Brock's board of trustees approved the appointment following a recommendation from the school's Advisory Committee on the Presidency and after consulting with the University Senate. 
Rigg takes over from Dr. Lynn Wells, who assumed the role of interim president and vice-chancellor upon the sudden departure of Dr. Gavin Fearon at the end of June 2021. 
Fearon, now president at George Brown College, reportedly left the St. Catharines university out of a desire to "move back to Toronto". 
It's unknown whether acting president Wells applied for the permanent role and was skipped over for Riggs. A request for comment from The Niagara Independent to Brock's head of talent acquisition regarding the hiring was not answered by publication time. 
Only arriving at Brock from Alberta in July 2020, Wells presumably now returns to her role as provost and vice-president (academic) on a full-time basis. 
"On behalf of our entire community, I want to thank Interim President and Provost Lynn Wells for her superb leadership over the past year. It has been an incredibly complex and challenging time for all universities and for our students and staff," said Mark Arthur, chair of the university's board of trustees. "Dr. Wells has led with integrity, compassion and a keen focus ensuring Brock emerges from this pandemic stronger than ever."
According to Brock, the president and vice-chancellor "provides leadership to the community to collaboratively develop and achieve the university's goals." 
The president oversees implementation of the educational policy and general administration and ensures "a culture of academic freedom, research excellence and institutional autonomy." In addition, the senior administrator advocates for the school's interests with government and other key stakeholders, works with the community to enhance Brock's reputation, and plays a lead role in fundraising and advancement activities. 
Prior to her short tenure at Western, Rigg was dean of science at the University of Calgary for just over five years. Before that, she spent nearly 17 years in successive senior administrative roles at Northern Illinois University, about an hour and a half west of Chicago. 
Rigg earned her bachelor's degree in geography and environmental studies from York University in Toronto, her master's degree in geography from the University of Colorado, and her PhD in geography and environmental studies at Australia's University of Melbourne, where she began her teaching career as a lecturer in 1997.
She is a Fellow of the Royal Geographical Society of Canada, an executive committee member of the Ontario Council on University Research, and the recipient of several honours, including the Alberta SHEInnovator Award and the Women of Inspiration, Vision Builder Award for Western Canada.
"I am so looking forward to meeting with our community of students, faculty and staff and getting to better know our campus," said Rigg. "The coming academic year promises to be an exciting one with a near-record incoming class, a full return to campus and a complete resumption of our teaching, learning, research and student activities. I cannot wait to get started!"
Brock's fall 2022 semester begins September 7.