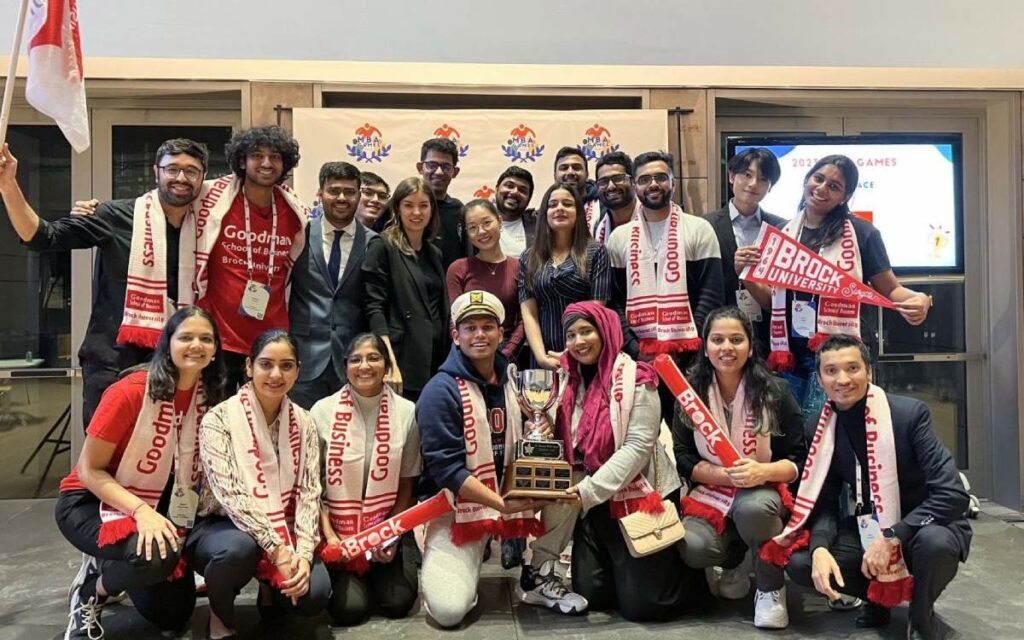 The team of 16 Goodman School of Business MBA students fended off powerhouse teams from York, McMaster, and a dozen other universities to take home the Queen's Cup for the first time since the competition started in 1988. Photo credit: Brock University
It's a time-honoured tradition among Canadian business schools: the annual MBA Games. 
Started in 1988 at Queen's University, the competition pits some of the country's brightest minds enrolled in Master of Business Administration (MBA) programs across Canada against one another in a variety of academic, athletic, and spirit events. 
In the games' 34-year history, Brock University's Goodman School of Business has never taken home the trophy – until now. 
A team of 16 graduate students representing the Goodman School of Business brought home the top honour at last weekend's competition in Toronto. 
Contending with MBA students from 14 of Canada's leading business schools, the team finished third overall in both the academic case competition and athletic events. It finished first overall in the spirit category, which included a team video, dance performance, and social media challenge.
Co-captains Mourin Mostafiz and Moe Maruri led Goodman's 2023 team to victory. 
"We are thrilled to create history for Goodman by bringing the trophy to Niagara for the first time," said Mostafiz in a statement following the competition. "It has been a privilege to co-lead a diverse team of 16 brilliant individuals who displayed their diligence in every phase of the Games."
Brock finished fourth overall at last year's MBA Games, which have historically been dominated by York University's Schulich School of Business and McMaster University's DeGroote School of Business.
As reigning champions, the Goodman School at Brock's St. Catharines campus will now host next January's MBA Games. 
On behalf of the faculty, dean Barry Wright extended his congratulations to the team on its accomplishment.
"The Goodman team's winning result shows the power of teamwork," said Wright. "Each result in the academic, sport and spirit categories contributed to their overall success and built pivotal leadership and teamwork skills that they will take with them when they leave Goodman."
Goodman's precursor was founded in conjunction with Brock University in 1964. The school's MBA program was created in 2003. There are approximately 500 MBA/MBA (ISP) students enrolled at Goodman at any given time. 
Goodman's MBA program ranked 12th in Canada on the 2023 QS Global MBA rankings.